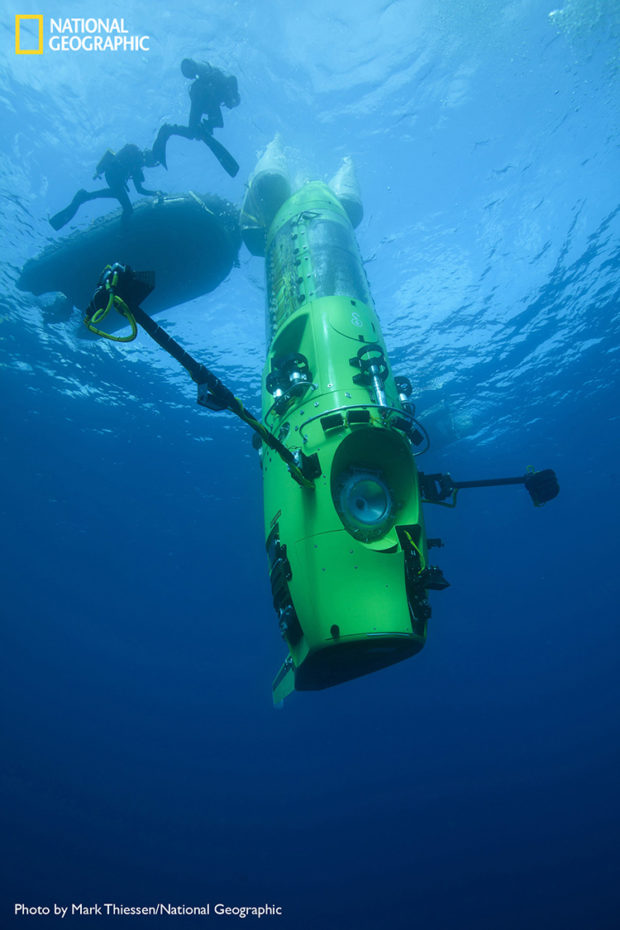 Explorer and Director James Cameron will be on Capitol Hill on Tuesday, June 11, with Dr. Susan Avery, president and director of Woods Hole Oceanographic Institution for a series of public events and a Senate hearing.
Central to their visit is the display of the DEEPSEA CHALLENGER, the only human-occupied vehicle currently able to access the deepest parts the ocean. Cameron developed the vehicle over seven years and used it in March 2012 to dive to the deepest spot in the ocean, Challenger Deep in the Mariana Trench. One year later, Cameron donated the vehicle to Woods Hole Oceanographic Institution, as part of a newly established partnership to foster advancement of deep-ocean exploration.
The DEEPSEA CHALLENGER and its pilot, James Cameron, are an inspiration for scientists and students who take on the unique challenge of ocean research and exploration," said Senator Sheldon Whitehouse.  "As I've learned from another great ocean explorer, Dr. Bob Ballard, we know less about our oceans than we do the far side of the moon.  We need better information about our oceans to protect the bounty they provide, and the bipartisan Senate Oceans Caucus will continue to champion ocean observation efforts."
The events kick off with an opportunity for members, staff and media to "Meet the Sub," which will be on display on 1st and C Streets adjacent to the Senate Russell and Dirksen buildings, from 9:30 a.m. – 10 a.m.  Cameron will briefly describe the development of the sub and his dive to the bottom of the ocean, and Avery will explain how the technological advances developed for DEEPSEA CHALLENGER will be used by the entire ocean science community.
"It's so important to understand the ocean, especially now as the ocean is undergoing great change as a result of global warming, pollution, and other factors," said Cameron. "We're running a race to understand what is out there and down there even in the moment that it is changing."
"Access to the deep ocean has never been easy, particularly because humans tend toward a landlocked perspective," said Avery. "Yet the ocean is Earth's most fundamental and life-sustaining feature. It touches us every day, whether we live along the East Coast, the Great Plains, or within reach of the Colorado River.  The only way we can learn about this vast yet crucial part of our planet is to literally submerge ourselves in it, whether literally, in human occupied submersibles, or virtually, with advanced robotics."
Following this event there will be an in-depth briefing for congressional staff and media from 10:15 a.m. – noon at the Dirksen Senate Office Building, room 138, where Avery and Cameron will discuss the future of deep-sea exploration and scientific discovery, the contributions of ocean science to the nation's economic growth and national and international security, and the critical importance of inspiring young people toward careers in science, technology, engineering and math.
From 12:30 p.m. – 2 p.m., school kids, families and the general public will have an opportunity to see the sub up-close at the"DEEPSEA CHALLENGER in DC" public outreach event. (Key remarks will be made from 1 – 1:30 p.m.) The sub will be displayed at the Woodrow Wilson Plaza,Ronald Reagan Building & International Trade Center, 1300 Pennsylvania Ave., NW (near Fed. Triangle Metro stop).
"I want the DEEPSEA CHALLENGER to inspire kids to imagine themselves exploring the unknown," said Cameron. "As the next generation of scientists, engineers, teachers, business owners, and political leaders, their enthusiasm for exploration, for taking risks, solving problems, and pursuing knowledge is vital to the country and to the world."
Finally, at 2:30 p.m. Cameron and Avery will participate in a panel of experts testifying at a hearing of the Senate Committee on Commerce, Science and Transportation on "Innovative Partnerships in Ocean Observation." Their testimonies will highlight the need for continued federal investment in research and the achievements that are possible when publicly funded research is leveraged by investment by private individuals and organizations.  They will also stress the need to encourage science-focused imagination among today's youth.
"The ocean plays a critical role in some of the toughest issues facing our nation and the planet," said Avery. "We can improve our capacity to predict how the weather, climate and ocean will change and how we sustainably use ocean resources, but we need more and better observations over larger areas and greater time. We're working to improve our ability to gain those observations by building on our federally-funded research with private partnerships, but continued government support cannot be replaced."
WHOI recently created a new Center for Marine Robotics, which aims to spur collaborations across government, industry and academia to advance ocean science and exploration through the development of new robotic vehicles and technologies. James Cameron has agreed to serve on the Center's Advisory Board.
Washington, D.C., is the penultimate stop in a cross-country journey transporting DEEPSEA CHALLENGER to its new home in Woods Hole, Mass. The journey began with the first public display of the sub at the California Science Center in Los Angeles on June 1; from there it traveled to the Perot Museum in Dallas and the Georgia Aquarium in Atlanta, where students and families turned out to see the sub up close and hear from its engineers about its technological advances and capabilities. The crowds also heard from Dr. Dave Gallo, a geologist and special projects director at WHOI who has made many submersible dives exploring deep ocean terrain, and Anthony Tarantino, a WHOI engineer and a former pilot of the submersible Alvin, the nation's deepest diving research submarine.  The cross-country tour is sponsored by Rolex.