Canada
Sunday Morning Mass
May 23, 2013 By DIVER Editorial
The Vancouver Aquarium's lingcod egg mass survey brings together local divers for a fun citizen science project every year
By Russell Clark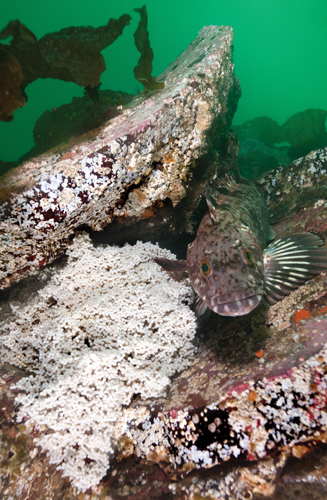 For six weeks each winter divers across British Columbia unite to become part of a citizen science project that's sponsored by the Vancouver Aquarium. The annual Lingcod Egg Mass Survey aims to monitor the number, size and condition of these egg masses found up and down the BC coast, with help from local volunteer divers. The survey collects and uses the data to help evaluate abundance of these fish, and to gain insight into the reproductive outputs and age structure of female lingcod along Canada's northwest coast.
Started 10 years ago, the survey has become an important event on the local diving calendar.
DIVER Magazine recently tagged along with The Edge Diving Centre in North Vancouver to contribute to this year's survey, ever mindful to avoid the aggressive nature of the dutiful male lingcod guarding their progeny.
Lingcod stocks in the Straight of Georgia are reported by the Vancouver Aquarium to be just 7 to 22 percent of their numbers 100 years ago, with Vancouver area stocks thought to be at a shocking one percent.
Lingcod egg masses resemble clumps of Styrofoam™, often found secured in rock crevices where currents are strong. Divers record the depth, size, condition, situation and number of nests guarded by individual males. Data are later recorded on a Vancouver Aquarium website. Overall, this is a well-organized and easily accessible citizen science project for divers of all skill levels.
In 2012 volunteer divers spent 3,770 minutes underwater counting a total of 251 egg masses, which were smaller in size and also fewer in number from the previous year's count. At press time the 2013 survey was  ongoing and final results were not tallied.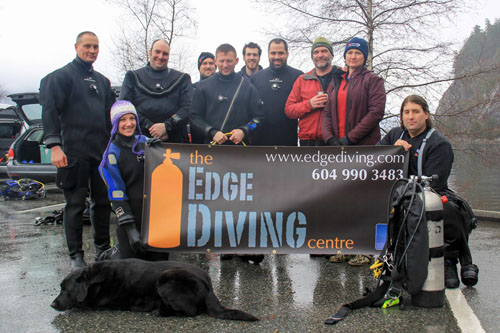 The survey is carried out after mature females spawn (around February-March) and the eggs are under the care and protection of the males, which are smaller than the females, but aggressive if needs be, often nipping at divers coming too close to their eggs. The skill and fun for survery divers is to get in close to record accurate data without stressing the attentive fathers-to-be.
Whatever a diver's experience, the annual lingcod egg mass survey is always fun. "Sunday dives" take on an air of importance among volunteers, from across the dive community spectrum, who welcome the chance to contribute to something of significant local importance. And, hey, beyond the fun, it's informative, improves diving skills and produces information that offers future direction…all worthy objectives that, we're pleased to say, DIVER strives to provide and, ahem, delivers here,  online and now on iPad. We trust you agree!