A love letter to Newfoundland, the Truk Lagoon of Great White North, a destination that will fast become your new second home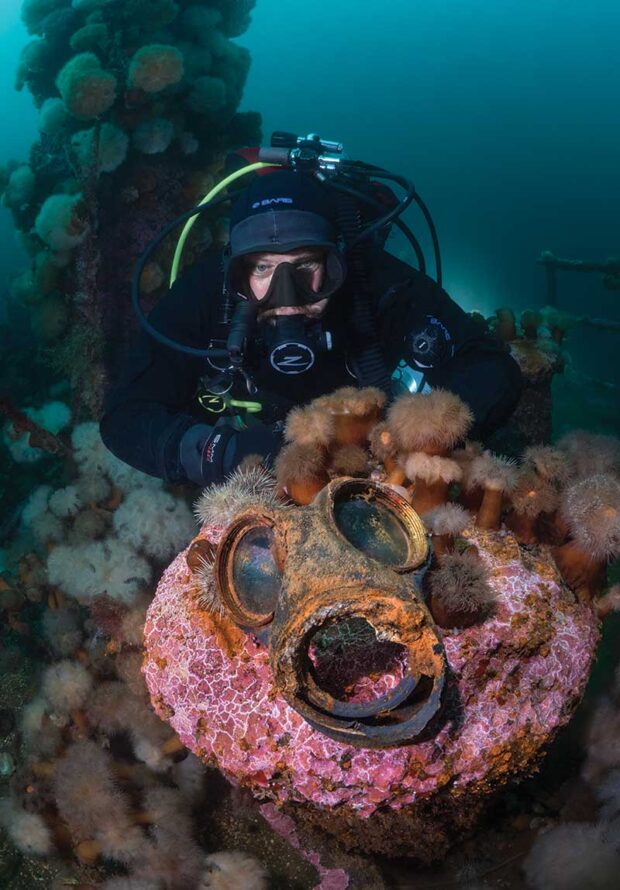 Words by Russell Clark
"Sit yer-self down lads, I just cooked some of me home made moose sausages." The first words from local legend Rick Stanley are as comforting as they are telling. A dive vacation at Ocean Quest Adventures, Newfoundland, really is unlike any other you'll be likely to experience. From the moment you meet owners Rick and Debbie Stanley, you'll feel like you're at home. A home that offers sustainably-sourced, hand-made moose sausages; a home that has a comfier bed than your own; a home that has an incredible dive boat, stunning diving, and fellow guests that quickly become lifelong friends. Something is in the water in Newfoundland. Maybe it's alcohol, maybe its a way of life that puts a profound focus on people. Whatever it is, I love it, and it makes for some of the best diving trips I've ever had.
Established in 1997 and now a PADI 5-star instructor development centre, Ocean Quest has evolved into a pillar of Canada's east coast diving industry, and a hugely respected part of life in Conception Bay South. They even have their own spa. Yep, and not one of those dollar-a-minute massage chairs, but one of the biggest and most successful spas in Newfoundland. Have you done two hours of cold water wreck diving and followed it with a hot stone massage? You should. You really should. 
Ocean Quest Adventures are the only full service dive store and adventure business in Newfoundland. They've been given some shiny awards for it, too, such as the Parks Canada Sustainable Tourism Award. Environmental and cultural stewardship play a huge role at OQ. It's the backbone of their operation and helps define their uniqueness. 
It's also worth knowing that Newfoundland isn't just new to most divers, it's also new to Canada. The 156,000 square mile (405,000 square kilometre) province only officially became a part of Canada in 1949, when Newfoundland entered Canadian Confederation. It was later renamed 'Newfoundland and Labrador' in 2001. 
It is a province known for rugged landscapes and coastline, rich Irish influence, annual migration of icebergs, incomprehensible dialect (top points if you can understand a taxi driver here), and possibly the nicest people on Earth.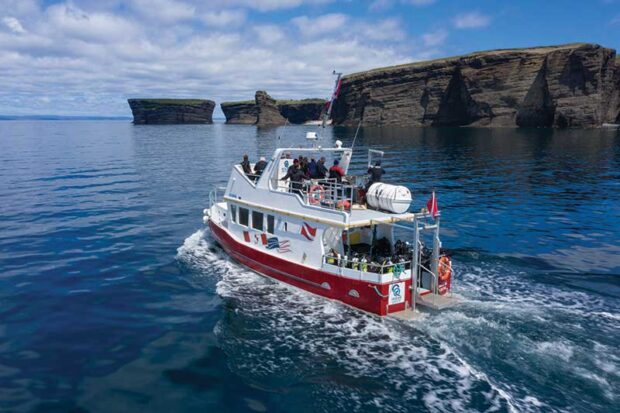 DIVER columnist Steve Lewis is a frequent visitor to Ocean Quest: "I wrote one time that in a country having issues juggling two official languages, Newfoundland opted to speak neither, but there's a lot more to its uniqueness than language… although what my friends in St. John's and the Avalon Peninsula call 'Newfoundesse' is reason enough to visit."
What about the diving? Well, it is spectacular. Yes, the water is cold, anywhere from 1 degree celsius to 4 or 5. I won't translate that into Fahrenheit, because you already know that it's frickin' cold. This is where a lot of divers say something like, "That's too cold for me," or, "No thanks, I'll keep my 3-mil." Normally I'd let it go with a typical reply of, "Well, you're missing out" and not be too bothered about convincing them. But Newfoundland is different. I desperately want people to dive here. 
My last trip became an unofficial and unplanned DIVER get-together with columnists Jill Heinerth, Steve Lewis and Maxwel Hohn. Six of us were also Fellows of the Royal Canadian Geographical Society, so there was much nattering over iceberg beer, Screech, and well-brewed cups of tea. 
Jill and Steve are no strangers to Newfoundland, each having fallen in love with the place. "Newfoundlanders will give you the shirt off their back, the keys to the car and their daughter's spare room as long as you need it. These are all things that happened to me in my friendship with Rick Stanley and his family," said Jill after her initial visit there in 2013.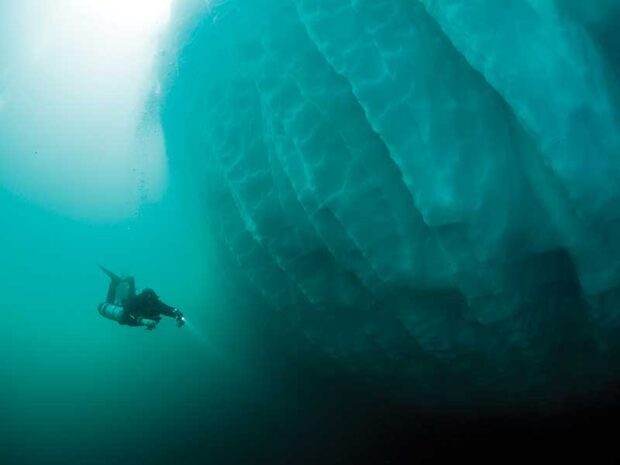 The D-word
The diving is also very diverse. A much overused word in the dive industry, but one applicable to 'the Truk Lagoon of the North' as Jill and Steve have both referred to it. 
Not only are there four huge shipwrecks to explore off the coast of Bell Island, but there are also some fantastic shore dives with natural walls and reefs, derelict whaling vessels from a bygone era, and in the nearby town of the now infamous Dildo, scattered remains of whale bones to explore undersea. If that weren't enough there is the Bell Island Mine dive for those appropriately certified, and if you're really lucky (and eligible), there's iceberg diving. 
"Whales, war wrecks, a historic mine and icebergs, what more could one ask for in a single destination?" Nothing Jill, absolutely nothing. 
For me there's no better place to take a summer vacation than the coast of Newfoundland. You can keep your Nemo fish, rash guards and fresh coconut. I'll take icebergs, 100 foot (30m) visibility, and moose sausages any day of the week.
The wrecks
The centre piece of the diving here are the Bell Island wrecks. As Steve Lewis compares, "The first time I got to dive the four sunken ore carriers off the coast of Bell Island, I'd just returned to Canada from Micronesia's Truk Lagoon. The similarities were clear: steel-hulled ships with bungalow-sized holes ripped into them by high-explosives, and the special vibe reserved for visiting cargo ships sunk in conflict. The wrecks there exude history and will tell you different and interesting stories every time you visit and wait for them to start talking. Close your eyes occasionally and listen."
"There are few wrecks as full of life as you will find in Bell Island," adds Jill, reminding me of my first Newfoundland dive memory. Descending upon the large mass of the PLM-27 wreck, I thought it was obscured by algae in the water; it wasn't, it was engulfed by millions of tiny moon jellies, surrounding the vessel as if it was snowing underwater. A memorable combination of historic wreck, brightly coloured marine growth, and pulsating snow flakes. A stunning beauty I have not seen since. 
Interestingly, it's well worth noting that prior to the outbreak of the Second World War, Germany was the principal consumer for the iron ore produced at the Bell Island mines. The German High Command was very familiar with the Bell Island anchorage and its strategic value in the war effort. It may well have been the same ore which was used to produce the U-boats and torpedoes that were to bring down these ships and cause such havoc.
The Bell Island wrecks are nothing short of astonishing dive sites. Covered in marine life, they are now a wreck diver's paradise and live on as vessels of Canada's history. 
Being a tech diver or rebreather diver can certainly have its merits here, but it isn't essential. My dives were carried out using a single steel tank (Ocean Quest have a range of high pressure steels to choose from) and a pony bottle. I'm hitting 130 feet (33m) on every dive, and still managing to do an hour before returning to the boat.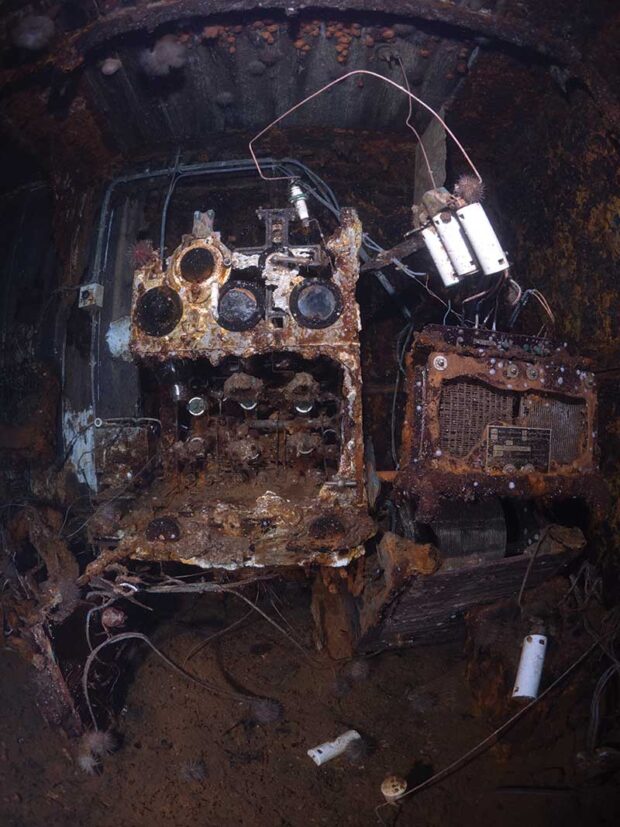 The PLM-27 is the shallowest of the shipwrecks. It is easiest to access, provides the longest bottom times, and is the only Bell Island shipwreck to have an intact propeller. You can also swim through the torpedo hole that sank it, a sobering way of grasping the scale of the U-boat devastation. 
The Saganaga, second shallowest of the Bell Island Wrecks, is an explorer's dream. The British steamship was torpedoed and sunk by the German U-boat U-513 on September 5, 1942. It's the perfect playground for divers with great swim-throughs and a garden of sea anemones. The huge anchor was flung high into the air at the time of sinking, before crashing down mid ship and laying to rest on the deck—a great photo opportunity and deadly show of force from the attack. 
The second deepest of the Bell Island wrecks, the Lord Strathcona allows for some adventurous penetration. The ship's superstructures will tower over you like a gargantuan metal cliff, and the cavernous depths of her cargo holds will invite the more experienced technical divers. Being deeper, it is in slightly better condition than the other wrecks, thanks to being out of the way of currents and passing icebergs (you don't get iceberg damage in Truk Lagoon!)
The Rose Castle is considered to be the the pièce de résistance. She went down on November 2, 1942, two months after Saganaga and Lord Strathcona, and on the same night as PLM-27, both struck by torpedoes fired by German U-boat U-518. The Rose Castle is the deepest of the wrecks, and best-preserved. Her rigging is still intact and now home to incredible soft corals that wouldn't look out of place in this issue's Solomon Islands feature. It is also the resting place of one of Jill's favourite features, the Marconi Room: "When I stick my head in that door, I imagine there was probably a guy in there on the radio, yelling for help. What a powerful thing to see."
The four wrecks are all huge, you won't be seeing them all on one visit. Multiple dives and multiple trips later, I still feel like I'm only scratching the surface of what the Bell Island wrecks have to offer. Old shoes laying on the deck, exposed bathtubs, tools, and—my favourite—old records, scattered on one of the decks—what were the crew listening to as the U-boats struck?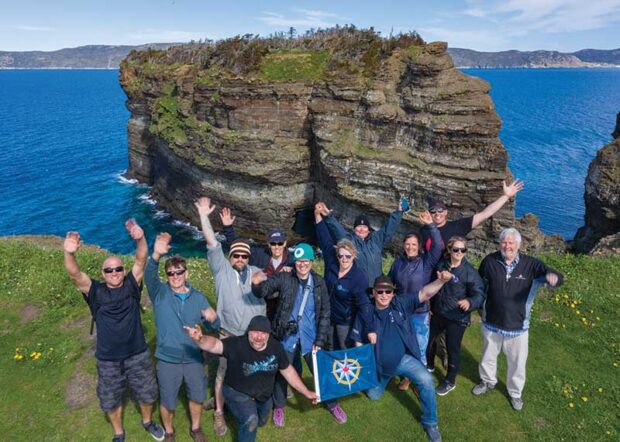 Home away from home
Ocean Quest Adventures offers excellent lodge facilities for guests, with a big kitchen, lounge spaces, outside decks, cosy bedrooms, clean bathrooms, and a separate dive store with filling station. Each diver gets their own gear area and storage too. They also have their own pool for testing gear, plus guitars, books, DVDs, charging stations, and a genuine, homey feeling. 
The two daily boat dives are made from the nearby MV Mermaid, a large and very warm boat with big dive deck, huge outside top deck (a delight in the summer or when spotting whales), and an elevator. The inside accommodates divers in drysuits, making it very cosy indeed, even if the Newfoundland weather takes a cold turn. Two dives a day may not sound like a lot, but it is plenty. When the water is 1-5 degrees (OK, that's 34-41°F), and after you've filled up on Rick's homemade moose soup (or similar delight), you'll be ready for your post dive nap. 
If you're especially keen though, there are options to head out for a local shore dive later in the afternoon. The whaling vessels of Conception Harbour or the famous whale bones of Dildo are two great additions to do while in town. You have to be pretty dedicated to do three dives a day here, but if you want an extensive experience, it's worth the effort. Both sites offer a taste of local marine life and history. 
Ocean Quest Adventures offer packages for rebreather, tech or nitrox divers, but it's important to know you can have just as much fun here exploring as a non-tech diver. I'd recommend a nitrox certification and a drysuit, though that too is optional if you're a hardened local.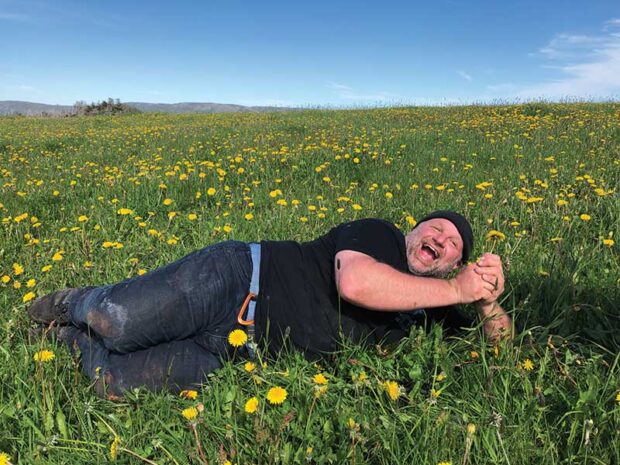 Fun is a serious business
Ocean Quest hired local adventurer, cave diver and instructor John Olivero to become the company CHO – Chief Happiness Officer. Yes, that's his real title. He reminds me of Robin Williams' genie from Aladin—there to serve and make your trip as good as possible, but wrapped in big laughs, a genuineness to help, and a level of experience that puts you at ease. 
Though Ocean Quest is a laugh a minute experience, it comes at the expense of nothing. Safety is paramount, especially when diving around icebergs. You can't just buy a ticket for that ride. They are very picky about who they put in the water near icebergs, and rightly so. It's a surprisingly disorientating experience, with bizarre currents and thermoclines, and the ever present risk posed by the collapsing and subsequent rolling of the huge chunks of ice. It's dangerous stuff, but they install a trust and level of comfort that really helps make this a worry-free experience. No matter what you need, or how high maintenance you are, they're there with a helping hand, and a quick one-liner. 
If whale graveyards, reefs, walls and wrecks weren't enough to fill your diving soul, then maybe the Bell Island Mine will be. The historic iron ore mine is open to small groups of divers, lead by John, or when in town, Jill or Steve. Divers need to meet a specific list of requirements, beginning with a full cave certification, but the effort is worth the unique reward. For every foot you descend you're travelling back in time to when the mine fed iron ore up to the bustling surface town.
"The truth is that the Bell Island Iron Ore Mine is not only a unique and culturally important industrial archeological site full of artifacts and history, it will always be a very special spot for me. A good friend's ashes are resting a few metres into that flooded passage." We highly recommend readers pick up a copy of Steve Lewis' Death in Number 2 Shaft, the telling of his experience from 2007 mine exploration. 
Those not cave certified will get to spend the day exploring Bell Island itself. A walk around Grebes Nest—exploring topside mines, iceberg spotting from the rugged cliff tops, and having the best fish n' chips anywhere on the continent at Dicks (complete with Newfoundland 'dressing'). Then you'll meet up with the mine divers for a dry tour of the mine museum given by a knowledgable local.
Rick and John are both on hand with witty anecdotes and facts; it really is a very fitting end to your stay at Ocean Quest. It's the bow that ties it altogether, the icing on the cake, and the conclusion to a week of exploring that puts everything—the dives, the wrecks, the people, the history—all of it into perspective. 
You leave Bell Island with a deep appreciation for the people, and a deep respect for the land. You loose a little more of your heart to it all.  It is the perfect way to end a trip of discovery.    
As Jill fondly recounts, "The first time you arrive in Newfoundland you 'come from away'. When you return, you are family."
It's tough to write about a Newfoundland dive trip and just talk about the diving. It's about so much more. Jill says, "When I first arrived in Newfoundland, I was expecting great diving, but I wasn't expecting a new family." She's not wrong. Steve adds, "Newfoundland was rugged country, unforgiving and cruel to the early European settlers, and perhaps, because of that history, deep in the local DNA is a special kindness you'll witness in few parts of the world."
A dive trip to Newfoundland is about history, people, music, food, beer, Screech, jokes, friends, family, fish n' chips—and finding your place amongst it all. 
Learn more about diving in Newfoundland and the Bell Island: www.oceanquestadventures.com