Destinations
Cuba's Jardines de la Reina
May 22, 2013 By DIVER Editorial
Just 500 divers each year get to see the Caribbean as it was 60 years ago.
Text by Joseph Frey
Photos: Courtesy Avalon Diving Centres 
Rolling off the skiff for the last dive of the week I barely miss three Caribbean reef sharks in the shallows. Startled, they quickly scatter then regroup and drift to the reef below. As if in a slipstream I descend the 30 feet (10m) with them to a reef that boasts the healthiest coral in the Caribbean. The flora and fauna is bursting with colour and all around the waters are teaming with tropical fish. This pristine ecosystem has changed little since Christopher Columbus first spotted the islands and reefs of what are now called Cuba's Jardines de la Reina or Queen's Gardens.
These reefs located in the Gulf of Ana Maria 60 miles (100km) south of Cuba's central provinces of Ciego de Avila and Camaguey are for the most part inside the Jardines de la Reina National Park, which is accessed from the sleepy fishing village of Jucaro.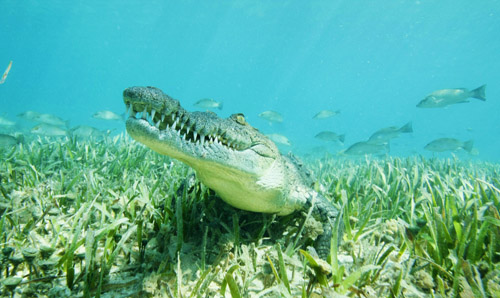 Changing Times
I began scuba diving in the Caribbean in 1971 and since then 80 per cent of the region's coral reefs have been severely degraded or have died off due to climate change and human stressors. Stronger hurricanes brought about by climate change can inflict severe damage on coral reefs. More lethal than hurricanes is bleaching, when corals expel algae, turn white and often die, due to warming seawater.
If bleaching is the only factor stressing a coral reef it has a 70 per cent chance of recovery. The odds drop when you add in human stressors that in the Caribbean include mass tourism, hotel development, too much scuba diving in popular areas, the introduction of invasive marine species, overfishing, removal of coastal mangroves, coastal deforestation, chemical fertilizer runoff and animal waste from farming activities. Fortunately these are largely absent from Cuba's southern coast. Combine this with sound public policy that created national marine parks here in 1996, and the Jardines de la Reina flourishes today.
We arrive in Jucaro after a six-hour bus ride from Havana. Inside a fenced compound we see half a dozen live-aboard yachts operated by Avalon, an Italian company that also provides logistical support to its floating hotel, the Tortuga, from this shore base. Through its contract with the Cuban government Avalon is the only firm permitted to take divers and catch and release anglers to the Jardines de la Reina. Just 500 divers and 500 anglers (recently reduced from 1,000) are permitted into the Jardines de la Reina National Park each year.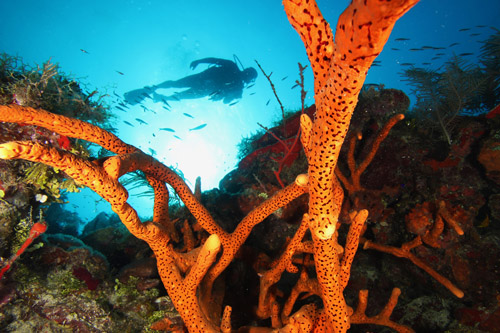 Fortunate Few
We're among the fortunate 500 scuba divers who get to dive three times a day and experience a little of the Jardines de la Reina's many reefs and mangrove islands spread across the 675 square miles (1,750 km) of Cuba's coastal seas that Avalon manages. On this occasion I'm among seven guests from Spain, Italy and Canada, and a crew of four, aboard La Reina.
My fellow scuba divers are intelligent, amusing and great travel companions. Javier Sr. and Javi Jr. are father and son; both are dentists from Balboa, Spain.  Javier is quite intense, has a keen knowledge of Spanish naval history and has brought novels along written by Cuban writers. He and I communicate with each other using our limited high school French, with the odd German, English and Spanish words thrown into the conversations. Javi has just completed his master's degree in orthodontics, and speaks English.
Adriano (Adri) and Chiara live on an estate near Milan, Italy. Adriano owns a company that paves highways and is a Formula One enthusiast while Chiara works in hospital risk management and is an equestrian. Both are chatty and full of laughter the entire week. I've never seen such a loving couple. Adri speaks Italian only while Chiara speaks some English and a bit of German. Even with a language barrier Adri and I communicate through hand gestures, we find the same things funny and we both love beer and food.
There are two other Canadians, fellow Torontonians. Curtis is a financial investor, and his wife Christine is a medical doctor specializing in hematology. It turns out Christine and I share Hungarian heritage and soon we're swapping tales of our parents and their escapes from communist Hungary, ironic considering we're in Cuba.
During the six-hour sail from Jucaro to the Jardines de la Reina we get to know La Reina's crew. The yacht's captain Guillermo (Guilli) is from Italy. Jensy the yacht's engineer is Latino-Cuban. Through years of hard work Jensy has worked his way up to an engineering position from being a deckhand. He is self-taught in English and has a great sense of humour. Joseph, our benevolent Afro-Cuban cook whipped up great meals with a heavy emphasis on fresh fish for lunch and dinner. He engages in intense discussions with Javier over Cuban literature. Ramon, a Latino-Cuban with Asiatic features, is the strong and quiet skiff driver for our forthcoming dives. Fausto is our dive master, with Gustavo (Tavo) a Latino-Cuban who is our secondary dive master.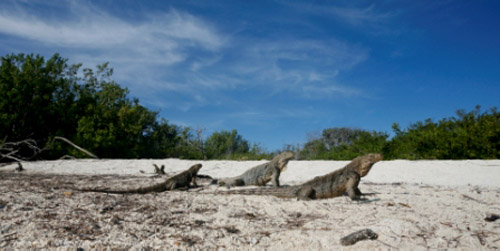 Aquatic Mélange
The next morning our dive skiff heads for Anclitas, a site of coral reefs remarkable for their layers of texture and structural complexity. In 50 to 60 feet (15-18m) at this one site we see spiny lobsters, green morays, southern stingrays, a large green turtle, black groupers, Nassau groupers and lionfish!
Before our second dive of the morning we go ashore on a small island inhabited by feral rats called 'jutia' (hoot-ee-ya). These rather entertaining beaver-like rodents approach us without fear and are easy to photograph. Quite likely they were introduced by the Spanish and have evolved in isolation, or at least with the other wildlife that includes iguanas that are about half their size.
The next dive is at a place called Pipin, our first big shark encounter, in about 80 feet (24m). Here, a dozen Caribbean reef and silky sharks swim all around us and while they are fascinating, the icing on the cake is to watch the interplay between them and the local Goliath groupers, themselves big fish and, as we quickly come to understand most capable in the face of all other reef inhabitants and casual visitors infringing on their 'turf'. It's an exhilarating dive.
Lunch and a siesta follow aboard La Reina. Mid afternoon we're off again, this time to Boca de Piedras for more sharks, including Caribbean reef sharks and their retinue of free ride remoras, and a nurse shark under a coral overhang. Pilot fish are present of course and, as ever move in perfect unison with the sharks. A comical moray, a huge barracuda, a green turtle, black groupers, a solitary lionfish and a scatter of pulsating moon jellies are also on hand to animate the site, which certainly has its share of top predators. Barrel sponges here are impressive and the sheet coral too; all this in just 60 to 70 feet (18-21m). It was a remarkable first day of diving and indicative of what we would see throughout the week.
Heading back, our skiff skims through the beautiful mangrove islands of the Jardines. The combination of strict conservation and minimal human activity along the southern coasts of Ciego de Avila and Camaguey provinces ensures coastal mangroves and wetlands remain intact, which in turn contributes to what is the most mature food web in the Caribbean. It's similar to the best-preserved food webs of the Indo-Pacific region of eastern Indonesia, which accounts for the large number of top predators here, including sharks, snappers and groupers.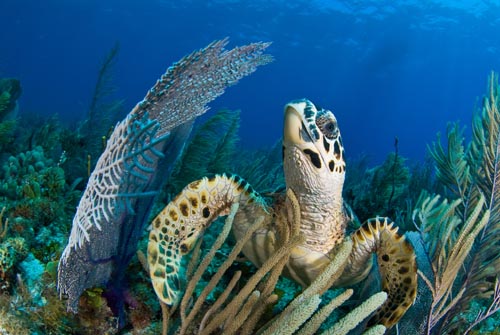 People, Pork Test
Depending on the time of year and your location in the Jardines you'll be able to see many different shark species, among them Whale sharks, spinners, lemons, Caribbean sharpnose sharks, Great hammerheads, Blacktips, Tigers, Caribbean reef sharks, Silky sharks and Nurse sharks. We see the latter three on a daily basis.  You just don't get these shark sightings in other parts of the Caribbean anymore.
It's impressive and as I mentioned before it's a treat observing the territorial behaviour of 200-pound (90kg) plus Goliath groupers and 100-pound (45kg) Black groupers facing off all comers, ourselves included, if we get a little close for their comfort. These guys are very protective, unlike the sharks, even the big ones at 10 feet (3m) plus, which are unwilling to engage over territorial rights. Sharks are lazy hunters while groupers are clever and patient and put more effort into hunting down their next meal.
Some of the dive masters decide to see just what attracts sharks so they fill two baskets, one with frozen fish blood and parts and another with frozen pig's blood, guts, ribs and limbs. Anatomically, pigs are very similar to humans, hence some of their organs are transplanted into humans, and their blood is very similar to ours as well. In the water the sharks circle the fish basket and then tear it apart for the fish. They ignore the pork.
In a further experiment dive masters hold pieces of pig in front of the sharks' snouts. Again this bait is ignored, suggesting that humans have little to fear from sharks even when bleeding in the water. This seems especially so in the healthy biomass of the Jardines where a shark's next meal is always close at hand, or mouth.
On one dive I drift slowly along a reef watching a shark as it spots a clump of seaweed just below the surface. It quickly closes in to investigate then swims off. Sharks are abundant in the Jardines and after just a few days we're at ease with them swimming very close by. On another occasion a Caribbean reef shark won't leave my side for a long while, moving where I move; it's reminiscent of an experience I had in a four-plane strike formation of CF-18 fighter jets. Like the planes around me, this shark was a wingman maintaining distance and pace with precision.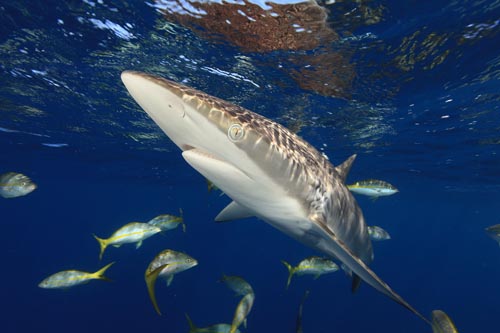 Conservation Working
Funding for research that's led to establishment of marine reserves in Cuba came from organizations such as the World Wildlife Federation – Canada, and the Canadian International Development Agency (CIDA) in the 1980s. Since 1996 the Cuban government has been funding scientific research in the Jardines, now overseen by Dr. Fabian Pina of the Coastal Ecosystems and Marine Research Centre of Cuba, in Ciego de Avila, the capital of the province that takes the same name. Assisting with research in the Jardines is the marine sciences department of the University of Havana (CIM-UH) under the directorship of Dr. Jorge Angulo, educated at the University of Havana and at Canada's Dalhousie University in Halifax, Nova Scotia.
Since 1996 fish stocks have increased by 30 per cent within the Jardines de la Reina National Park, resulting in a 20 per cent increase in fish populations outside park boundaries for the local commercial fishing industry. The only commercial take permitted in the Jardines is for Caribbean Spiny lobster, a sustainable population throughout Cuba's coastal waters. Otherwise, commercial fishing is prohibited and enforced by fisheries patrols. You'll find species of fish here that have disappeared elsewhere in the Caribbean.
The Jardines are home to numerous vulnerable and endangered species. Six of the 10 species of sharks found in the Jardines are listed as vulnerable in other parts of the Caribbean. The national park is also home to other endangered forms of life such as plants, birds, iguanas and marine mammals, Loggerhead turtles, Green turtles, Hawksbill turtles, Queen Conchs (molluscs), American crocodiles, Black coral and extremely sensitive Staghorn and Elkhorn corals. Elkhorn coral is the canary in the coalmine on a coral reef; when it starts to die, as it has in many parts of the Caribbean, it's a warning the reef's in decline. In the Jardines you see only healthy Elkhorn. Amazing to me because of its absence in recent decades. Also recalling my Caribbean diving experiences of the 1970s, is the abundance here of live Queen conch, in just 30 or so feet (10m). Usually, they're quickly scooped up and eaten by locals or cooked in restaurants for tourists.
Overall health of the Jardines ecosystem allows it to thrive and recover quickly when stressed. The Jardines has survived Soviet-era chemical fertilizers, and the Long-spined urchin is making a comeback following a die-off in the 1980s. Today, Cuban agriculture is organic, and sound public policy based on scientific research works hand in hand with strict conservation laws that protect the Jardines de la Reina. And now the fortunate 500 divers each year get to experience a little time travel and see a Caribbean of 60 years ago.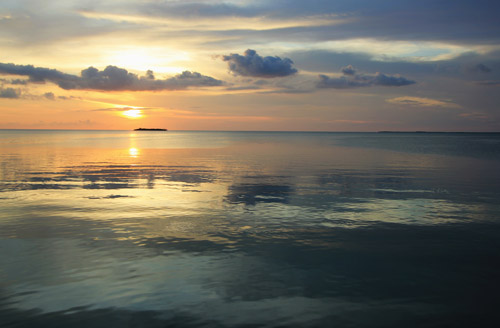 10 Responses to "Cuba's Jardines de la Reina"