Destinations
Diving the land of the rising sun
May 22, 2013 By DIVER Editorial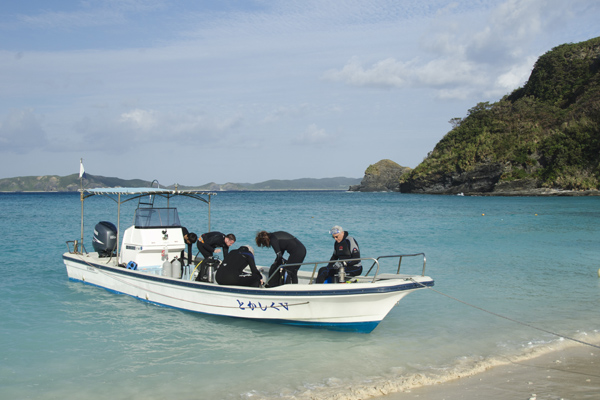 Japan may not be at the top of your dive destination list, but consider that this is a country of over 6,800 islands and tens of thousands of dive sites from the chilly north to the tropical south, among them UNESCO World Natural Heritage Sites. Diving for all skill levels and interests can be found in Japan, often in the same regions. There are many PADI and NAUI affiliated shops throughout the country. Dive clubs are another way to get hooked up for some diving. There are accommodations and facilities to suit every taste and budget.
Hokkaido
Hokkaido in the north will appeal to cold water divers who know that such waters are home to abundant marine life and diving under the drift ice in the Sea of Okhotsk off the northern coast of Hokkaido is a case in point.
The best diving is off the Shiretoko Peninsula in February and March just as the ice pack is breaking up. The peninsula is a UNESCO world Natural Heritage Site that nature lovers will enjoy above and below water. Underwater the floating 'ice fairies' (sea slugs) are a macro shooter's delight and colorful anemones, starfish and migrating fish are also in plentiful supply.
Lake Shikotsu near the urban center of Sapporo is a crater lake with crystal clear water and one of the most beautiful lakes in Japan. Hokkaido also offers cave diving, lots of dive shops and great hospitality.
Ogasawara Islands
If you want to get off the beaten path and see endemic species and pristine nature the Ogasawara Islands are the place to go. In 2011 these islands, which are more than 600 miles (1,000km) south of Tokyo, were designated a UNESCO World Heritage Nature Site. Here you'll find many unique critters above and below the water. It's a remote place where the reefs are very healthy. There are a few dive shops on the island or you can book with a Tokyo-based shop, most of which offer special packages that include boat fare, accommodations and rental gear.
In these waters you may observe dolphins, whales and a variety of sharks. And even a few wrecks! More than 100 dive spots throughout the 30 islands are also home to beautiful soft corals, pigmy seahorses and other photogenic critters. From February to August the Ogasawara Islands become the biggest breeding ground of Green Turtles in Japan. You can also catch migrating schools of big fish such as dogtooth tuna or watch a manta scramble.
The Ogasawara Village Tourist Association has put together a handy list of Activity Service Providers on the island. They also have a great deal of general information to help out in planning your diving adventure in this remote and pristine sub-tropical destination.
Izu Peninsula
If you want the comfort and convenience of Tokyo as a base there are popular dive sites just a few hours drive from the metropolis around the Izu Peninsula and the Izu Islands. They're busy on weekends, crowd free during the week.
There's at least a hundred dive sites around the peninsula with lots of invertebrates and fish species to see and photograph, sharks included. Off the coast at Atami, a hot spring resort town, there's even the 280-foot (85m) wreck of the Chinsen which is broken in two. In the Izu Islands sightings of dolphins, whale sharks and schooling hammerheads are not uncommon. And be sure to keep an eye out for the Wrought Iron Butterfly Fish which can only be found in the Izu and Ogasawara Islands.
A post dive soak in hot springs overlooking the ocean and Mount Fuji is a fine way to end a day in the Izu Peninsula region.
Kii Peninsula
Further southwest on the main island from the Izu Peninsula is the Kii Peninsula, just south of the gourmet lovers city of Osaka. Visitors to the Kii Peninsula flock to the Ise grand shrine, one of the most important Shinto shrines in Japan. Here, Buddhist pilgrims travel the ancient Kumano Sacred Road to visit ancient temples, and jewelry enthusiasts can meet with traditional women pearl divers and visit Mikimoto Pearl Island.
One of the most popular diving areas is near the town of Kushimoto, home of the oldest marine park in Japan. Waters here are warmed by the Kuroshio Current from Southeast Asia and boast more than 120 species of coral, and giant sponges too!
Shirahama Beach is another popular dive destination. It's a summertime resort area famous for its white sand beaches and hot springs resorts. There are over 20 dive sites within a 15 minute boat ride of the dock, including the Edose big shelf arch, site of a large tugboat wreck that's still intact and home to large schools of fish. After your dive visit the Kyoto University Aquarium to learn about the flora and fauna you saw on your dive.
To dive this region book with one of the many local dive operators or through large dive shops in Osaka, Nagoya or even Tokyo! There are many local shops right on the beach that offer easy and quick access to the boats and dive spots.
Okinawa – The Tropical Paradise
In the southern reaches of this island country are the Okinawa Islands, the 'tropics' of Japan, discussed in more detail in this feature. There's something for everyone, from macro sites to schooling hammerheads to mysterious underwater 'ruins'.
As home to a U.S. military base you'll find many shops with English speaking staff or run by ex- military who fell in love with the place and never left. Check out the wreck of the USS Emmons, sunk during WWII and because of possible unexploded ordnance and the currents, it's recommended as an advanced dive. Easier diving can be found on the many sea walls and drop- offs loaded with corals, or maybe explore some of the coastal caves.
The Kerama Islands have some of the best reef diving in the region. Home to over 70 species of corals hard and soft, there's lots of shallow bay dives with rocky outcroppings home to sea snakes and sea turtles. Macro lovers will get a kick out of the teeny tiny bobtail squid and pigmy seahorses among the corals.
And, of course, one of the most mysterious and fantastic places to dive in Okinawa is Yonaguni, westernmost island in Japan and site of two worthy dive experiences: schooling hammerheads in the cooler months and the must-dive mysterious Yonaguni 'ruins' discovered by a local dive shop owner. Years later neither divers nor scholars can agree if the structure is man-made or natural. Dive it yourself to see what you think!
For Okinawa dive site details go to: www.okinawastory.jp 
For general travel information and details on diving and other activities to pursue in Japan, go to www.japantravelinfo.com
For a list of Okinawa English Speaking Dive Shops download this PDF: OCVB_Diving_2012 Shop List