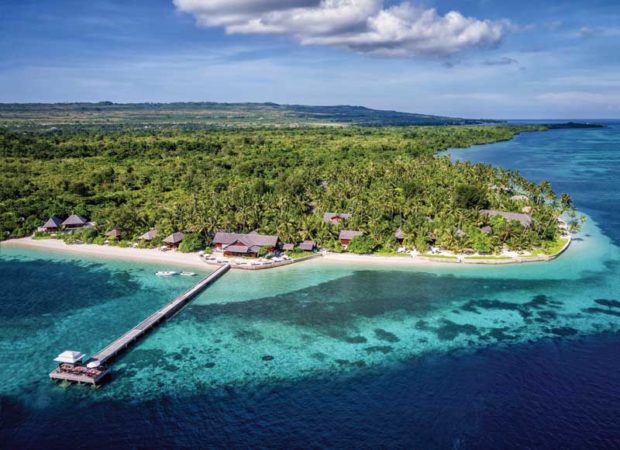 Wakatobi's Coral Reefs Receive Excellent Health Report, May Provide a Model For Future Sustainability
A marine biologist reports that the reefs surrounding Wakatobi Resort show no signs of degradation or bleaching. Dr. Richard Smith performed much of his PhD research at Wakatobi in the 2009 time period. He recently returned to the resort to follow up on his initial research. "I was pleased to see the reefs were is such good condition," he says. "I would not want to say that Wakatobi is immune to the threats that the rest of the planet is facing, because nothing is immune, but I didn't see any issues or signs of coral bleaching."
Annual upwellings of colder currents may play a factor in the corals' resilience to bleaching, Smith says, but he also feels the reefs' protected status and lack of fishing pressure plays a significant role. Bleaching and other issues are more likely to appear when corals are stressed, Smith says, and there are fewer stressors when the entire reef ecosystem remains intact and populated by the full diversity of marine life.
This importance of maintaining the ecosystem's full biodiversity makes a powerful case for the increased protection of coral reefs worldwide. But with millions of people around the world depending on coral reefs for their livelihood, placing all reefs off-limits to human activities is neither practical or possible. A more viable solution comes from initiatives such as Wakatobi's Collaborative Reef Conservation Program, which combines protections with economic incentives, and creates a balanced mix of no-take zones and areas where sustainable fishing is permitted. This program, now in its 25th year, has been fully embraced by the local community, and it has been shown that no-take zones actually increase harvests in surrounding areas.
On his most recent visit to Wakatobi in February 2020, Smith reports finding a number of species previously thought to be endemic to only a few other areas. "It's really exciting," he says, "and important, because this is the sort of stuff we could lose in other places that are being degraded and changed, before we realize they are gone. If Wakatobi weren't protected, the then nobody would have ever seen these fish."
More about Wakatobi's conservation programs click here.