Dive Industry
UPDATE: TEKDiveUSA to be rescheduled
March 12, 2020 By DIVER Editorial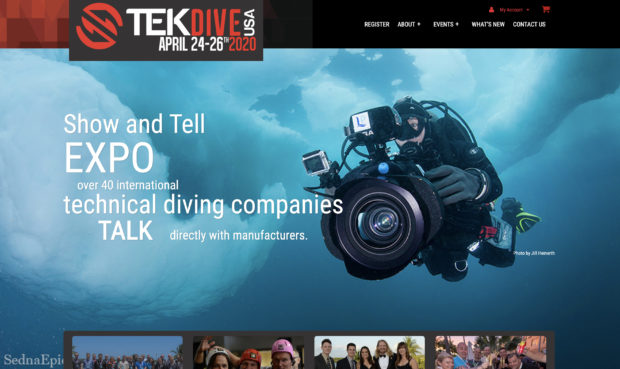 UPDATE from the show organizer:
TEKDiveUSA.2021 will now take place April 16th-18th, 2021. We have worked to schedule around other industry events and make sure that we don't conflict with the many reschedules. The event will still be comprised of the Friday Night BBQ, two days of world class presentations and exhibition of the finest technical diving companies. The Gala Awards Dinner will be the night where we celebrate success, catch up with old friends and make new contacts.

All events will take place at the The Hilton Orlando Lake Buena Vista, 1751 Hotel Plaza Boulevard, Lake Buena Vista FL. 32830. Booking the new dates for accommodations will begin as soon as The Hilton is able to get our links active on their site. We will send more updates on that as soon as possible.
Please be patient as we convert all of the information on our website to align with the new dates. We are hard at work updating all information.
TEKDiveUSA has been monitoring the evolving situation on coronavirus both in the U.S. and around the globe. Due to the public health emergency we are currently facing, we believe that it is not possible to move forward with TEKDiveUSA.2020 as planned.
In the interest of addressing the health and safety concerns of our stakeholders and in consultation with partners throughout the technical diving industry, as well as local and federal health agencies we have decided not to move forward with the TEKDiveUSA.2020 Conference in April. We are currently considering a number of potential alternatives to create the best possible experience for our community. Our intention at this time is to reschedule the Conference. All exhibition spaces, sponsorships, attendee tickets will be honored at the rescheduled Conference.
We appreciate your patience as we work through the details of rescheduling our Conference. We will keep you updated as soon as possible so please stay tuned for more details.
This was not an easy decision. Fortunately, we did not have to make this decision alone, and are grateful to our community for engaging with us as we grappled with the rapidly-evolving situation. This Conference is as much yours as it is ours, and it is important to us that we move forward together.
TEKDiveUSA strives to provide superior value and the best possible experience for exhibitors, sponsors and attendees. We knew that if we could not deliver on those expectations, we would not move forward. More importantly, keeping the community safe and healthy is TEKDiveUSA's highest priority; therefore, we are deferring to the developing consensus from public health authorities on the challenges posed by coronavirus.
We are still weighing the best potential path forward, and we ask you for your patience as we do so. We are committed to exploring all possible alternatives so that we can provide a productive setting where the industry can engage with the latest technology, hear from industry thought leaders and make the game-changing connections that drive our industry forward.
I want to stress that despite our disappointment at how this year's Conference has been impacted by global public health concerns, we are more excited than ever about the future of TEKDiveUSA and our relationship with you.
We are grateful for each and every member of our Conference community. It is your passion for the industry that makes TEKDiveUSA a success, and it is that same passion that will drive us into the future as we look ahead to new possibilities later this year and beyond.
Stay safe, 
Kerstin Olcott
TEKDiveUSA