Photographs Courtesy Deep Ocean Technology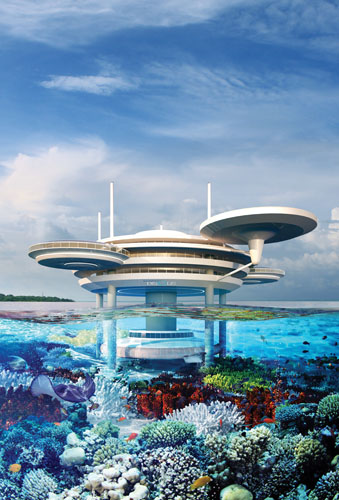 A patented project by Deep Ocean Technology (DOT), the Water Discus Underwater Hotel is right out of the Jetsons. The futuristic accommodation is remarkable in appearance and design. The basic structure comprises an underwater disc and a topside disc, sized to client specifications, water depth requirements and local reef conditions, that are connected by five support legs and a vertical shaft serving as the people and supplies conduit. In case you're puzzling over the Jetsons reference, it was an animated TV show about a family living in Orbit City in the year 2062, and dates back to the 1960s.
We're guessing this cool sub sea hotel will be a reality before the 2060s, but that will depend, as ever, on a person or company with the vision, and bankroll, to see the project through or, in this instance, to see it sunk.
The water discus' concept is modular and expandable. Each disc is an independent structure of almost 11,000 square feet (1,000 square metres), designed as a standalone module or as part of a larger complex. Multiple discs can be combined to form a larger structure. The underwater unit would be in depths between 30 and 100 feet (10-30m). Each would house up to 21 guest rooms and serving the two discs are entertainment facilities including a restaurant, spa and recreation area.
Adding to the appeal of expandability is mobility. In event of a change in economic or environmental conditions, the water discuss modules can be relocated. The on board safety system integrates with an international earthquake and weather warning system. According to company information, the discs are positively buoyant even when flooded. The structure would be monitored by external video cameras and ROV coverage.
In the Water Discus Hotel there is a dive centre adjacent to guest accommodations. Equipped with an airlock it allows divers to enter the ocean directly. Recompression facilities are part of the diving complex. The underwater hotels would be equipped with watercraft that includes submersibles and surface vessels and other equipment from water skis to diver propulsion vehicles.
We're thinking that this exciting initiative that gets humankind more connected to the water world from which it evolved, is also going to create new diving jobs. No time like the present to dust off that resume!
See www.deep-ocean-technology.com for more information.