Dive Gear
Seeing Red
January 10, 2012 By DIVER Editorial
Frustrated because your spotting light spooked the critter… again? Light & Motion's SOLA 600 Dive Focus Light offers a solution that, with a spot of undersea irony, will have you happily 'seeing red' all the same.
Text and Photography by Jett Britnell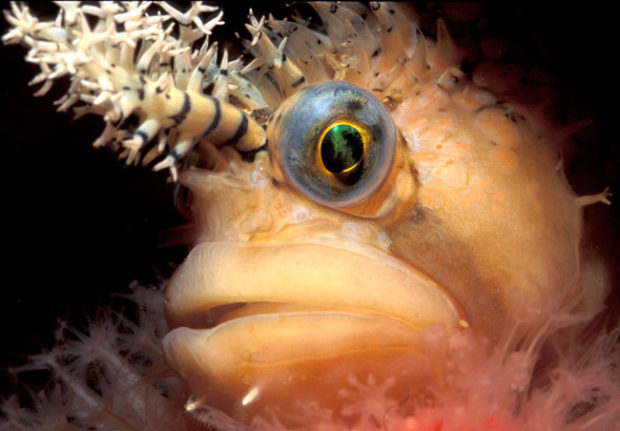 I've used an endless assortment of submersible lights for night diving and close-up macro photography through 28 years of shooting underwater. Many of these in their day were hailed as 'state of art'… the last underwater light I'd ever have to buy. And some were excellent, performing as advertised. But technology never sleeps and today the light emitting diode – LED – is a bright new direction advancing the science.
When I caught my first glimpse of Light & Motion's SOLA 600D LED Focus Light at a scuba diving consumer trade show last year, it was stopping show patrons in their tracks, as a Lamborghini Countach would parked on a downtown street. The SOLA 600D is indeed a thing of beauty though aesthetics are only part of the appeal. Diminutive and extremely lightweight it delivers in inverse proportion to its size.
There is a lot to like in the SOLA 600D, whose younger and older siblings, the 500D and 1200D, are also worth considering at www.uwimaging.com
Literally at your fingertip the 600D adjusts from white spot lighting to a flood beam; ergonomic efficiency that's really appreciated. But the innovation that really caught my eye is the unit's bank of red LED lights.
It's long been known that some species of marine life cannot see the red light spectrum and so it follows that a red focus light is less likely to spook your subject. This was something new and exciting and I found myself asking out loud to no one in particular, "Does this really work?
I got my answer soon enough test diving the SOLA 600D Focus Light in the chill but lush waters of coastal British Columbia's 'Emerald Sea'.
It was a pre-dawn plunge during which I came across a decorated warbonnet, an eel-like fish adept at vanishing into impossibly small hiding places. Familiar as I was with this critter I switched the SOLA 600 from its powerful white spotlight to red mode before getting in close. The first thing that surprised me – pleasantly – was that I could see the surrounding reef perfectly and with ease could focus over a distance of six to eight feet (2-2.5m) using this narrow spectrum of brilliant red light. The second thrill was that the warbonnet evidently could not see the red light. With the beam focused directly on its bizarre little head I moved in so close I half expected it to sock me in the nose and tell me to get out of its face. But it was neither disturbed nor frightened. Immediately, I took several close-ups.
I was impressed. The red light had delivered! It helped me shoot pictures that had proven more difficult on previous occasions. Overall, the 600D allowed me to switch easily between white and red light modes, between spot and flood modes and with those changes achieved so readily, to quickly focus and shoot several images of this notoriously skittish critter.
With my performance questions answered I then turned my mind to another modern day concern of the underwater photographer: would the unit's sealed body be a problem travelling on commercial airlines? The batteries are factory replaceable after three to four years of service life. Meantime its transportation is regulated in accordance with national and international guidelines. The SOLA 600D traveled with me as carry-on luggage to and from the Philippines without any concern expressed by airline security. This is good.
The factory sealed body of the SOLA 600D is also good. With no through body openings in its plastic case and aluminium bezel, flooding is eliminated in any normal circumstance. Light control is accomplished through a magnetic coupled slider on top of the body. Charging the lithium-ion battery is via a 'wet connection'. Charge port receivers are gold-plated as are the pins on the multi-voltage charger. They mate, there's a little magic and away you go. Indicator lights reveal charge status and power settings when the light's in use.
You may think the USD$579 MSRP is high. Quality comes at a price and my counsel to you is, "Try it." The product does a remarkable job of selling itself. I've shown this light to a number of fellow shooters and they all proclaim the intention to buy.
By a wide margin, Light & Motion's SOLA 600D focus light is the best focus light I have used in nearly three decades of underwater photography. I think this little beauty is a game changer destined to become the underwater light of choice among underwater photo pros and novices alike.  For more go to Light & Motion's website www.uwimaging.com
Light & Motion SOLA 600D Specifications
MSRP: USD$579
System Weight: 287 grams
Battery: 2 Cell Lithium-ion
Charger: 1.5 Amp
Charge Time: 150 minutes
Dimensions: 57mm x 101mm
Output Lumens: White-Flood 670, White-Spot 500, Red 220
Burn Time White: High – 80 minutes, Medium – 160 minutes, Low – 320 minutes
Burn Time Red: 320 minutes