Covered the world of diving for decades
Text by Phil Nuytten
Holy Cow! These old Skin Diver Mag covers bring back a lot of memories. Hard to believe that the person who shot so many of these is still a freelance professional underwater photographer and diving journalist today! Based in Nevada, Geri Murphy (pictured) has an incredible history in underwater journalism, with more than a thousand published articles, books and photos – including an astonishing 170 covers for Skin Diver Magazine. Geri began her career as a sport diver in the late '60s, diving off the New Jersey coast, exploring and recording images of shipwrecks and sea life. She turned her interest to the Caribbean, where she was the first to photograph and document 'Stingray City', the name she coined for what is now a world-famous dive site in the Cayman Islands. Later she spent time in Micronesia, where she authored a number of articles and dive guides.
Geri has had an impressive career in Hollywood, working on underwater films. In 1973, she joined the crew for the production of the theatre release movie Sharks Treasure. She was the underwater script supervisor and safety diver for Hollywood stars Nick Nolte and Jacqueline Bisset in the award-winning epic The Deep. In addition to films, she worked in television, on productions that include Man From Atlantis and Switch.
Geri spent almost 30 years diving around the world with her husband, Paul Tzimoulis, who was publisher and editor of Skin Diver Magazine during that period. She has been the recipient of a wagonload of honours for her writing and photography, including induction into the AUAS Diving Hall of Fame, the Women Divers Hall of Fame and the International Scuba Diving Hall of Fame, among others.
I once mentioned to her late husband Paul that I thought highly not only of Geri's work, but also her unfailing good humour and the obvious sincerity she brings to all the stuff she does. Paul thought for a moment and said, "Yes, she really is a lovely woman."  "A lovely woman." Simply put, but quite profound, I believe.
Now, Geri has put together a book that will bring back the days of Skin Diver magazine for a whole new generation to enjoy. To get your copy of her SDM 'coverage', go to: www.gerimurphyimages.com
A helluva run and is still going strong! Congrats, Geri!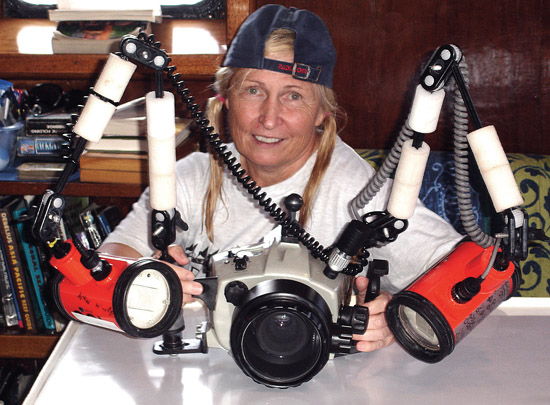 18 Responses to "Skin Diver Magazine"