Text and Photograph by David Fleetham
As a rule, waves can be tricky to shoot underwater. In the shallow surf zone it's not unusual that you'll take a bit of a beating in the quest for a worthy wave shot, but this image at the Molokini Marine Preserve near Maui, Hawaii, was an exception. When the waves here come from a westerly direction they break over a submerged section of Molokini known as Reef's End (right side of inset image) that's just five to 15 feet (1.5 to 4.5m) below the surface. This causes the swells to stand up and break, but the depth then drops off again providing the perfect spot for a photographer to get directly under the wash without being excessively pounded. Even so, the surge from a large wave will 'rubber band' you 40 feet (12m) forward, then back. The trick here is to relax and enjoy the ride. 
I shot this available-light image with a Canon 50D and Tokina 10-17mm fisheye zoom lens at 10mm, in an Ikelite housing. At ISO 320 and on shutter priority at 1/400 sec to freeze movement in the wave, I set exposure compensation to -0.7 (2/3 of a stop under exposed) to lessen the chance of blowing out highlights shooting at the sunny surface. The camera selected F/8 as the aperture, which kept the corners reasonably sharp. Now I shoot a Canon 5D Mark 3 full sensor camera and still miss that one-of-a-kind fisheye zoom lens that works only on the smaller sensor cameras.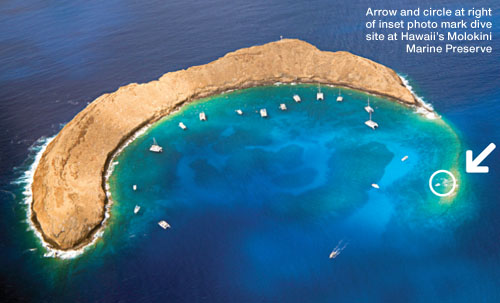 DIVER MAGAZINE. NORTH AMERICA'S LONGEST ESTABLISHED DIVE MAGAZINE. SUBSCRIBE TODAY.