Canada
The good, the bad & the ugly
May 16, 2022 By DIVER Editorial
Words and Photography by Jill Heinerth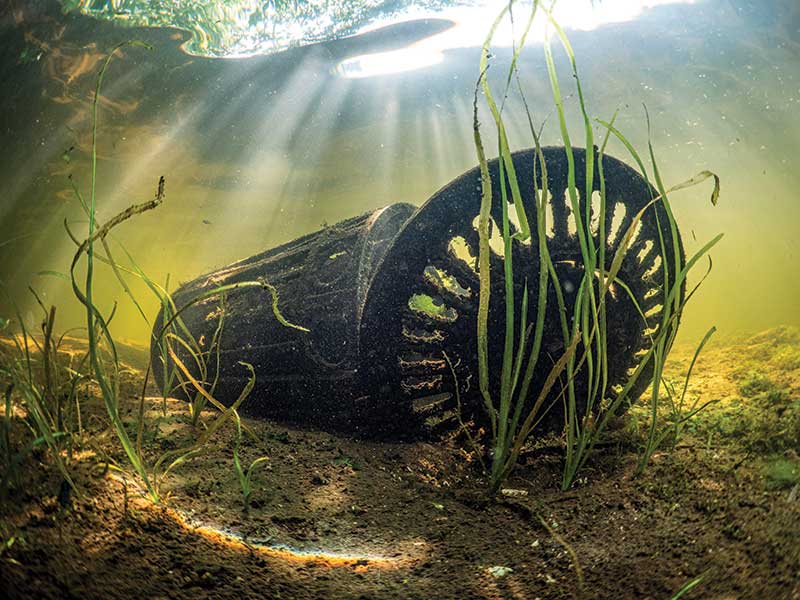 With travel opportunities shut down by COVID-19, we are all trying to find ways to stay excited about diving. As much as I long for a warm, tropical dive hovering over a Caribbean reef, I have to admit that I have recently found a greater purpose in diving and life. These days, I find myself wandering the local trails in town with a garbage bag and grabber tool. I have turned to local exploration, researching sunken town sites, cave-bearing geology, and historic wrecks. But one of the most rewarding things I have been doing is cleaning up my local waterway, the Mississippi River, which drains into the mighty Ottawa River in Ontario.
My town has a history of logging and the manufacture of cast-iron stoves. The riverbed in my backyard became the repository for 200-years of refuse. With time, some of that trash is now considered artifacts. This summer, I focused on removing as much modern trash as possible and found a few gems along the way. A brilliant blue poison bottle, an antique brass candlestick, and some other trinkets have been dropped off at the local Heritage Museum. Old crockery has landed on my desk. I couldn't discard a grotesque doll's head fast enough, afraid it would haunt me in the night. 
Then one day, I found this large trash can in the water. It was made of cast iron and must have weighed a couple of hundred pounds (100kg). It wasn't far from shore, likely rolled into the water by local hoodlums. Before my recovery attempt, I thought I would take a few photos. Documenting the underwater world is about far more than pretty fish. To accurately report our watery resources' status, we have to shoot the good, bad, and ugly things we find. I wanted to capture a shot that was arresting but told a story. It was critical to find an exposure that would capture the elusive, dappled light. I wanted my image to be beautiful, despite the subject.
With great effort, I then heaved and rolled the beast of a garbage can closer to shore where our Public Works Department staff could drag it up a seawall. We have many trash cans in our little town that resemble this one. I'm not sure where mine ended up, but I know it is back in service where it should be. I'm still looking forward to some warm water immersion when this time has passed. Still, in the interim, like many other readers, I am finding a significant purpose and appreciation in every local dive. 
Panasonic GH5 in an Aquatica housing with HD Monitor, Light and Motion Sola Pro lights, and 8mm Lumix lens at ISO 200, f 3.5, 1/100s.
For more: www.intotheplanet.com