Destinations
The Guardian of the Reef to be sunk April 12
April 9, 2014 By DIVER Editorial
After many months and a long journey from his birthplace in British Columbia the bronze sculpture, commissioned to mark Divetech's 20th Anniversary, to be welcomed with a weekend celebration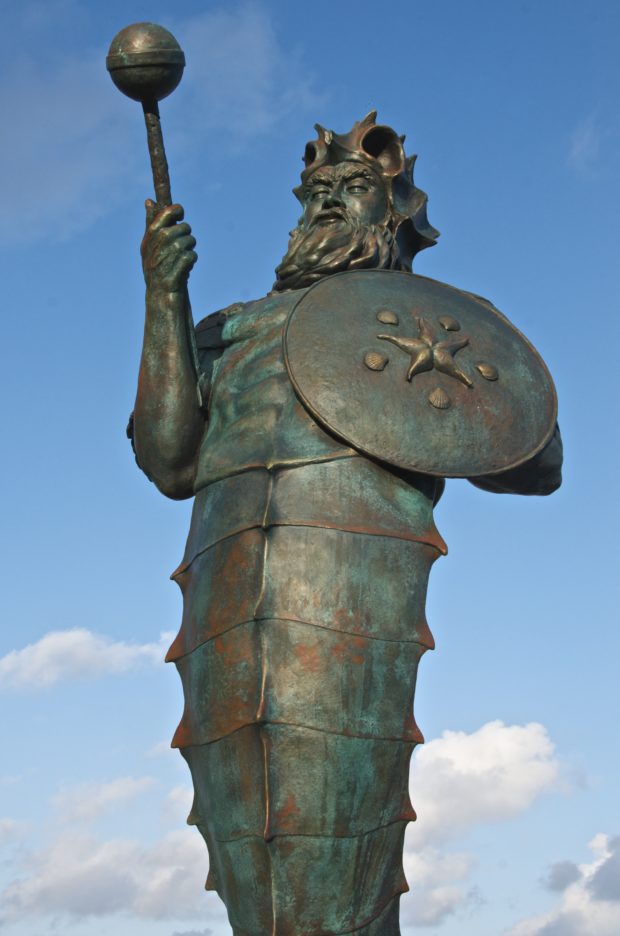 He has travelled thousands of miles to arrive in Grand Cayman, and on Saturday, April 12 the bronze sculpture Guardian of the Reef, will be sunk at his permanent home on a sandy flat at 60f/18m off the island's Northwest Point. Months ago Divetech, a dive operation based in Grand Cayman, purchased the sculpture from Canadian artist Simon Morris to celebrate its 20th anniversary this year. The 13-foot Guardian is a mythological creature half ancient warrior, half seahorse, that was sculpted at Morris's studio in British Columbia, caste in bronze at a foundry in Oregon. Once completed, the sculpture was shipped to Orlando, FL in early November for an unveiling at the Dive Equipment Manufacturers Association Convention (DEMA).  He arrived in Grand Cayman earlier this month and has been on display at Divetech since clearing customs.
"We are very excited to see the Guardian of the Reef in Cayman after his long voyage here over 4,500 miles and many, many months," say Divetech owners Jay and Nancy Easterbrook. "To see him standing on shore he is very majestic and will serve as a long-term reminder to all of us about the need to protect our reefs."
Festivities for the sinking begin Friday April 11 with a launch party and dedication ceremony at Divetech's shop at Lighthouse Point. The process of transporting and sinking the sculpture is scheduled to start at 8am on Saturday, weather permitting. The sculpture will be moved by truck from Lighthouse Point to the Port launch. The sinking contractor will tow the Guardian of the Reef to the site and place it on a concrete base already in place. Divetech will deploy two boats – one with dive staff to assist in the process and one for media documenting the event, plus shore diving will be open all day to the public.
Once the Guardian is perched on his 4-foot pedestal, he'll stand at 17 feet and almost immediately sea creatures will begin exploring it as an artificial reef. When the all clear is given on Saturday, divers will be able to enter the water from shore to enjoy the site and welcome him to his new home, just minutes off shore.
Artist Simon Morris is also the creator of Amphitrite, the popular mermaid sculpture and it's a good bet the Guardian of the Reef will also draw his share of divers for decades to come. Divetech will be using the sculpture to help focus attention on ocean conservation during its yearlong celebration. One dollar from every dive made at the site will go to a local conservation education program and Divetech hopes to raise $20,000 the first year. The money will be used to purchase educational materials from Annie Crawley, also known as "Ocean Annie" who has created several programs on ocean education.
Divetech began offering dive services on Grand Cayman in 1994 and has always been a champion for Cayman's underwater world, owners Nancy and Jay Easterbrook say this program allows them to give back to the community.
"We look forward to seeing everyone that can stop by at the dedication and celebration and then seeing him in the ocean to start his century post," say the Easterbrooks.
For more information visit: www.divetech.com.