Nauticam USA have announced their new FIX Neo line of underwater photo and video lights. Neo combines an ultra-modern LCD status display, removable battery, 100 degree beam angle, interchangeable light heads, optional remote controller, and sealed recharging. Whatever a shooter's ambition, wide-angle, macro, focus light, video or photography, Neo delivers the configuration, power, and control in a travel friendly small-lightweight size to keep shooting to create the memories of a lifetime.
"The Neo is the culmination of listening to market demands and delivering the most advanced underwater photo and video light system to date." – Chris Parsons, Nauticam USA  Sales & Support Director. "As a videographer or photographer there are specific needs for lighting and lighting control which don't map-over from products designed only to be a simple dive light."
Neo is Sophisticated
Neo features a revolutionary light status display!  An ultra-modern LCD panel clearly communicates Neo's status by simultaneously providing remaining battery time and light output level. Need more data? Just wait a few seconds after adjusting Neo's output and the LCD screen displays the remaining burn time in minutes!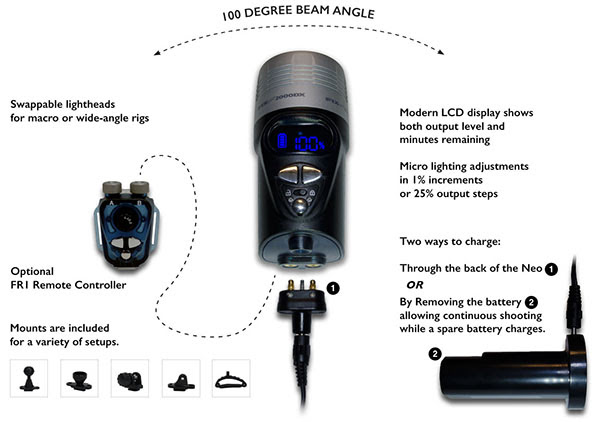 The range of Neo's light output is virtually infinite. The primary control button allows for large 25% output changes to quickly move up Neo's output scale. Use Neo's micro adjustment buttons to increase or decrease output in 1% increments. Micro 1% adjustments give the shooter the control for perfect lighting on their subject without altering camera settings or changing camera to subject distance.
Neo adapts to shooting demands as diver's inspiration changes. Neo performs as a complete unit as packaged. When the ocean conditions or motivation changes, the light heads can be swapped to deliver beam angles and output to match the performance desired. Neo's interface allows shooters on-the-fly reprogramming to match light head configuration with the lighting controls.
Neo is microprocessor controlled. Unlike old-style lights who's light output diminishes as the battery capacity drops, Neo's microprocessor maintains a consistent light output throughout the charge cycle of the battery. Neo leverages it's microprocessor to allow for use in air safely up to 25% output. The microprocessor's heat sensing components are constantly evaluating Neo's internal temperature. Protecting the internal components, Neo's internal thermal monitoring will reduce or shut off the light if output is too high for use in air or if Neo is inadvertently activated.
Neo Charges Two Ways
Neo's battery is easily removable allowing a fully-charged spare battery to be installed and get the diver back in the water shooting. The battery pack, light head, and light body are splash proof sealed, eliminating the possibility of errant water damaging Neo or compromising the sealed battery pack. Accommodating interchangeable battery packs on multi-dive trips keeps divers shooting, not waiting.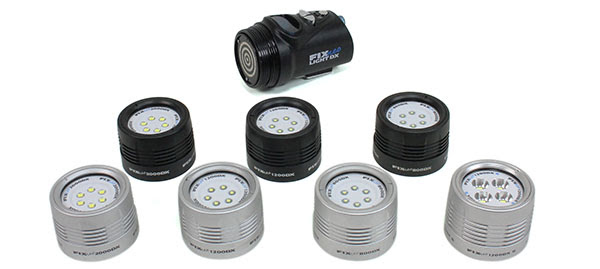 Neo's light body includes gold plated exterior battery contacts. When the dive schedule doesn't require battery swaps or if you prefer to keep Neo sealed, simply plug the charger into the back of the Neo leaving the entire unit sealed. Each Neo ships with a charge plug cap to keep water out when diving and keep the contacts sparkling.
FR1 – Neo's Remote Controller
Neo features an optional remote controller called the FR1. Position the FR1 on a handle or tray of your system and instantly transform your lighting control within thumb's reach. Shooters can easily make the same 25% or 1% adjustments of individual Neo lights or all altogether using the FR1 while keeping hands on the housing and eyes on the subject. The FR1 interface mimics Neo's and controls up to four Neos via fiber optic cable.
Pricing and Availability
Neo is available now in the the Americas and is distributed by Nauticam USA. The Neo 2000DX lumen wide model is available for $699 (US), Neo 1200DX lumen wide modes for $499 (US), 1200DX S lumen spot model for $499 (US), and the 800DX lumen for $349 (US). The FR1 is available as an optional accessory for $199 (US).
Neo 2000DX and 1200DX models include, 1 battery, 100-240v charger, 1" ball mount, Loc-Line mount, YS-Mount, GoPro Mount, spare O-ring and charge plug cap. The Neo 800DX includes 1 battery, 100-240v charger, YS-Mount, spare O-ring and charge plug cap.
To learn more about FIX Neo and authorized US dealers visit: www.fixneo.com
DIVER MAGAZINE. NORTH AMERICA'S LONGEST ESTABLISHED DIVE MAGAZINE. SUBSCRIBE TODAY.