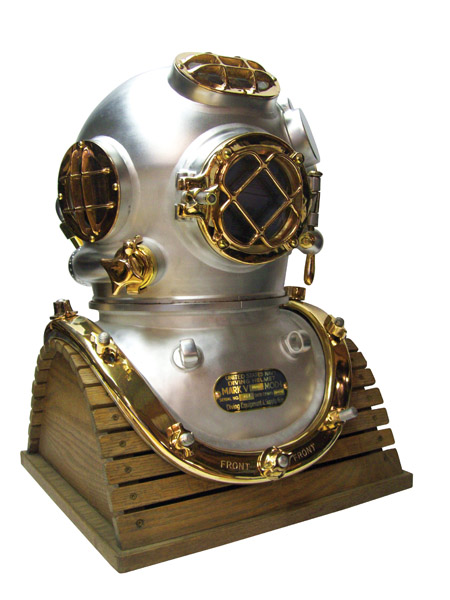 Text by Phil Nuytten
The U.S. Navy Mark V diving helmet is the coin of the realm among diving helmet collectors. The Mark V embodies all the mystique of 'Deep Sea Diving' in one handsome package and although it is arguably the most mass-produced of all diving helmets, it is still the most eagerly sought-after design by collectors and interior decorators.
The U.S. Navy says that the Mark V "has been used for a number of years with remarkable success. In addition to all submersible rescue and salvage undertaken in peacetime, practically all salvage work of any extent undertaken during WW II was accomplished using this equipment." (NAVSHIPS 250-538)
I learned hard-hat diving in the 1960s using – what else? – Mark V gear. Virtually all of the commercial divers in my homeport of Vancouver, BC, used Mark V gear. Because it was the best, right? Well, not exactly…mostly because it was the cheapest. In the late 1940s and early 1950s you could buy Mark V gear war-surplus at very low cost. An entire Mark V outfit – helmet, two dresses, belt, boots, air hose, communications, chaffing gear, gloves, etc. – sold for about 400 bucks: less than the cost of a lightweight commercial helmet! And cachet – OMG! There is no question that the Mark V helmet is the embodiment of every little boy's dream of deep sea diving.
So how is it to work in? Well, compared to an upside down bucket, it's a bloody marvel. Compared to most other lightweight helmets, it's a dog! But wait on…what's the best helmet to grace the livingroom or den of an ardent diver? The USN Mark V, hands down!
This particular piece of 'Gear Lust' hardware is a real beauty. So think about forking over those six big ones and sit it on your coffee table, bar or night table. You won't be sorry – unless, of course, you plan to use it.