It can be hard to get excited about a light. They are after all, just things that make dark places a little brighter. For some, a dive light is not always an essential piece of gear. For cold water divers, wreck or night divers, they are as essential as it gets.
The Sola 800 from Light and Motion is a wrist mounted, 800 lumen, spot and flood light, depth rated to 300 feet and available for a recommended retail price of $499 (but can be found cheaper).
The cool looking unit weighs a mere 305 grams, has a comfortable, adjustable wrist strap, and is a fully sealed unit – minimising the possibility of a flood.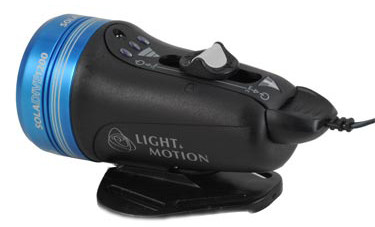 The battery is charged through wet contacts and can achieve a full charge in a mere 150 minutes, making it a great travel companion. Since the battery never has to be removed for charging, the possibility of not re-sealing the unit correctly, and experiencing a subsequent flood, is removed. A well designed product indeed.
The Sola 800 has two beam settings, flood and spot, with each setting having three power levels; low, medium or high. The Sola 800 is extremely versatile and can be used for video, photography or as a general dive light.
It also comes with a handy SOS function, when activated the light will flash SOS in Morse code, a neat little extra we hope no one ever uses.
Three indicator lights display battery level, current beam selection and power setting. The magnetic sliding switch is extremely smooth and easy to use, with a useful lock function to make sure it doesn't turn on during the trip to the dive site.
The housing itself is extremely solid, but can become scratched fairly easily, so watch out if you like your tools to stay pristine and shiny.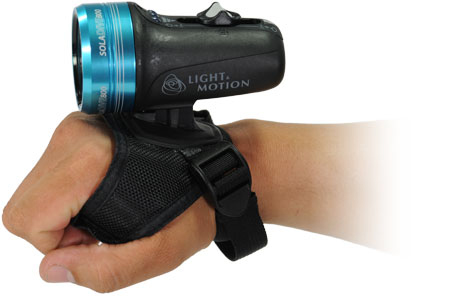 Although you can buy pistol grip mounts and other accessories (including coloured filters), the out of the box wrist mount makes it perfect for recreational divers, tech divers, wreck or cave divers. The light fits comfortably on bare skin, wet gloves or dry gloves.
Compared to other, larger handheld lights of the same power, its easier and more fun to explore those harder to get to spaces. With this lightweight and tiny unit, I found myself exploring places more thoroughly, it really has changed the way I dive.
The flood setting can be fantastic for wall dives or inside wrecks, whilst the more focused spot function is perfect for illuminating cracks and crevices in search for illusive creatures.
The Sola 800 is an amazing dive light. For such a small unit it is incredibly versatile, long lasting and bright. DIVER has used the Sola 800 for weeks now and we love it. One dive trip, we used the light continuously on three deep, cold water dives, averaging about 45 minutes each, all at full power. The light was still shining nice and bright at the end, with an advertised 280 minute run time on its lowest setting.
The Light and Motion Sola 800 is pretty much the perfect dive light. Super bright, lightweight, comfortable, solid as a rock and it actually helps divers explore our oceans. Its practical usage makes it one of the most beneficial dive necessities, a well thought out and well design piece of gear.
An exceptional light that you can actually get excited over.
Visit Light and Motion for more information.