Kids Diving
Two weeks are better than one
June 10, 2022 By DIVER Editorial
By Margo Peyton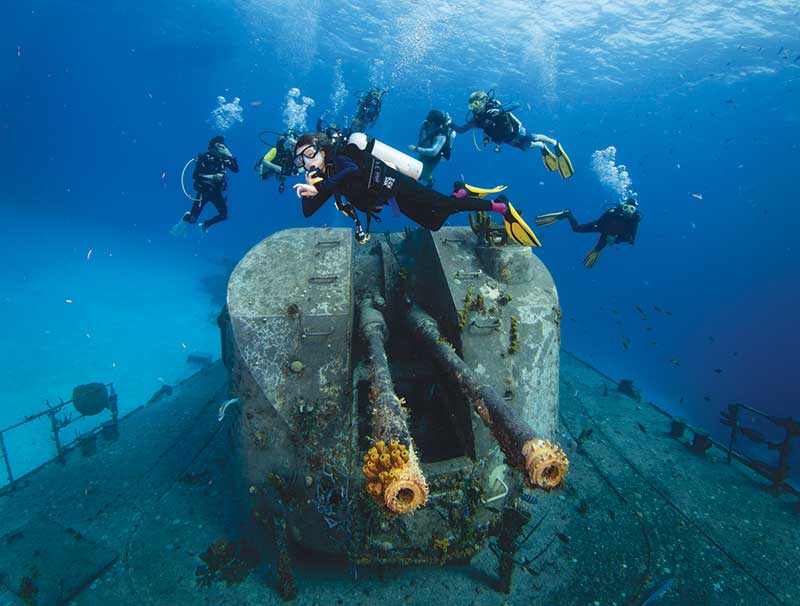 Two week diving vacations are the best way to heal from a long year of work—or a long, tiring year stuck at home during a pandemic. I have made a business out of dive vacations with Kids Sea Camp—we are experts in taking time off! Along the way, we have observed a lot of people on their vacations. My husband Tom and I have come to the conclusion that two weeks vacation makes for a much more enjoyable and relaxing trip for the whole family.
How we act on a family dive vacation at the beginning is often much different than at the end. Before the pandemic reduced our travelling options, we were able to get away for the 'Yap to Palau' trip along with twelve other families, or about 60 people. It was the typical, wonderful Kids Sea Camp adventure, with great diving, company, food, and plush accommodations.
I noticed a change in people's attitudes at the beginning of the second week of the two-week vacation of island diving. They lost sight of the work they needed to get done back at the office and were swept up in the relaxing personal bliss of diving serenity.
Most of the days we were on dive boats for a good 45 minutes, travelling to the dive site. Cell phones or internet just doesn't seem to work well in the middle of the Pacific Ocean. Dive vacations are good at forcing you to unplug and relax—regardless of whether you want or not. Family dive trips bring parents and kids together, and as the duration continues, the family become closer. 
By the end of the two weeks, most of the families were calmer, more peaceful, fully relaxed—and maybe even better divers. When I saw the difference two weeks had over one, I started doing research. I found out researchers had made similar discoveries. 
Here are a few facts from the 'American Families and Work Institute' that could make you think differently about planning your vacation time when we are able to travel again:
 

The average number of paid vacation days employees have is 16.6 days. The average taken is 14.6 days.

 

More than 36% did not plan to take their full time off.

 

37% take shorter than a seven day vacation.

 

Only 14% of employees take
a vacation of two weeks.

 

On average employees say it takes three days for them to relax.

 

The longer the vacation, the greater the psychological effect.

 

Most people feel better about their lives and work after taking time off, and are more motivated to achieve their goals.
Other studies have shown:

 

70% of healthcare costs in the USA are stressed related.

 

80% of all workers experience stress on the job.

 

The human mind performs better for short intense periods of time and then a short break.

 

Every 90 minutes our brains shift from an alert state to fatigued.

 

Time off allows for the mind and body to relax.
Leaf Van Boven of the University of Colorado says it well: "Vacations make us happier than material things because they can't be compared to anyone else's experience. They create lasting memories that fire off multiple parts of the brain and, as a result, stick with us. It's our memories that tell us we like our lives."
The longer the vacation, the more memories you and you children be able to make. So when it comes to booking your family dive vacation, consider extending it from one week to two. Swap the briefcase for a BCD, your pin stripe suit for a wetsuit, and take more time to relax, connect with your children in the water, and create memories that will last a lifetime. 
Margo  Peyton is the founder of Kids Sea Camp and Family Dive Adventures, with over 6,000 certified kids and zero dive accidents! For more info: www.familydivers.com