Canada
Whale of a tale
February 7, 2012 By DIVER Editorial
In the late 1970s I worked on a dive boat called the Oceaner.  Owners Gary Mallendar and Larry Mangotich, manufacture exposure suits under the Oceaner name and distribute dive gear such as the TUSA line, across Canada. Their vessel has been retired for their private use.  On several occasions I attempted to photograph orcas in the wild from Oceaner.  In the 70s there were few underwater images of killer whales and little was well known about these wild marine mammals.  Each time I dropped underwater in front of a pod, I could hear their echolocation sounds getting louder, along with the beating of my heart, but I never caught even a glimpse or shadow of these elusive mammals.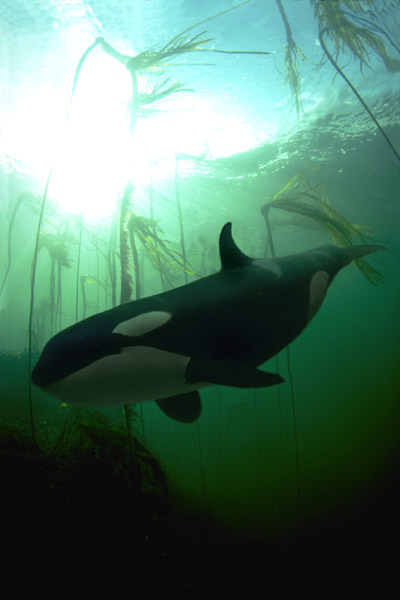 Determined to get an image of killer whales I contacted Gil Hewlett at the Vancouver Aquarium when I heard when I heard that it was taking delivery of two new killer whales from Iceland in late 1980.  I had worked briefly with the Aquarium and convinced them that they would need good underwater images of their new residents and that I'd be happy to shoot and share the photographs.  I was permitted to jump into the tank, three times over a two-year period.  The first time, the whales were apprehensive of my presence, and likely of their new surroundings.  Two years later they were more acclimatized and on that third attempt I got my best shots, including this one. The aquarium used many of the images over the years, including for a promotion at many of the bus stops around Vancouver.
The kelp background was shot on a cold January day off the north end of Steep Island, in the Campbell River area of the British Columbia coast. Digitally speaking, I released Bjossa (the pictured whale) into the kelp forest with the help of Photoshop and my Mac.  It was one of my first composites and that image has, and continues, to serve me well. It appeared on the cover of the book, Operation Orca by Daniel Francis and Gil Hewlett, for example. That's the same Gil Hewlett who allowed me to photograph Bjossa and Finna, more than 25 years before their book was published.
Both photographs were taken with available light on Kodachrome in a Canon F-1 in an Ikelite housing with a 15mm full frame fish-eye lens.