Photography by Maxwel Hohn / Words by Roseanne Kealtey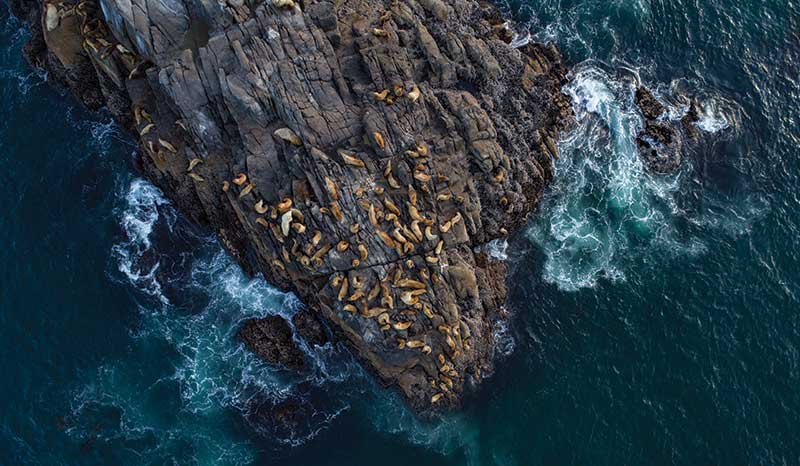 Winter in the coastal region of British Columbia can bring harsh conditions for marine life and photographers alike. The gusting winds, driving rains, and unpredictable seas can create numerous challenges when filming, and any opportunities need to be fully utilized as they arise.
When it comes to photography, it is all about perspective and using any tool available to capture the visual story. Many divers have likened underwater photography to flying through the landscape with a three dimensional approach to any subject. Landscape and aerial photography can use this same approach to tie a storyline together. Drones have become increasing popular, and the uses seem to be limitless for exploration and wildlife filmmaking.
Sea, land, and sky. Drones complete the story, and they have a variety of benefits including safety, minimal interference, and fresh aerial perspectives. Drones can be a safe and reliable way to scout dive sites or capture footage where it may be unsafe for a person to access. With the improvement in technology, drones have become quieter and smaller, which provides minimal impact on wildlife versus older aerial methods such as planes or helicopters. It is important to remember that in many places, drone operation requires training and certification, and respecting wildlife should always be the top priority.
After years of capturing sea lion footage underwater, this new angle with the surf crashing around the sea lions resting on the shoreline offers a fresh perspective. It would not have been possible without drone technology; drones have become an affordable option for many filmmakers to add to their ever-expanding toolboxes. 
For more visit: www.maxwelhohn.com