Joe Grabowski is bringing adventure, science, and global exploration into classrooms around North America
Interview by Jill Heinerth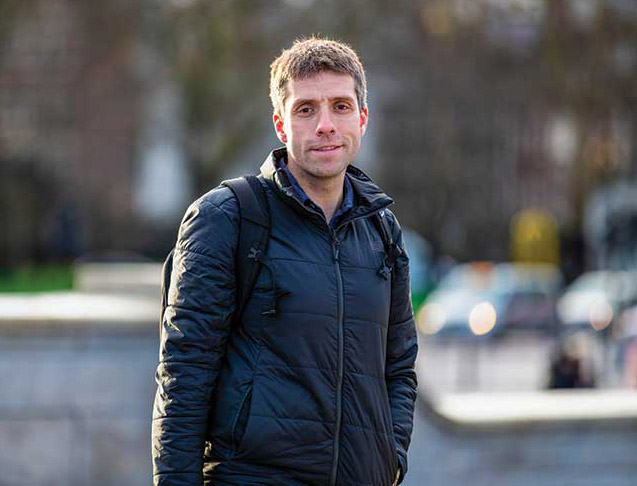 Just over five years ago, I visited a small classroom in Guelph, Ontario, to visit with the kids and their teacher Joe Grabowski. He spoke to me about his dream to inspire his students by bringing explorers into his classroom. From a small town in Canada, he leveraged technology to make it happen. Now, 2,000 live events later, he is changing the landscape of online education. I had a chance to interview him about his efforts…
Joe: After a few years of teaching science, I was looking for a way to inspire my students and show them how what they were learning applied to the real world. I started inviting scientists and explorers to join my class virtually and share their work with them. It was a hit; my students questioning skills began growing by leaps and bounds; they were researching the speakers afterward and declared that science was their new favourite subject. We set a crazy goal to connect with 50 scientists and explorers around the world, making 52 connections by the end of the year. Not only did we connect with scientists and explorers in their homes and offices, but we ended up live in a penguin colony in Antarctica, at the bottom of the ocean with a Cousteau and even on an active volcano with an expedition team.
After two years of running these events for my classroom, I had a collection of hundreds of contacts all over the world. It seemed like a shame that only a small group of students were benefiting from the experiences. In the summer of 2015, I launched the non-profit Exploring by the Seat of Your Pants, intending to inspire the next generation of scientists and explorers. We bring science, exploration, conservation, and adventure live into classrooms across North America through virtual speakers and field trips.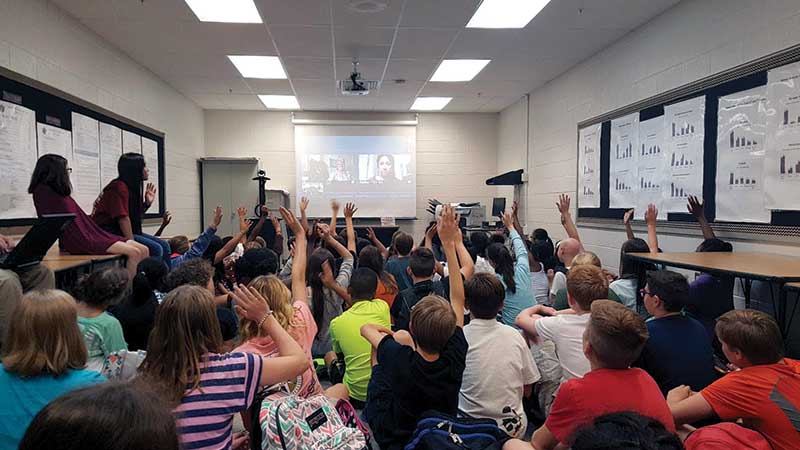 Jill: We all know that 'anything can happen' when you go live online. You've connected with scientists and explorers in over 80 countries and interacted with hundreds of thousands of students; there must have been funny moments. Is there one real-time incident that stands out?
Joe: We've been pretty lucky in that our live events generally go off without a hitch. We have eight textbook-sized satellite units we send around the world; these allow the scientist or explorer to video broadcast, live into classrooms, from the most remote regions of the planet. We froze one in the middle of an event in a yurt in Mongolia, and another overheated during an event in the Sahara. On the flip side, we've managed to broadcast live from remote coral atolls, from the middle of the rainforest, the tops of volcanos, Antarctica, and more. At Silfra Fissure in Iceland, we were interrupted when divers surfaced and came to see what our speaker was doing. Learning they were being broadcast live into classrooms around the world only made them more interested in being a part of what was happening!
Jill: In 2017, Nat Geo named you one of their Emerging Explorers and their Education Fellow. How has that changed your mission?
Joe: I developed a sister program with them, Explorer Classroom, hosting live events with their explorers. This allowed me to take a two-year leave from the classroom while I grew Exploring by the Seat of Your Pants and spent some time on some expeditions and doing some speaking. Last September, I made the difficult decision not to return to the classroom and continue this exciting virtual education.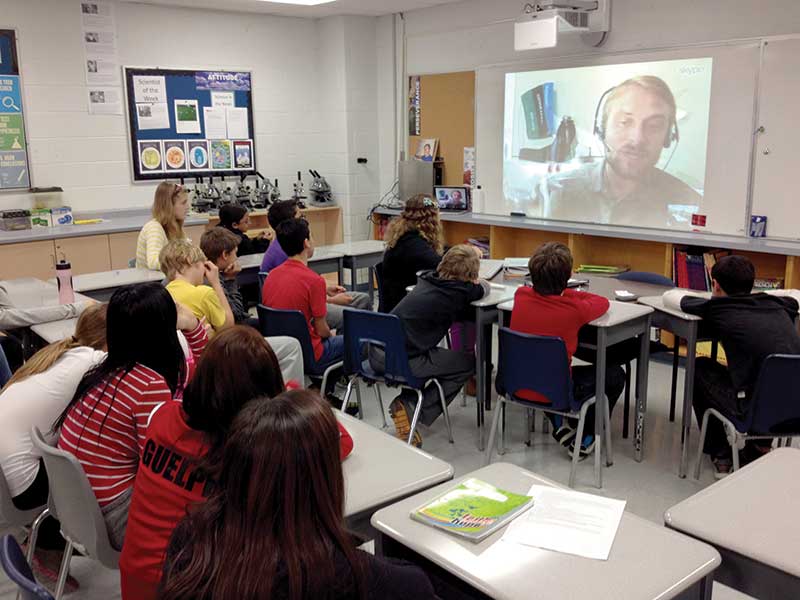 Jill: Are there times that you miss being in the classroom?
Joe: I do some days, for sure. However, I became a teacher because I wanted to share my passion for science and the natural world with the next generations. I'm reaching hundreds of thousands of students a year, and there's the potential to reach millions as the program continues to grow outside of North America.
Jill: You have hosted some of the most iconic explorers on the planet and provided the outreach for free. Is there a particular hangout that was most memorable?
Joe: I grew up watching David Attenborough and Jacques Cousteau, I have no doubt that had a significant impact on me and ignited my passion for diving and exploring the natural world. I've been able to host several of Jacques' grandchildren, including Fabien, Celine, and Philippe, which is always fun. A recent event that stood out was hosting the last two northern white rhinos on the planet at Ol Pejeta Conservancy in Kenya. Several of the rangers who protect and work with them took part, and we had National Geographic photographer Ami Vitale joining in, she's been covering the race to save them from extinction for years.
It was an incredibly emotional event. Hearing the Ranger's personal stories and seeing how attached they are to the rhinos was amazing. Meeting the last two of such an incredible species hits pretty hard.
Jill: It seems that the world is coming around to online education in ways that you might not have expected. Do you think that the shift to online outreach is the way of the future?
Joe: I don't think the future of education is 100% online, COVID-19 has proven that we're nowhere near ready for that. Many students don't have access to devices at home or even internet signal. Parents have to work, so there isn't enough support. Students need to interact with their peers, with their teachers, who often become important supports in their lives. Our events play an essential role in the classroom by introducing challenging issues, exciting places, strong role models, and new STEM career paths. Our events can be a hook that draws students into a topic and illustrates the real-world application of what they are learning. They're an opportunity for a teacher to knockdown the classroom walls and take students anywhere in the world without ever having to leave their seats.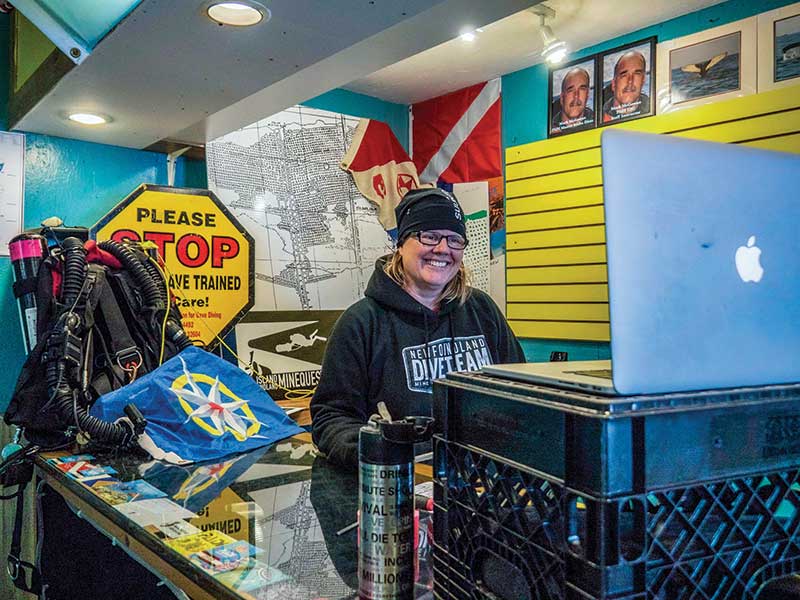 Jill: Full disclosure, as a member of the Board of Directors of EBTSOYP, I am always amazed and proud that you have rallied the exploration community to volunteer their time and keep providing events as a free service. Do you think this model is sustainable?
Joe: Since day one, I've pledged never to charge a classroom to participate. I want a level playing field where any class can participate in as many events as possible. We keep them accessible by having up to eight classrooms join live on camera to interact with the speaker. All events stream live on YouTube, so any number of classes can join that way. Our YouTube archives offer a massive library for educators to utilize.
Instead of charging classrooms, we're continually looking for corporate sponsors and partners, grants, and donations. It keeps me busy on top of running all the events, but it's worth it to stick to our pledge for classrooms. I think it's sustainable, we've been able to run the program for five years now, but we're always on the hunt for new partners and sponsors so we can continue to grow.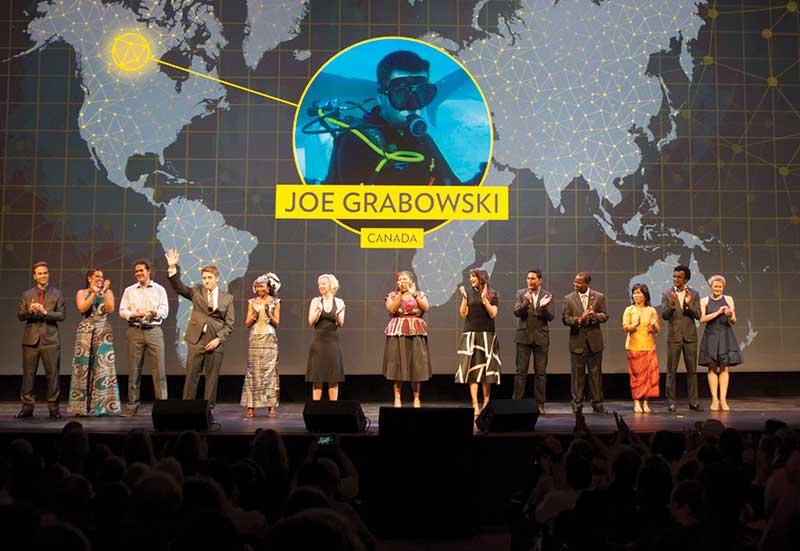 Jill: With 2,000 events already completed, do you have an expansion plan in the works? What are your future dreams for EBTSOYP?
Joe: In the next five years, I'm hoping to take what we do to a global audience. We already have classrooms that join from South America, the UK, the EU, and the Middle East. I want to launch small hubs of Exploring by the Seat of Your Pants in a few locations that will allow us to broadcast 24 hours a day, reaching students live, worldwide.
We are also starting to run virtual festivals for the general public. In May, we launched the Global Biodiversity Festival, over three days we broadcast live for over 30 hours, hosting 65 speakers from over 20 countries. They shared the fantastic variety of life on our planet, the challenges it faces, and some good news conservation stories. We had viewers tuning in live from over 100 countries; we are excited to run more of these festivals.
Jill: I know you are incredibly busy, but do you have a favourite dive site or underwater experience?
Joe: That's a tough one! I'm torn between diving on U-352 off the coast of North Carolina, that was a great dive as it tested a lot of my dive skills. It's way offshore, over 100 feet (30m) deep with a pretty strong current. It was pretty exciting to descend on the anchor line and see a submarine sitting on the ocean floor. I also had a blast diving with the great hammerheads in Bimini, where we were able to spend six hours over four dives in the water with them! 
Learn more about Exploring By The Seat of Your Pants: www.ExploringByTheSeat.com