By Michel Gilbert & Danielle Alary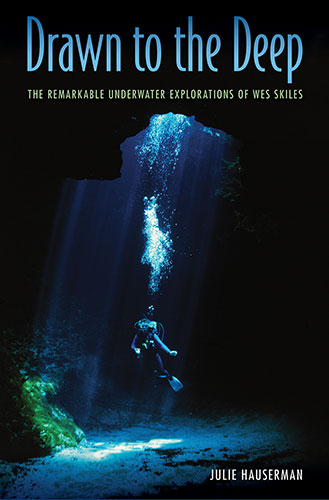 Chicago February 2010 – our latest multimedia presentation is about to end. We are part of the Our World Underwater Film Festival roster. Big names like Howard and Michele Hall are showing their latest films, including Wes Skiles, who is also the emcee. Wes' presentation on the Bahamas Blue Holes features what a National Geographic photo editor calls: "one of the best underwater pictures ever made." He got the cover of Nat Geo with this project.
As our program draws to an end, Wes climbs the stairs to the podium. We anxiously wait to hear what he will say about our work.
A self-described redneck who thrives under icebergs or miles into underwater caves, Wes is the ultimate adventurer. How will he react to a poetic fable about imaginary island people's legend about the creation of the oceans?
He opens his mouth and nothing comes out. He swallows and gives it another try. This time, instead of his typical redneck loud voice who brags about swimming with alligators, we hear our colleague struggle to say: "What most of us do is documentary stuff, what we just saw on the screen tonight is art."
That night, we realized that Wes was not only the persona full of testosterone that shows up on stage to thrill the audience; behind the bravado was a very warm and emotional person.
Six months later, Wes was dead. He perished on a casual dive off Florida's East Coast.
Drawn to the Deep, a book about Wes' life of exploration, brings us behind the scene into those mile-long caverns and aquifers.  Like this world that he loved so much, Wes' life was full of twists, turns, surprises, darkness, and wonderment.
Many of us knew Wes the public and outgoing character. In this book we take, to paraphrase his award-winning documentary's title, Wes Water's Journey.
Author Julie Hauserman beautifully describes how a kid labeled as "different" grows up to become a legend in the world of exploration, photography, and filmmaking. In the process we learn the high price paid to venture in uncharted territories, make improbable images…and survive. 
Multiple bends cases leaving permanent damage, chronic pain, dysentery, dengue fever, coeliac disease, and a bout with painkiller addiction only add to the extreme stress experienced as a businessman running a company where "money was going out faster than it was coming in."
Surviving Hurricane Gilbert in the 80's, being bitten by a shark, or barely making it as a freak current threatens to suck him under the B-15 iceberg in Atarctica; those were the death-defying stories that thrilled audiences.
Anyone who saw Wes on stage or in front of a camera remembers his loud voice and thunderous laughs. In reality, what appeared larger-than-life meant something else. As Wes wrote: "When you can keep control of your fears, you can survive what others could call their worst nightmare."
What looked like shooting from the hip was, quite to the contrary, a work where "Wes was constantly second-guessing the choices he made in the field always thinking he could have taken a better picture."
Few people know that besides his documentary film work, Wes' company, Karst Productions, had a scientific affiliate, Karst Environmental, that produced valuable scientific work for corporate and governmental clients.
Through his journey, Skiles became an advocate for the environment, especially Florida aquifer. He did not have a degree, and that made some governmental agencies dubious about his opinions or findings. He nonetheless made an incredible contribution to a better understanding of the water cycle in his home state of Florida.
Wes' magic could turn a roll of Kraft paper into a $250K grant to film Water's Journey and his uncanny imagination could make a film about the incredible Hydrillasaurus…
This environmental educator, like many rock stars, had a meltdown in later years. That led him to rethink his professional and personal life. When death struck, he was going through a revival. In 2009 he wrote in his journal: "I'm getting back in great shape; thinking clearer and feeling better, more confident about who I am and what I'm doing."
Like an epitaph to his work, Wes finally made the cover of Nat Geo in August 2010, one month after his death. It was a lifelong pursuit chronicled in the book. As he said: "I don't usually really worry about a lot of things – but I do about taking pictures for the greatest magazine on Earth."
Wes loved diving and the underwater environment more that anyone. That made him bond with the top brass at Nat Geo as well as with Tallahassee's politicians or Joe Diver at a dive show. In short, he loved life. 
Drawn to the Deep will resonate like his opening "Hey Now" did when he jumped on stage. 
ISBN: 9780813056982
Retail price: $24.95
Publisher: University Press  of Florida
Web: www.upf.com