Wrecks
Cameron and Cussler
April 11, 2012 By DIVER Editorial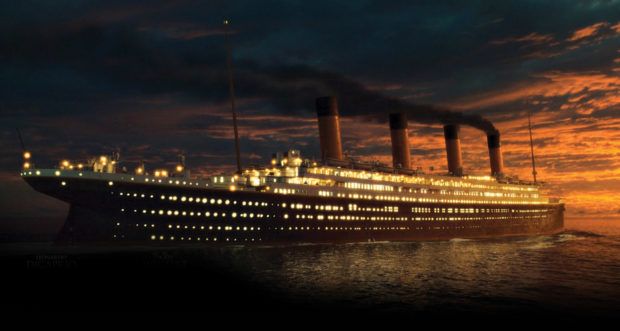 When you've been compared to a root canal and dubbed "Little Caesar" by your cohorts, it's little wonder that you might feel a wee bit maligned. What's more, you're the writer, producer and director of a long awaited film that's behind schedule and over budget and the studio is threatening to shut everything down.
It's not far-fetched that James Cameron compared himself to the captain of Titanic, who also experienced incessant setbacks. But Cameron, unlike his 1912 counterpart, had deep pockets and unfailing determination to succeed, which he did on a grand scale as mastermind of the 1998 blockbuster Titanic, which scored 11 Oscars and assured him even greater fame and fortune.
Cameron read about the disaster in the late Walter Lord's book, A Night to Remember, and filed the idea of an epic production in the back of his mind. Years later, after gaining notoriety and backers, he proclaimed, "It was a story I had to tell. It had to be inspirational and emotional just like Dr. Zhivago." Leonardo DiCaprio, Kate Winslet and a host of  outstanding actors helped him achieve his goal. Titanic became the most viewed film in the world at the time and brought "epic-scale grandeur back to the big screen."
Cameron, a diver and no stranger to deep ocean exploration, made 12 dives on the wreck in deepsea submersibles. Describing these experiences, he said he forged his own "individual relationship" with the vessel saying that he would not raise it even if it were possible.
Not long after it was found, author Clive Cussler expressed an opposite view. When asked by Dateline's Ted Koppel if he would like to see the ship raised he said, "Hell yes!" Today he says, "Back then it would have cost at least $2 to $3 billion to raise it, so who knows what it would be today?"  Consensus among Titanic authorities is that it would not only be costly, but unfeasible due to its deteriorating condition.
Of all the non-fiction books written about the disaster, two stand out above the others: A Night to Remember and Beyond Reach—the Search for the Titanic. Both were written by Walter Lord, who fell under the spell of the ship after sailing aboard the RMS Olympic, one of Titanic's two sister ships. This experience helped Lord establish a literary genre, the "you are there" story, a minute-by-minute recreation used frequently today.
The author let it be known long before the discovery that he opposed raising the ship. After it was found, he told a reporter from the Baltimore Sun, "I am in favour of salvaging the artifacts as long as they are preserved and displayed for all citizens to savour."
Titanic 3D is now in cinemas.
Text by Ellsworth Boyd.