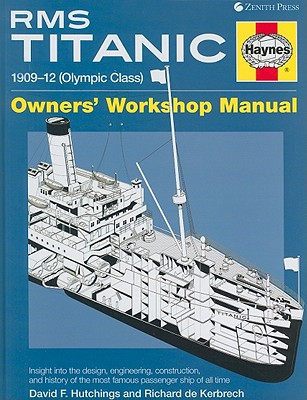 With the media frenzy surrounding all things Titanic, it seems a fitting time to take a look at one of our favorite Titanic books; The Haynes Titanic Owners' Workshop Manual.
Most car owners will be familiar with Haynes, especially if you own anything classic (a polite way of saying old and rusty). Haynes specialise in manuals for do-it-yourself repairs, but have branched out in recent years to cover new areas, RMS Titanic being one their more tongue in cheek publications.
Presented in a similar fashion to any other Haynes Manual, the 160 page book offers an insight into the design, engineering, construction and history of the 100 year old wreck. Authors Hutchings and Kerbrech lend extensive marine engineering expertise to their combined repertoire of 21 books, resulting in in-depth views from expansion joints to boiler management and everything in-between.
The "manual" also presents an extensive and varied selection of photography from the building of the vessel, to on board pre-Queenstown photos, newspaper front pages, and of course some interesting cross sections and diagrams Haynes are known for, including deck plans and statistic tables.
The Owner's Workshop Manual is tongue in cheek in concept, but the content of the book is concise, well presented and full of interesting engineering facts. If you're looking for a comprehensive book about Titanic's engineering accomplishments, in a fun and easy to read way, the Haynes RMS Titanic Owners' Workshop Manual comes highly recommended from this employee of DIVER magazine.
ISBN: 978 0 7603 4079 0