Kids Diving
Travel
Covid on Vacation – is it just the flu or bad that I flew?
July 18, 2022 By DIVER Editorial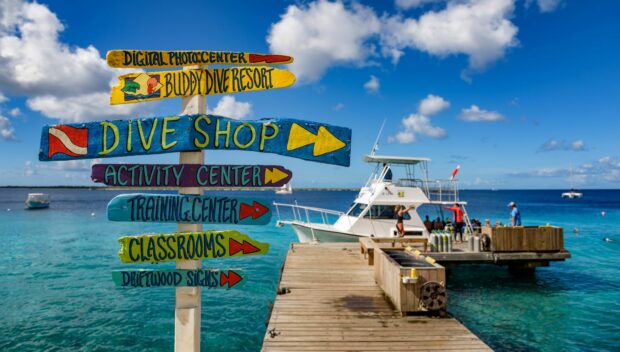 Mara Bohm, Kids Sea Camp Team Member and Dive Instructor
As the travel industry returns to normal, we are encountering more guests catching COVID just before their vacation, leaving them laden with the difficult decision of what to do – go anyways? Cancel the entire vacation? Leave the infected family member at home and have the rest of the family go? Is there a right answer?
While I was in Bonaire travelling as a Kids Sea Camp (KSC) team member and instructor I unfortunately got really sick with COVID – fever and chills, exhaustion, nausea and vomiting, headache, loss of taste and smell… the whole shebang. And it sucked. I mean really. 2 out of 10, would not recommend to a friend! So here are a few key things that helped me get through it:
Tea with honey and lemon. Honey and lemon can be acquired from  hotel kitchen pretty easily in most places. I grew up with my mom making me (very specifically) Red Rose Orange Pekoe tea with honey and lemon when I'm sick, so I can confirm that I will be packing emergency Red Rose for all trips from now on, as this can't be found as easily.
Gatorade. Sure, it is a bit unreasonable to pack this in your suitcase, but electrolyte tablets of some kind would have been very useful and take up barely any space or weight in luggage, so I will be packing those in the future for sure!
Tylenol cold and flu. This was 100% my saving grace!! The only reason I managed to get a decent sleep at night and keep food down was Tylenol Cold & Flu. I will definitely be bringing this on every trip (I promise they aren't sponsoring this post ;).
Ramen – surprisingly. After two days of nausea, this was all I wanted to eat.
A good book. Wifi is not always reliable in some locations, so this was a great way to stave off boredom!
A stuffed animal. Being stuck in isolation while everybody else is diving is lonely 🙁
An awesome team that will support you in however they can, and send you virtual hugs!! Definitely necessary but may not fit in your suitcase!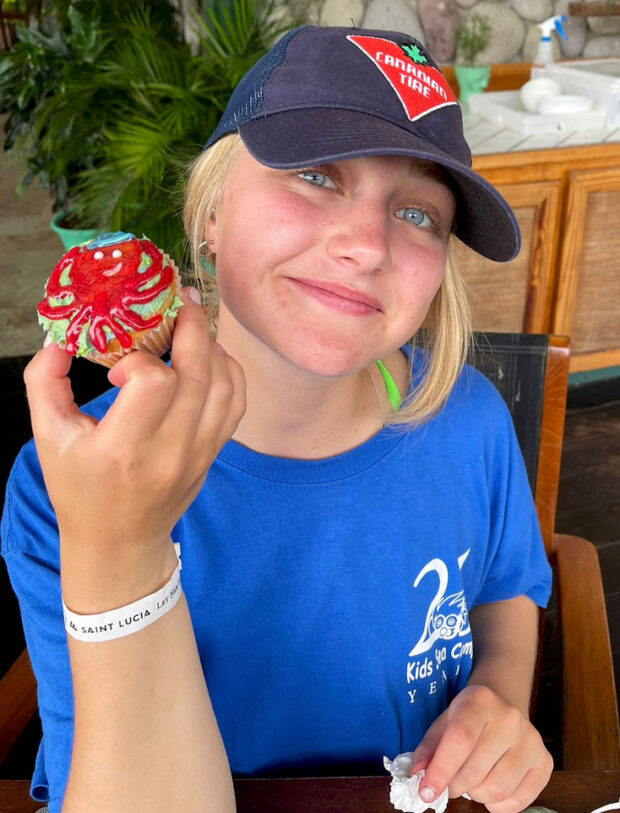 Another thing to note is that Buddy Dive was very supportive and flexible, as they let my roommate move into a separate room since she was COVID negative and continued to test negative throughout the week. They also made it really easy to get food, as they just let me call the front desk to order room service for each meal to make sure I was well fed! All in all though, being sick on vacation and stuck inside is NOT fun, and even if you don't get super sick, you could easily give covid to another guest or instructor, and then they might get sick! So, if you catch covid right before you travel, I really recommend to not travel. KSC partners with the fantastic Cancel for Any Reason Trip Insurance, and I really believe that everyone should get this. This way, if you have the trip insurance and find yourself in this situation, you won't have to decide between losing everything you spent on vacation or spreading COVID.
I want to give a HUGE thank you to the Kids Sea Camp and Buddy Dive staff who covered and cared for me in these 5 days while I was recovering. This allowed me to focus on getting better without any stress.
For more info on Kids Sea Camp and travelling during COVID visit: www.familydivers.com