Cave Diving
So You Want to Be a Cave Diver?
July 19, 2022 By DIVER Editorial
By Natalie Gibb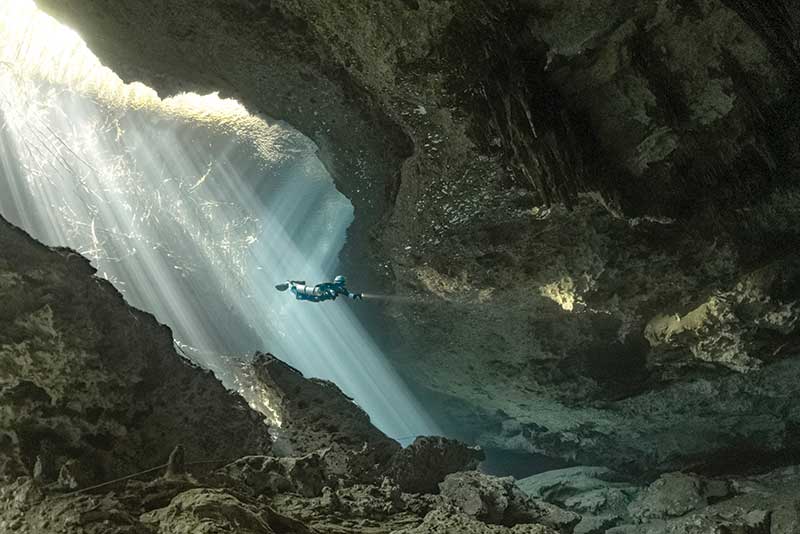 Claustrophobia. Darkness. Danger. These are some of the words I often hear associated with cave diving, but if you talk to actual cave divers, most speak about the activity in entirely different terms. They'll talk about rooms filled with delicate stalactites, hanging from the ceiling like icicles. They will share the lure of elaborate passageways, snaking under the Earth's surface and the beautiful mystery of these flooded passageways. Most cave divers also share a feeling of tranquility, how they experience peace as the gently fin through some of the most awe-inspiring places on the planet.  
If you are cave diving properly, the activity isn't scary or overly risky. Well-trained divers have total control over themselves and the environment. Gaining this control requires meticulous training and practice, but given enough patience and time, almost any motivated diver can learn to dive safely in flooded caves. Of course, this requires solid instruction from an experienced cave diving instructor who fits a diver's individual learning style and can help the diver achieve his or her personal cave diving goals. In fact, I would go as far as to say that the choice of instructor, as opposed to training location or certification agency, is the most important choice a diver can make. So how does an aspiring cave diver choose an instructor that is a good fit?
Does the instructor still like cave diving?
Check out the instructor's social media, website, and wording in their emails, and try to assess whether the instructor still enjoys teaching cave diving, and cave diving in general. I know a lot of burnt-out instructors and taking a course from someone who doesn't love what they do usually isn't very much fun! Do they cave dive or explore when they are not teaching? How do they speak about the environment? In my opinion, cave instructors should be enthusiastic about introducing the uninitiated to the world that they love. Cave instruction is exhausting, and you don't make a ton of money teaching diving, so it's easy to burn out if you don't have a passion for what you do. 
What is the instructor's training philosophy?
Good instructors usually will be able to articulate their training philosophy and approach to cave diving. Be sure it meshes well with your vision of what you want to accomplish. For example, I would say that I am meticulous and detail-oriented, and want to be sure that my students have absolutely mastered their current level before moving forward. My goal as cave instructor is to prepare my students to independently cave dive with a similarly certified buddy, without relying on a guide. I want them to go on to participate in science and mapping projects that we offer through my shop, and maybe even explore themselves one day! This takes a lot of work from both the instructor and the student, and my courses require more time and effort than a course designed simply to enable someone to cave dive with a guide. Would that philosophy be a good fit for you? It depends upon whether you are detail-oriented and meticulous, and want to independently cave dive! If all you want is to be able to swim along a line and look at pretty formations, my training might seem like overkill. Chat with your potential instructors and decide who is the best fit.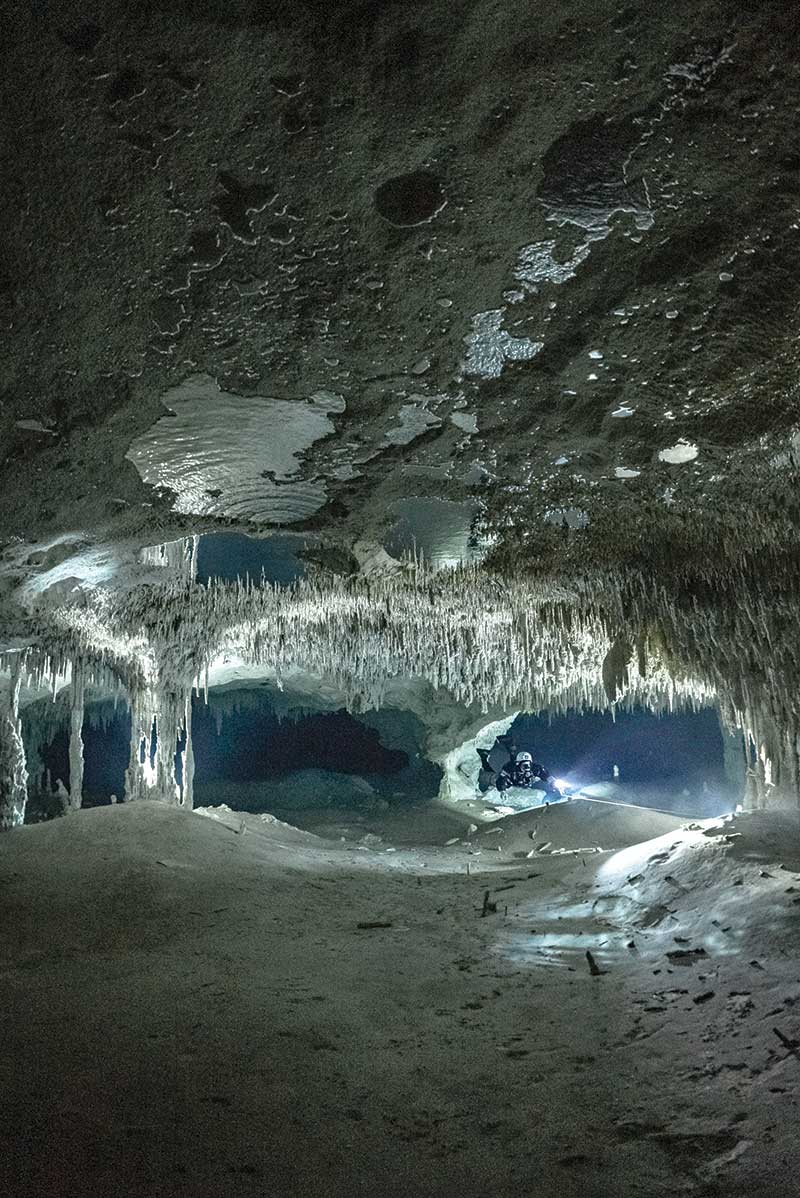 What have their former students accomplished?
If you have a goal in cave diving, try to find out if any of your potential instructor's former students have gone on to accomplish that goal. Do you want to explore? Find out if the instructor has mentored their former students to become explorers. Do you want to do science or photography, or travel the world to a variety of cave diving sites? Ask the instructor if they have been able to support former students in those endeavors!
Choose a full time cave instructor
Many recreational scuba instructors teach diving as part-time job, and this can work well for recreational scuba courses. There are many excellent part-time scuba instructors out there! Technical and cave diving courses are an entirely different endeavour, requiring weeks of training and a very high level of skill, both as an instructor and as a diver. It's not the sort of thing a person can do well if they are not 100% devoted to being the best cave instructor they can be, or if they do not teach regularly. 
Choose someone who lives where they teach
In the technical dive industry, there is a phenomenon of 'visiting' or 'travelling' instructors. This can work well for many types of technical dive instruction, specifically those that are not dive-site dependent, such as trimix instruction or rebreather instruction. Cave diving, however, requires that the instructor know the dive sites to an intimate level, a level unattainable by visiting the site a few times a year. More over, the instructor must be familiar with local protocols and safety considerations, such as how to contact emergency medial services or call for a search team, and should speak the language of the country in which they teach. As a full-time cave instructor in Mexico, I have turned down offers to teach in both Belize and Florida, because I simply would not be familiar enough with the dives sites to teach there safely, even if I have dived in the area for fun in the past. 
Does the instructor or shop help you find dive buddies?
If becoming an independent cave diver is your goal, you are going to need dive buddies! Some divers do their training with a dive buddy, and if you have that opportunity, it's great. However, the vast majority of people I train don't already have a cave buddy, and, in this case, they will need to find someone moving forward. It's helpful if your dive buddies did the same training as you because your in-water procedures and methodology will be compatible. 
Find out if the instructor or dive shop you're considering helps students to find buddies among their alumni. For example, my shop has an alumni facebook group, hosts group events such as survey seminars and science projects, and has a strong base of local divers who are happy to mentor recently certified or buddy-less cave divers. 
Chat with the instructor's former students
If you can, get references from your potential instructor's former students. Chat with them about their experiences, the difficulty of the training, and what they got out of it, to see if the course sounds like it would be a good fit for you. Speaking with former students can help you mentally prepare for training and also help to make contact with potential dive buddies in the future! People who have gone through the training will have insight into what you can do to make your training smoother, as well as advice about the location you will visit.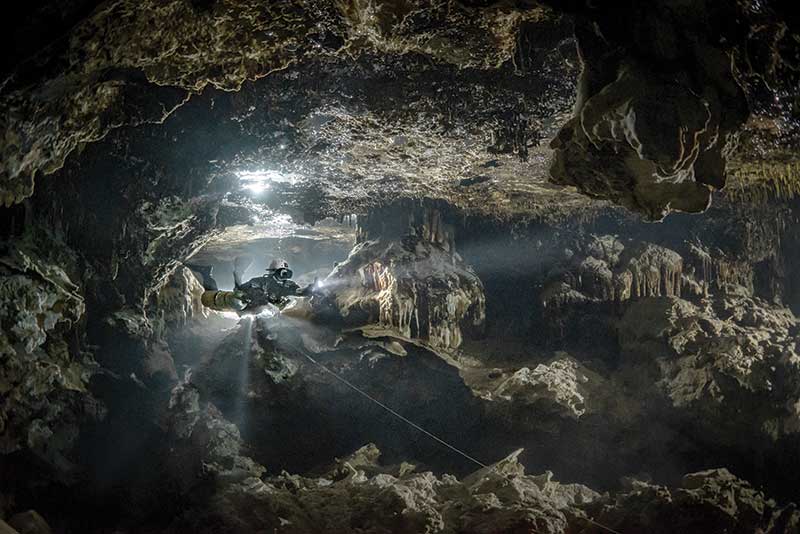 Analyze communications
One good way to assess a cave instructors is to analyze their communications via email. Do they take days and days to respond? Do they fully and honestly answer all of your questions with a high level of detail? There's a lot you can determine from your first contact with a potential instructor that will be indicative of their overall level of commitment to your training. You are going to spend a great deal of money, time, and energy with this person, make sure they are willing to commit an equal amount of time and effort to you. 
Get value
The price for cave training can range quite a bit, and my courses certainly come at a premium. However, I teach 10-hour days, provide reference and training materials, have created remote-learning options for students to prepare for their courses, and spent years of my life creating theory presentations and land drills to optimize student's learning. Once my students are certified, they are confident to go out and dive with a buddy, which means that after certification cave diving actually becomes really inexpensive. 
I have had potential student opt to go with an instructor who charges twenty dollars less a day based on price. I know that instructor starts at 9 am and finishes around 4 pm. The student saved money on training, but lost money in the long run by continuing to pay for guiding for the rest of his cave diving career. Clearly students are not getting them same amount of information or confidence level in each course. Instruction comes down to the teacher, and even within a single training agency, not all courses are equal.  
Cave diving is a rewarding and challenging activity, and I would like to encourage anyone who is thinking about becoming a cave diver to give it a shot! Your choice of instructor is paramount, and in my opinion is more important than dive location or training organization. Take your time to interview potential instructors and make a choice that will enable you to achieve your cave diving goals. 
Natalie Gibb Is a full cave instructor, explorer, and researcher based in Mexico's Riviera Maya. She is a published author, international speaker, and cave conservationist. For more visit: www.underthejungle.com