Dive Gear
Dive Gear: CO-Pro
January 2, 2014 By DIVER Editorial
Product: CO-Pro
Recommend Retail Price: Single $7.95 Pack $37.50
Website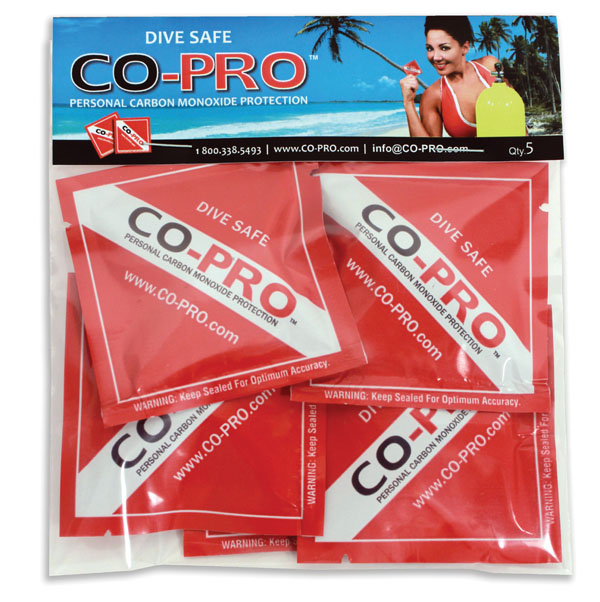 Carbon Monoxide can be a big killer; odourless, colourless and impossible to detect using just your senses. Adventurous dive travellers may have encountered questionable fill stations in various corners of the globe. Maybe the compressor was situated too close to a car park? A scuba tank with high levels of CO can be fatal. There was even an episode of popular TV show CSI, that saw a murder committed by filling a scuba tank with car exhaust fumes. A little extreme, but a CO-Pro pack could have promptly ended that particular story line.
Testing for CO is now easier than ever, and it doesn't require the use of an expensive electronic testing device. CO-Pro offers to be your personal protection, and it's no accident that the product is packaged like a prophylactic.
The CO-Pro couldn't be simpler; remove the small sensor button from it's package and place inside the clear balloon. Stretch the balloon over your tank valve and slowly inflate until you can clearly see the sensor. Remove the balloon, tie off, and make yourself a cup of tea whilst the sensor takes 5-10 minutes to tell you the outcome.
If the colour of the button sensor changes, then you may want to get a new fill. If the colour remains the same, you can use the sensor again for other tanks.
Simple ideas are indeed the best, and this simple, easy to use solution could make all the difference and potentially save a life. We strongly recommend any dive travellers out there have a pack of CO-Pro in your kit bag. You should always have protection…