Interviews
DIVER interview: Tiffany Duong
June 21, 2022 By DIVER Editorial
Writer, Explorer, Inspirational Speaker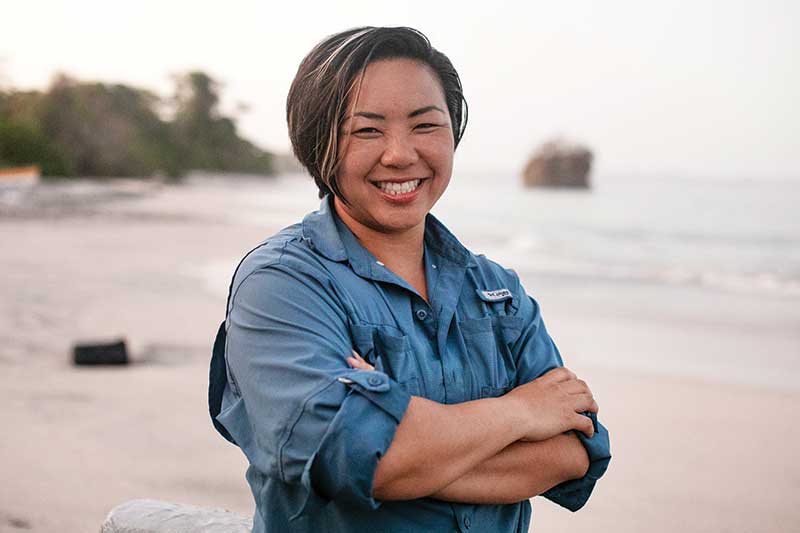 How long have you been diving?
Since April 2012 – close to 10 years!
What made you want to become a diver?
I was an unhappy lawyer in L.A. I lived for the weekends when new activities made me feel more alive. I signed up for my open water diving class for the rush. Then, on my first checkout dive at Catalina Island, everything changed. I just thought: "Holy cow, I am in the Discovery Channel. Nature is unfolding right in front of me. This is insane!" 
How did diving change your life?
In 2015, while still a lawyer, I found myself on the bow of a dive boat in the Galapagos at 3 a.m. I felt so alive and so happy there that it made me cry. The combination of the warm ocean breeze, wild scenery, and uninhibited freedom I felt in those waters changed me forever. They inspired me to quit a life I hated.
That giant stride jumpstarted what has been the most rewarding and resonant journey of my life: finding my purpose in exploring, sharing, and protecting our ocean.
So you left your successful law career?
I always wanted to protect the planet. My work as a renewable energy lawyer was important, but I felt too disconnected from the wild and from myself. After my life-changing dive in the Galapagos, I knew I needed to dive (literally) into ocean conservation and to work with my own hands to restore our natural world. I've done that ever since, endeavouring in every capacity I can to save our ocean. Now, I wake up every day excited to make a difference.
Has that decision effected your life?
Letting go of the security (mental, emotional, financial, societal, etc.) of my old life and identity challenged me to grow as a person. I learned to go with the flow and enjoy the ride. It hasn't always been easy, but I haven't regretted a single minute since. This shift remains one of the hardest and most rewarding things I have ever done. Since quitting, I've worked in ocean advocacy, fisheries policy, shark tagging research, coral restoration, environmental journalism, and science communications. And I trust that no matter where this journey takes me, I'll still find myself between the sea and a sunset, enjoying every minute of it.
Where do you now look for inspiration?
There's so much interconnectedness between the animals of the sea and the people trying to save them. When I see firsthand how the water has affected someone else, I'm intrigued. When they share how it's saved them, like it saved me, I know I've got a story. We are all connected, after all, and when we share about the impact the ocean has had on us, we validate it for future generations.
How can the dive community help?
The big one is to become aware of your carbon footprint and work to reduce it. Too often, efforts to conserve the ocean, climate, and rainforests operate entirely separately. The planetary truth is that they are inextricably intertwined; when we cut down rainforests, we exacerbate the climate crisis. This, in turn, warms our ocean even more, increases ocean acidification, and leads to more deoxygenation dead zones. True efforts to save the ocean must also consider climate action and land restoration efforts.
If you care about plastics, plan a clean-up. If sustainable seafood interests you, help in the battle against overfishing and seafood fraud by asking where your seafood was caught and with what fishing method. Or invest in regenerative aquaculture technologies like kelp and oyster farming.  
Who is your go-to dive buddy?
Currently, a fellow water-woman: Rachel Crane. We've got a similar zest for exploration and the ocean. 
Favourite dive snack?
Cold cuties (mandarin oranges)! They're juicy, refreshing, easy-to-peel, and the perfect size.
Most memorable marine life encounter?
On a girlfriend's dive trip our trio was scheduled for a night dive with mobula rays. A big light attracts plankton, which brings the rays. Right before the dive, the floodlight failed and they were going to cancel the dive. My dive buddies and I 'MacGyvered' together all our extra flashlights with line and extra mask straps to create a bright enough light source. Our guide was so impressed by our determination and persistence that she let us stay down extra-long. Below the surface, these crazy rays were in a feeding frenzy. Zooming in from the total darkness only to collide with me, the lights, and each other! Turns out, they are really excited, clumsy, and adorable. In that moment, I knew they were my ocean spirit animal. 
What is your favourite dive site?
The Socorro Islands have been my favourite so far. The manta ray and wild dolphin encounters there blow my mind. There's something special about a 25-foot (7.5m) giant manta cruising right over you. The fact that they're trying to get your bubbles to tickle their bellies gives me so much joy. It reminds me that they're just like us and we're just like them: trying to survive life and have fun while we're at it.
Where would you like to dive but haven't?
I think every scuba diver dreams of going to the Great Barrier Reef. I'd love to see it at night, especially, with a blue light to see the fluorescence.  
Craziest thing you've seen underwater?
The Silfra Fissure in Iceland blew my mind! In the frigid water and crystal-clear visibility, I clearly saw the crack between the American and European continental shelves. When we dove through it and I was able to simultaneously touch the two different plates, I was just amazed.
Proudest diving moment or achievement?
I was really proud of my Scientific Diver and Divemaster Certifications. For me, these were milestones that showed me I'd be okay in my new ocean-focused career. I'd worked so hard to change my life around, and these recognitions of underwater proficiency felt like a graduation into my new ocean life. 
2 Responses to "DIVER interview: Tiffany Duong"