Dive Gear
New DUI website showcases rich history
July 29, 2013 By DIVER Editorial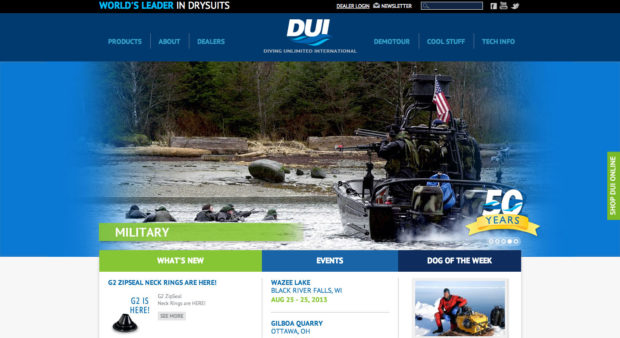 San Diego based Diving Unlimited International (DUI) is one of the world's leaders in the design and manufacturing of drysuits. Established in 1963, long before the internet, DUI have expanded through 400 dealers in North America alone, with all their drysuits being hand made in California.
Consistently innovating, DUI have just launched a new website www.dui-online.com Not only can you browse their extensive product line, find dealers, track down a Demo Tour and find FAQ, but you can also read about their interesting history.
One of the big pulls though could be your chance to become a much converted 'DOG' of the week. This DUI Owners Group accolade is awarded each week to a DUI owner that provides a good story, photo or video. The winner being awarded with a DUI towel and the respect of their peers!
Susan Long, DUI's President & CEO has also contributed to DIVER magazine, with a great article on producing drysuits for the female market. You can read the story here.