Canada
Eau Canada: Row And Be Damned
November 1, 2021 By DIVER Editorial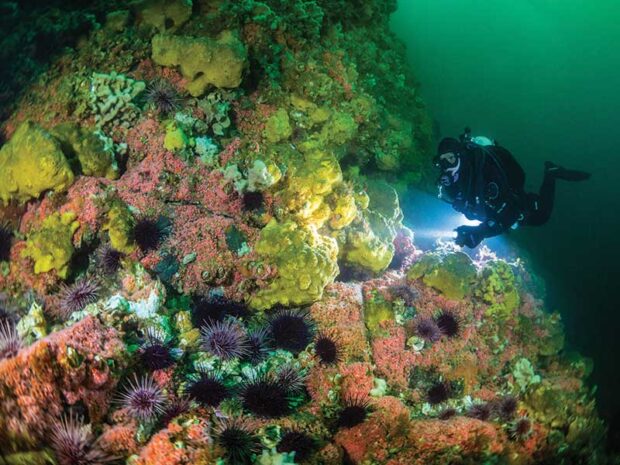 Words and Photo by Russell Clark
Discovery Passage is a remarkable stretch of water that lies between Vancouver Island's Campbell River and the Discovery Islands just 1.2 miles (2km) opposite. It has some of the largest tidal swings in North America, resulting in rip-roaring currents that can reach up to 15 knots in certain areas. 
Named after Captain Vancouver's ship the HMS Discovery, the passage is still a prominent shipping route. Barges and cruise ships sail north to Alaska, while parades of fishing boats occupy during salmon season. This part of British Columbia is also well known for its stunning wildlife encounters. Humpback whales, orca, dolphins, seals, sea lions, salmon, and thousands of feeding bald eagles dominate the passage, fueling a bustling tourism industry.  
Discovery Passage is also home to some of the world's most stunning dive sites. Yes, I know that's a serious claim, but the mix of high currents, submerged mountain walls, and nutrient rich waters have formed dive sites that will happily force you re-write your bucket list. 
The Tiderippers dive club is a small but highly passionate group of divers that explore out of Campbell River. Skippers Roger and Vaughn know these waters better than than most, offering regular dives that are the perfect antidote to modern life. 
Row and Be Damned is one of the Passage's signature dive sites, and on this particular day, slack didn't last as long as expected, resulting in one of my favourite experiences I call 'The Superman'. This manoeuvre may not be in the PADI manual, but it is enormous fun. With one arm stretched in front you can ride the current and fly inches away from the seemingly bottomless vertical wall of colour, banking into turns like Christopher Reeve in his red underpants. The feeling of being able to fly through a three dimensional space with an audience of rockfish and Puget Sound king crab looking on in bewilderment is one I will never tire of. It's scuba diving on speed, a rambunctious rollercoaster ride, and Discovery Passage is the theme park. 
This narrow channel in British Columbia is often overlooked in favour of the more remote and well known Port Hardy. Truth is, there are many similarities between the locations. Discovery Passage is a diver's paradisiacal playground and should not be overlooked. It offers artificial reefs, shipwrecks, an abundance of marine life, and walls of colour that rival any tropical dive destination in the world. Take the plunge, and you'll believe a man can fly. 
To dive in Discovery Passage check out: OceanFix.ca