Canada
Go fetch…something!
February 12, 2014 By DIVER Editorial
Text and Photograph by Eiko Jones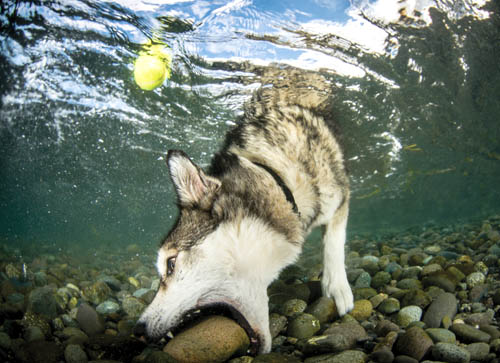 I first started shooting dogs in the water when Mortimer, a friendly pooch, came down to visit me photographing in the Campbell River estuary. He stood there watching me float in the water with my camera so I turned and began taking his picture. The sun was setting and the lighting was dramatic. This was the beginning of what's become a great interest for me, and for pet owners. I've since photographed many a four-legged family member playing in a favorite river or lake or the ocean and I've come to know a lot of dogs, capturing their playful antics in the water. Cedar, the diving Husky, as she's affectionately known, is especially memorable. Generally huskies aren't big on being in the water but Cedar is an exception, diving down to fetch rocks and sticks, which evidently hold more appeal than a boring old ball. Once she couldn't retrieve a particular rock and proceeded to swim against the current fully submerged for some distance. Maybe she was looking for just the right replacement rock, or she was just putting in a little practice time on her free diving technique.
Most of the dogs seem fairly disinterested in me or it could be that they are so single minded fetching that object of their desire. On occasion they climb over me or swim over me, paws paddling furiously, in their haste to retrieve something. Working with an RCMP German Shepherd K9 on one occasion it seemed that I was the object to fetch. With just a couple of feet and my camera between us, it barked, splashed and strained on its leash, the other end of which was thankfully in the firm grip of the  handler. All in a day's work.
Photograph of Cedar, the diving Husky, was taken using a Nikon D800 and Tokina 10-17mm lens at 16mm, in an Aquatica housing and with two Sea&Sea YS-D1 strobes. Exposure ISO 320, f16 at 1/125th shutter speed.