Industry luminaries remember diving legend Phil Nuytten, OC, OBC, DSc (hon), LLD (hon): magazine publisher, engineer, innovator, artist, businessman, eccentric, raconteur, magician, writer, husband, father… and—first and foremost—diver.
By Jean-Michel Cousteau, Friend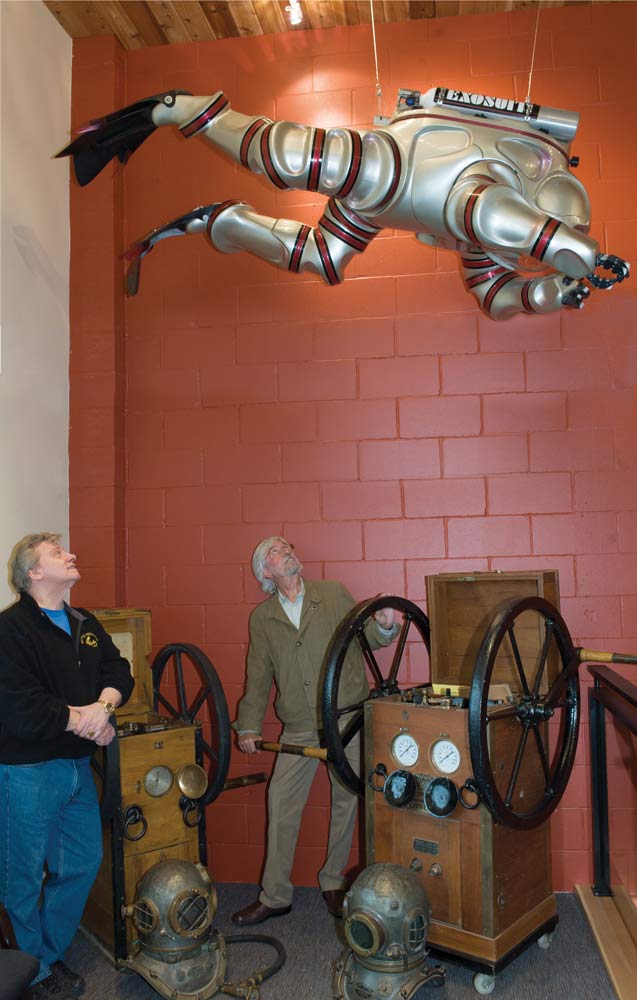 As a world-renowned dive pioneer and undersea explorer, Phil Nuytten was an inventor, entrepreneur, artist, President and founder of Nuytco Research Ltd and a colleague for decades. But much more than that, he was a very dear, trusted, and loved friend.  
Phil had the deep love for his family, love for exploration, and the love to share these adventures through this publication.  
I have known few people as energetic, passionate, and dedicated as Phil. Each time we met I was inspired by his hard work and commitment to ocean engineering, ocean exploration, and ocean conservation. 
As divers, we all know that exploring the underwater world can be a transformative experience. Phil knew that too. He knew the only way to engage humanity of the urgent issues of a changing and degrading ocean environment was to encourage one to take the plunge and discover the rich biodiversity found beneath the surface of the sea for oneself. 
Phil pushed the boundaries and made a global impact in commercial, scientific, military, and technical diving industries, receiving world-wide attention for his undersea exploration and the leading role Canada plays in these endeavours. His innovations opened up new possibilities in underwater research and helped advance our understanding of marine ecosystems, especially those in the deep seas.
It was 10 years ago when I had the pleasure of being one of the first divers to test out Phil's newest Atmospheric Diving System (ADS), the Exosuit ADS in a test tank in his home town of North Vancouver.  This innovative, one-atmosphere diving suit had rotary joint design that allowed for exceptional dexterity and flexibility to perform delicate work at depts as deep as 1000ft (305m). As I was being lowered into the test tank, I was like a child imaging all that was waiting for me to discover at depths I had never imagined we'd have the tools to explore. Phil's passion for pushing the boundaries of deep-sea exploration was truly inspiring.
With the achievements of Phil in developing many kinds of underwater vehicles, he opened up the vastness of our underwater world to us explorers and gave humanity the tools to better understand our critical link to our water planet. I can speak with assurance both from my personal experience and from seeing Phil work in perfect unison with industry, government, and the conservation communities, that I was honoured to endorse his prestigious honour of the Order of Canada, a testament to Phil's incredible contributions. 
His exceptional engineering skills were matched by his artistic talents. Phil's creativity flowed through various media including drawing, painting, wood carving, engraving, jewellery making, songwriting, singer, and dancer. He embraced his aboriginal heritage and was actively involved in the Northwest Coast First Nations.
The impact of Phil's inventions transcended borders, benefiting scientific and commercial endeavours, exploration, and even the world of film. His combination of passion, curiosity, creativity, and dedication led to remarkable achievements and positive change. Phil's accomplishments and legacy will undoubtedly continue to inspire generations to come. His legacy will forever be intertwined with the underwater landscape he loved so much.
By Margo Peyton, Youth Educator
Phil lived a very admirable and inspiring life. I loved listening to him speak. As a young person in the dive industry myself many years ago, he was someone who made me want to learn more, be more, and do more. He was not unapproachable and he had a way of making everyone feel special. He once purchased one of my orca artworks at a DEMA auction and I was so honoured, it felt so very special. He later came over and told me that he really liked my work – it was not just a charity buy, he truly wanted to have it. He said it was well done. I was so inspired that I began to weave art into our Kid Sea Camp vacations and hired Ron Rogest to do paintings, and later my then-future husband Tom Peyton, who is also an artist. They started painting with parents and kids and to this day we have art and poetry as a part of Kids Sea Camps. I don't think I ever thanked Phil for that, or advised him of the wonderful piece of his heart I implemented because of his kindness and generosity. 
By Sue Houghton, Filmmaker
I don't know when and where I first met Phil, and he could never remember, either, but for at least 25 years, like so many, I was in awe of his brilliance, expertise, and showmanship. He was a legend, and a modern-day da Vinci. When I was on staff at the National Geographic Society we worked together on several films, and he was always generous with his time and equipment beyond all expectations. He was easily the most charismatic person on the boat or in the room and would hold everyone captive when he spoke about the ocean, its creatures, his carving, his adventures, as he was a man of so many talents.  Our last film together was born from a moment in his legendary career that many might not be aware of: Phil won the Giant Pacific Octopus Wrestling Championship title three times in the '50s and '60s! We developed a film called Man vs Octopus, and along with incredible archival footage and images of Phil, we recreated the event for National Geographic. Phil was 75 at the time but easily donned one of the countless dry suits hanging in his warehouse, slipped on a tank, quickly defogged his mask, and flipped over the side of the boat before the cinematographers were even ready! I was worried that we wouldn't be able to find an octopus since they're masters of camouflage, but I should have known better, because Phil was an expert at locating the elusive beasts, too. Within minutes Phil had his gloves on a monster, and the two played with each other for quite some time. The scene ended naturally when the octopus climbed onto Phil's back, demanding a ride over the seafloor! My camera crew of incredibly fit young divers had difficulty keeping up with Phil and his octopus even though it had been some years since Phil had dived on scuba. The footage we got was spectacular, but most of all, I was delighted that Phil seemed to have a wonderful time. I know the octopus certainly did.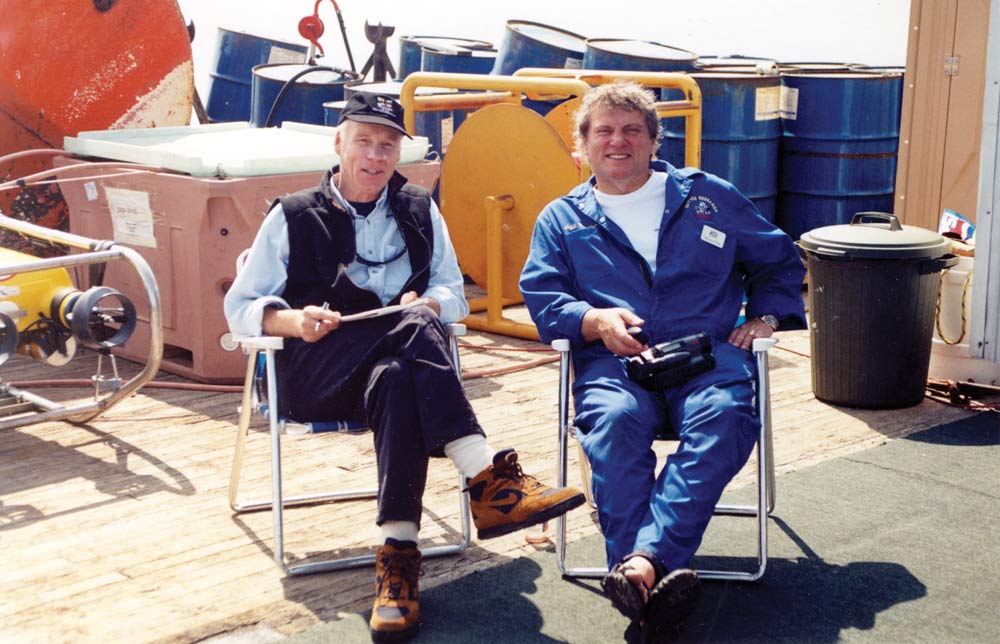 By Dr. Joe Macinnis
To spend time with Phil Nutten was to brush against the threads of genius. We met in 1971 in Saint Andrews, New Brunswick. He had just merged his company, called Can-Dive Services, into Oceaneering International. I was just starting a series of research expeditions under the ice of the Arctic Ocean. To listen to him talk was hear a man who wrote his own rules, fought authority and paved his own way. If you said it couldn't be done, he would unfurl his impish smile and quick hands and quietly show you how to do it.
When I told Phil my team was trying to understand how humans could work safely under a fathom of polar pack ice in freezing cold water, he generously contributed his team and technology to our Arctic IV research expedition. Those weeks on the ice gave me an intimate view of an original thinker who effortlessly projected his thoughts into the ocean and the minds of everyone around him.
He loved exploring the edge of technology using new materials in new relationships to protect humans from the cold, wetness and pressure of the depths. Safety was his mantra.
He had a singular way of understanding, inhabiting water. He thought and moved in three dimensions.
His unique visual dexterity allowed him to design systems, including rotary joints, that eluded others. He would smile and then chuckle when I called him the Leonardo da Vinci of the undersea world.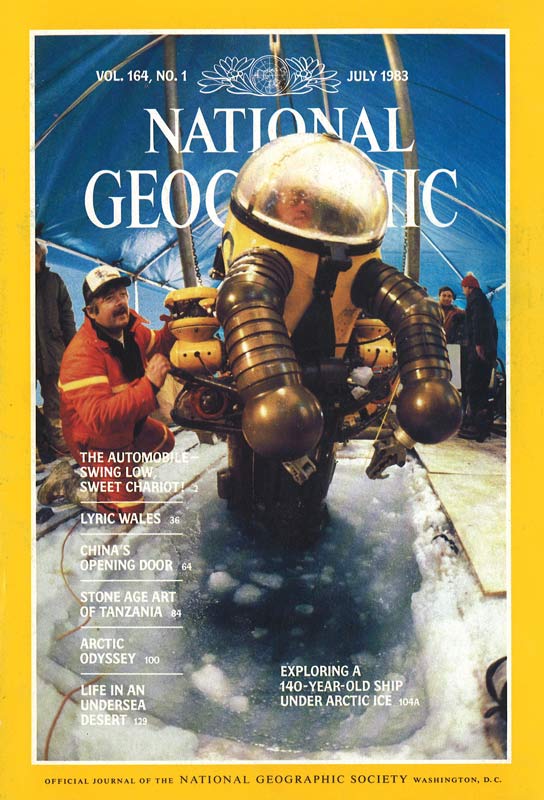 In 1983, I invited him to join our expedition to explore the Breadalbane, the world's northernmost known shipwreck. He showed up on the shore of the Northwest Passage with his contagious enthusiasm, his team, and a tractor-train of diving gear including two one-atmosphere WASP suits. The photo showing him rising up through the ice after his dive to the wreck was on the front cover of National Geographic.
On one dive, the current shifted and Doug Osbourne found himself in a WASP suit on the deck of the ship with his tether wrapped around a mast. Phil, surrounded by the noise of generators and working mostly with eye contact and hand signals, coordinated the efforts of three of his team partners. Using the diesel-driven winch drum, they carefully lifted and lowered the snagged cable, synchronizing their efforts with Osborne deep in the water below. After ten tense moments, they pulled him back across the deck the same way he'd gone in. "We just side-stepped an underwear-changing event," said Phil with a laugh.
A master of merriment and mirth, he had a museum-hunter's addiction to collecting things. There were nights when hanging out with him could lead to a killer beer-and-screwdriver hangover.
Phil was a Renaissance man who loved exploring his place on the planet as a Métis "totem carver" and an adopted member of the West Coast Kwakwaka'wakw First Nation.
In everything he did, Phil danced on the edge, pushing his physical and mental limits into new frontiers of thought and action. The ocean was his home. The arc of his life was an utterly original, creative act.
By Jill Heinerth, Explorer

We often find ourselves contemplating what our lives would have been like if we were born in a different time or place. It is natural to compare ourselves to others in our field, not out of envy—but pride and sometimes a sense of nationalism. Canadians, in particular, have a unique penchant for celebrating their outstanding compatriots. When an actor wins an Oscar, we excitedly remind our friends that the winner is Canadian. We passionately defend our sports personalities, inventors, and scholars, proudly inserting our country of birth as a reminder of our distinct, northern identity. One such exceptional Canadian who deserves to be remembered is Phil Nuytten.
If ever someone fit the description of a 'Renaissance Man', it was Phil. His journey began when he opened Canada's first dive shop on the west coast at the tender age of 15, with his mother signing the business license due to his youth. Quitting school in Grade 11, Phil embarked on a unique path of determination and accomplishment. 
In the summer of 1958, Phil's life took on an extraordinary dimension. A Vancouver bridge suddenly collapsed into Burrard Inlet, tragically casting 79 workers into the water. Phil, then still a teenager, was one of the first divers to arrive on the scene. Despite the rising tide and limited time, he fearlessly leapt into the water, attempting to save the trapped men. Sadly, a rescue diver and 18 workers died in the accident. This harrowing experience fueled Phil's drive and confidence to dedicate his life to developing undersea technologies and procedures that would enhance safety and enable the exploration and preservation of the world's oceans. From that pivotal day forward, his journey became an amalgamation of scientific innovation and artistic exploration; all centred around his life's goals.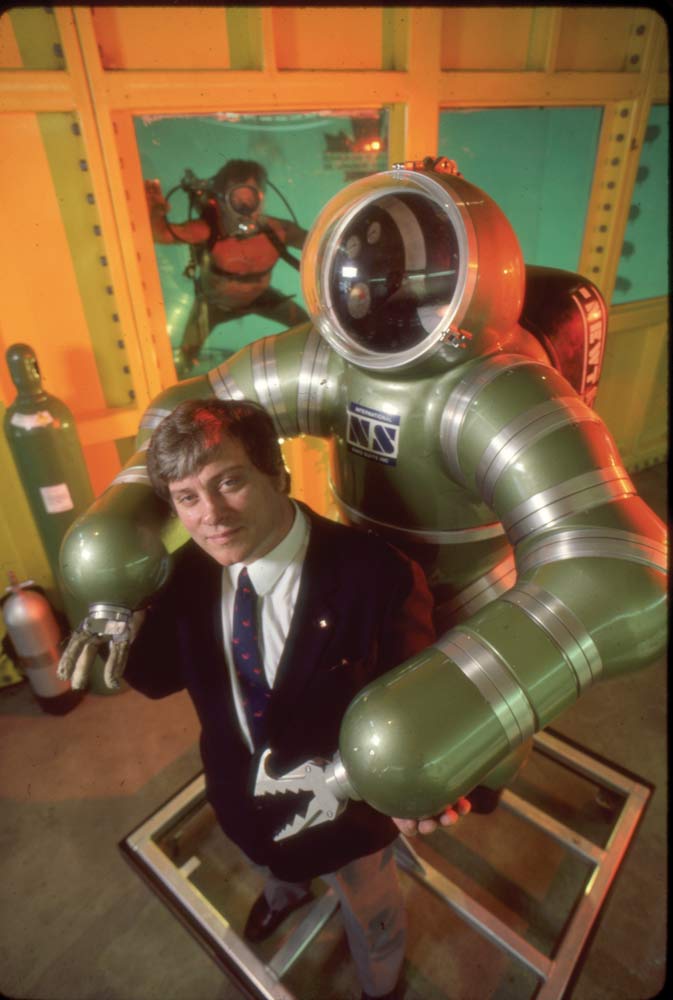 In 1965, Phil etched his name in commercial diving history by founding Can-Dive Services, Ltd. Throughout the 1960s, he spearheaded groundbreaking projects, including record-breaking mixed-gas and saturation dives. By 1969, he co-founded Oceaneering International Inc., setting a course toward creating new tools for ocean exploration and polar research. Even the US Navy sought Phil's expertise, particularly concerning an important creation, his Remora submarine escape system.
Phil's ingenuity soon gave birth to the iconic Newtsuit ADS, a rigid diving suit capable of withstanding depths of 1000ft (305m). His patented rotary joint design, a groundbreaking commercial and military diving innovation, garnered international recognition for his engineering prowess and commitment to safety. I vividly recall seeing images of the yellow, bumblebee-like hard-suit explorers embarking on seemingly limitless journeys beneath the ocean's surface.
As I ventured into my early diving career, I had the privilege of attending a presentation by Phil Nuytten on his DeepWorker sub, which revolutionized exploration for Dr. Sylvia Earle and the Sustainable Seas Mission. Phil marveled at the comfortable features of a business-class airline seat, and used that as inspiration to design a one-person submarine. A few years prior, he had graced the cover of National Geographic Magazine, embodying a real-life bionic man dangling with robotic appendages as he was pulled from a slushy hole in the ice. As a fellow Canadian, I felt a sense of pride and admiration for this remarkable individual and wanted to ask a few more questions. While he initially appeared somewhat awkward with this young woman diver peppering him with questions, I soon recognized his extreme humility and perhaps even shyness. However, his passion radiated through every word when discussing technical aspects of his work.
After that initial encounter, I sought every opportunity to connect with Phil whenever our paths crossed at diving events. During numerous dinners and film shows, I had the pleasure of sitting with his brilliant and supportive wife, Mary, who reminded me of my own English teacher mother. Mary was always in the background, supporting her husband of 58 years. In 2011, I was honoured and fairly overwhelmed to share the podium with Phil as we received Wyland ICON awards at an industry trade show. A decade later, when he presented me with the NOGI Award, an accolade from the Academy of Underwater Arts and Sciences, it became one of the most special moments of my life. As he handed me the heavy crystal statuette, Phil offered encouragement and hugged me, embodying the true spirit of camaraderie. To me, he was more than Canada's Cousteau; he was someone I genuinely revered for his accomplishments and humanity.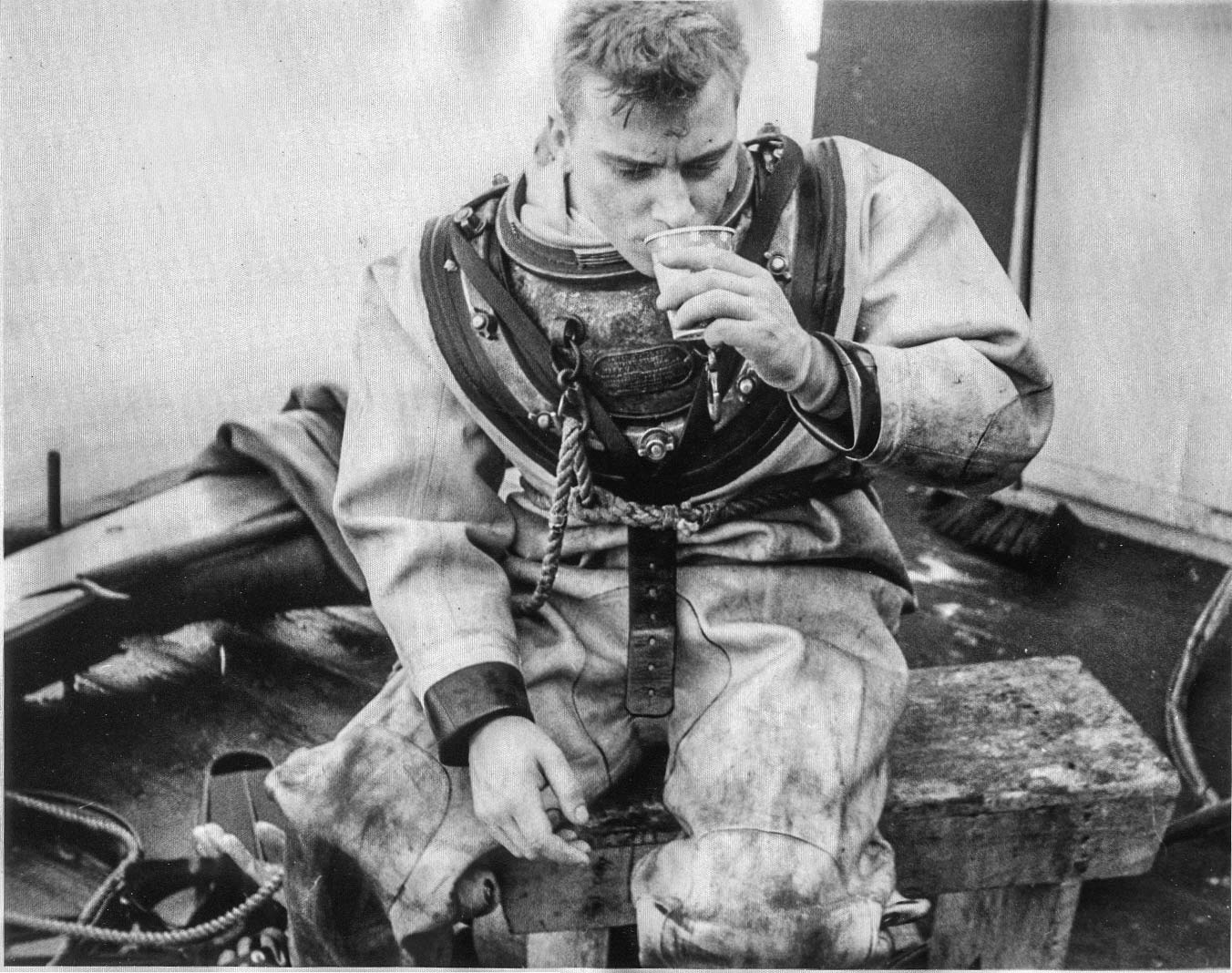 A visit to Phil's facility in North Vancouver unveils a treasure trove of innovation and creativity. Impressively, a 24,000 gallon (110,000-litre) dive tank graces the parking lot, while notable relics, such as the sub from the movie The Abyss, are piled in a crowded warehouse space. The futuristic silver and blue Exosuit ADS hangs from the ceiling in the red-bricked offices that also serve to publish DIVER magazine. However, delving deeper into the technological and artistic relics reveals the essence of the man himself. The warehouse is a repository of historic rebreathers, iconic submarines, and innovative camera technologies. Amidst the creative chaos, one may stumble upon a crumpled piece of paper, scribbled with a small sketch and a few numbers, lying near an experimental robotic hand with an opposable thumb. In a separate building, an electric piano is buried beneath manuscripts and original sheet music beside large wooden potlatch masks and a ceremonial canoe suspended from the ceiling. The earthy aroma of wooden shavings permeates the space, embodying Phil's pride in his indigenous roots. In a corner, racks of delicate reel-to-reel audio tape masters await digitization in a mysterious box he has designed to preserve their integrity. Iconic recordings from Woodstock and early masters of artists like Billie Holiday and Jimi Hendrix are a testament to his diverse passions and continuous pursuit of innovation.
Phil Nuytten was a true visionary whose relentless pursuit of undersea exploration and innovation has left an indelible mark on the world. His groundbreaking contributions to commercial diving have revolutionized the field and advanced the frontiers of scientific understanding and marine conservation. Beyond his accomplishments, Phil's humility, passion, and genuine humanity have inspired countless individuals, forging connections and fostering a sense of camaraderie within the diving community. Whether we remember him as a humorous presenter with a craft for storytelling or as an encouraging friend, I will also reflect on him as a Canadian treasure, a pioneer of the depths, and a source of inspiration for future generations.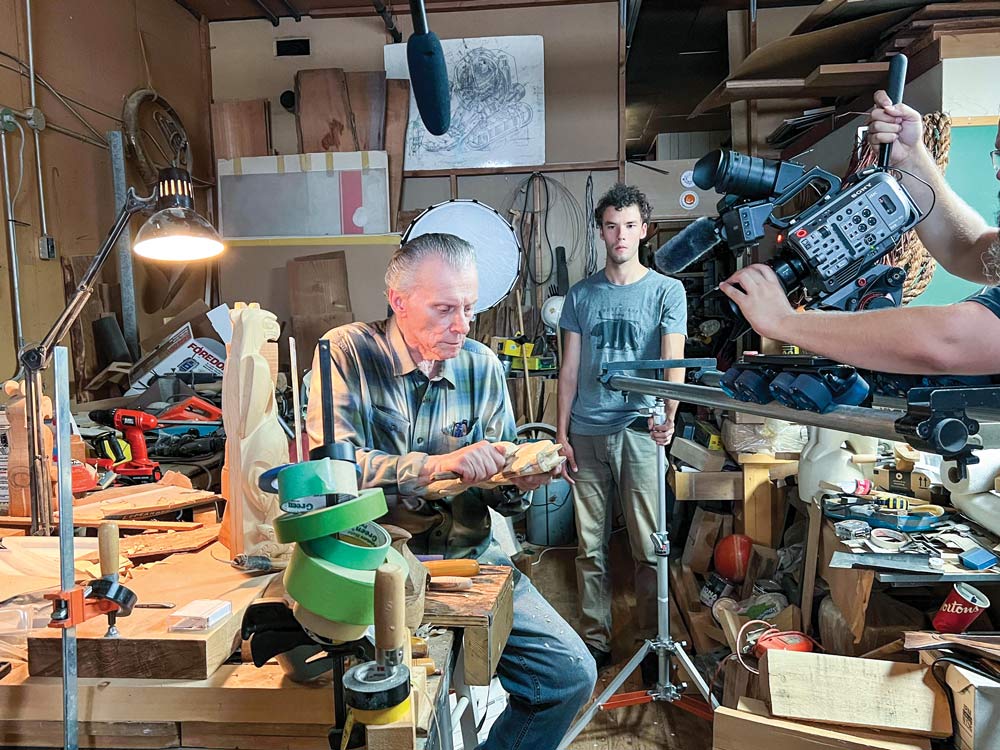 By Len Morissette, Filmmaker
Some souls arrive in our world and see the world around them differently. The concept of "this is just the way it is" is not in their DNA . They see everything can be shaped to fit their reality. 
Some of them have explored our planet, others have touched the stars and changed our social fabric by sheer will. 
 As these souls move through life, people plug into them wanting to feel this energy and help make their vision a reality. Sometimes this unrelenting drive can be very tiring and it's definitely hard on their families, but if it wasn't for these souls we wouldn't be where we are today as a people and as a society. 
I believe Phil was one of the souls. I had the opportunity of working with Phil and his team over the last few years, when we were filming our series Water Worlds, the first ocean exploration show with an Indigenous point of view. 
My team and I sat and listened to Phil's stories and, oh man, Phil could tell the best stories! Even though I got to know Phil over a shorter period of time than others, I definitely felt a connection to him.
 You see, I am an Urban Indigenous filmmaker from the northern prairies who is the size of a truck with dyslexia and I had a dream of becoming a filmmaker and doing an ocean show one day. Some call that crazy but Phil understood!  So when I phoned Phil and told him that I was doing a pilot for my show and my dream, Phil did not bat an eye and agreed to help.
What I found so inspiring listening to his story is that Phil is Métis and had to walk between both worlds —needing to find balance just like me!  That's where I felt a connection. I also met him just after his wife passed away and couldn't believe he was taking the time to talk to me.
 After going through his warehouse and getting a tour of the different submersibles and Exosuit ADS's, I could totally see the Indigenous influence from Phil and his carvings. He literally created beings influenced by our stories and legends.
In the end we were green-lit for our series on APTN. Phil and his team took us out and gave us the opportunity to learn how to film in and with underwater submersibles.We created our episode together.
Moving forward I'll keep exploring the oceans, remembering Phil's creativity, ingenuity and his stories. 
Because if he could do, it why can't I?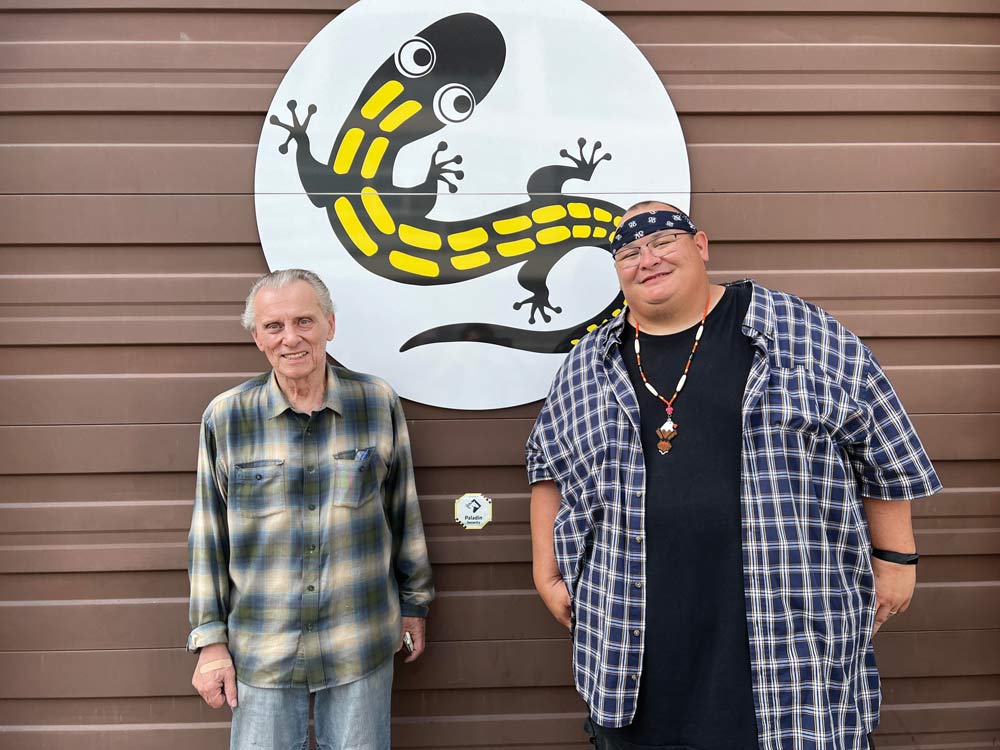 By David Doubilet, Photographer
I have never met anyone like Phil Nuytten. Phil was one of one, there will be no one like him again in our lifetime. There is not enough ink to describe his contributions to exploration, oceans, the arts, humanity, history, engineering, design, business and the greater good. I think of Phil as a modern day Merlin, powered by curiosity, capability, wit and a wonderful sense of humour. Best of all, he and Mary were simply kind. 
Working with him on a National Geographic story called 'Shell Money' in his home waters of the North West Pacific I saw, felt, and heard how spiritually connected he was to the sea, the land, the people, tribal culture, and fiercely forged to his own family, Mary and Virginia, who is now their legacy. I watched  Phil carve totems, I watched him massage sliver into bracelets with meaning. Speaking of bracelets, long ago he handed me the cuff of a Newtsuit and said, "This is titanium – where we are headed in the sea." This was Phil and his team, seeing ahead and around corners in the industry. 
It brought priceless calm to sit down with Phil and Mary, even though it was infrequent and might unexpectedly occur anywhere on the planet. But each time we picked up right where we left off.  
Phil Nuytten was the rarest combination of genius and joy, and oh, he was a magician!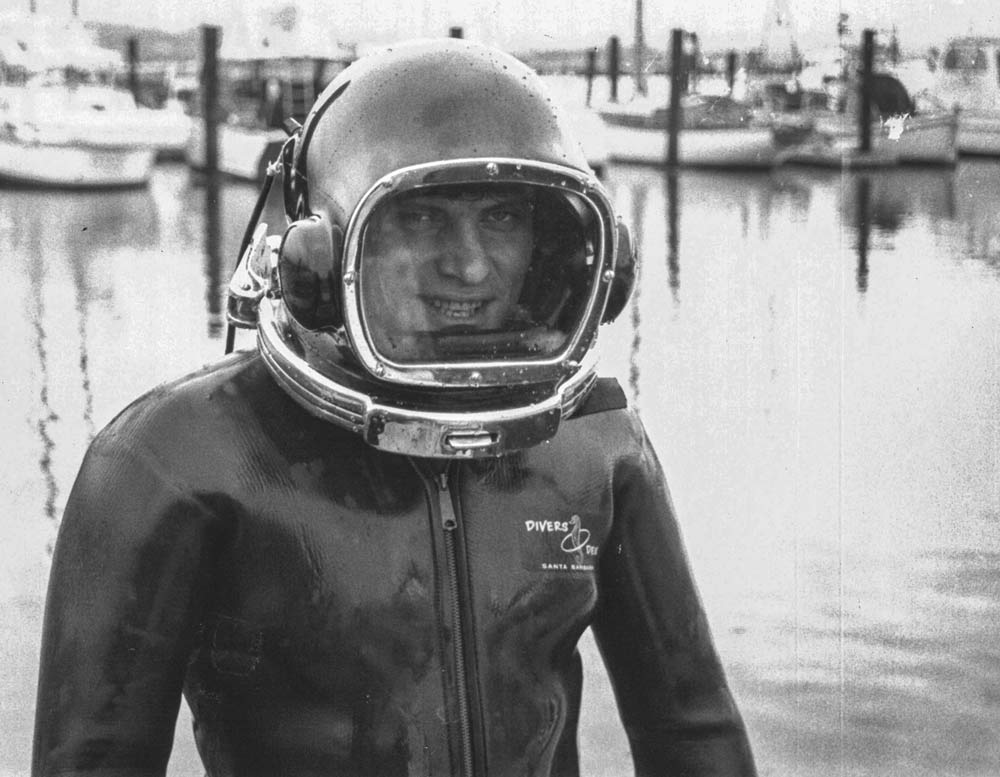 By Michael Menduno
I was introduced to Phil in 1992 by his fellow Oceaneering co-founder and former CEO Lad Handelman, who was on the advisory board for my magazine aquaCORPS
Journal. At that time, Phil was the founder and CEO of Hard Suits International (HIS), makers of the Newtsuit ADS, a one-atmosphere diving suit that protected the pilot from the pressure. 
 Most people probably don't know that Phil Nuytten was actively involved in early days of tech diving and was an inspirational figure to the fledgling tech community. What's more, his life's work on atmospheric diving systems (ADS) will likely one day yield a tool that enables technical divers to extend their underwater envelope even further. I'm convinced it's our next tech platform after rebreathers, and I'm not the only one.
"In my more poetic moments, I see myself forging little passports to the three-quarters of this planet that we're denied access to. We're born into this water world and yet, because of the very narrow band of pressure that we are designed to live in, we're denied passage to a large part of the planet." – Phil Nuytten, aquaCORPS #8.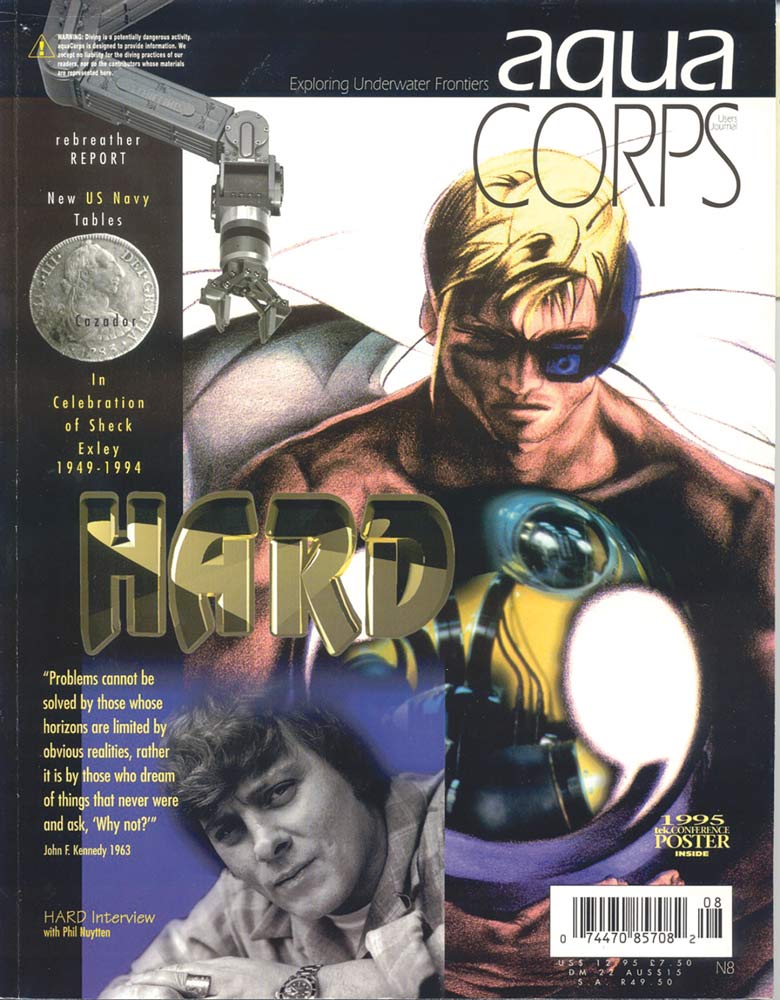 In January 1993, my aquaCORPS team and I launched the first technical diving conference, tek.93. The morning that the conference was to open, I was awakened by an early morning call from Phil, who had just arrived in town. 
"You're not hungover, are you Menduno? [Just a wee bit]. You know, any SAT diver worth his salt can handle his liquor," he joked with me. He went on to say he had looked over our conference plans and program. "You got this," he reassured me. "And we got your back." I walked into the conference hall that morning feeling like a million bucks. 
Lad and Phil (along with industry heavyweight Kevin Lengyel and a couple others) agreed to help me arrange financing for my fledgling media company. Without their investment, aquaCORPS and the tek.Conference would likely have gone by the wayside. 
Lad, Phil, Kevin, and several others took the fledgling tech community to task on running high oxygen levels, lack of gas switching protocols, the lack of onsite chambers, the need for stable moorings, and more. They were speaking from experience. After all, these three industry veterans had helped pioneer the adoption of mixed gas technology in the commercial diving world. The ensuing discussions were heated but extremely worthwhile. 
 Even so, I could tell that Phil and others associated with commercial diving shared the passion we felt about underwater exploration. Phil told me that it reminded him of his deep commercial diving days,
when the Oceaneering team was busy figuring out how to make helium dives. 
 "We're seeing the same level of interest and the same level of dedication as we did in the deep commercial diving days twenty years ago," Phil told tek.93. Phil also made it clear, along with Laddie and Kevin, that they were there to help! "We are willing to share everything we know," Phil offered. "And we are actually learning a lot as well."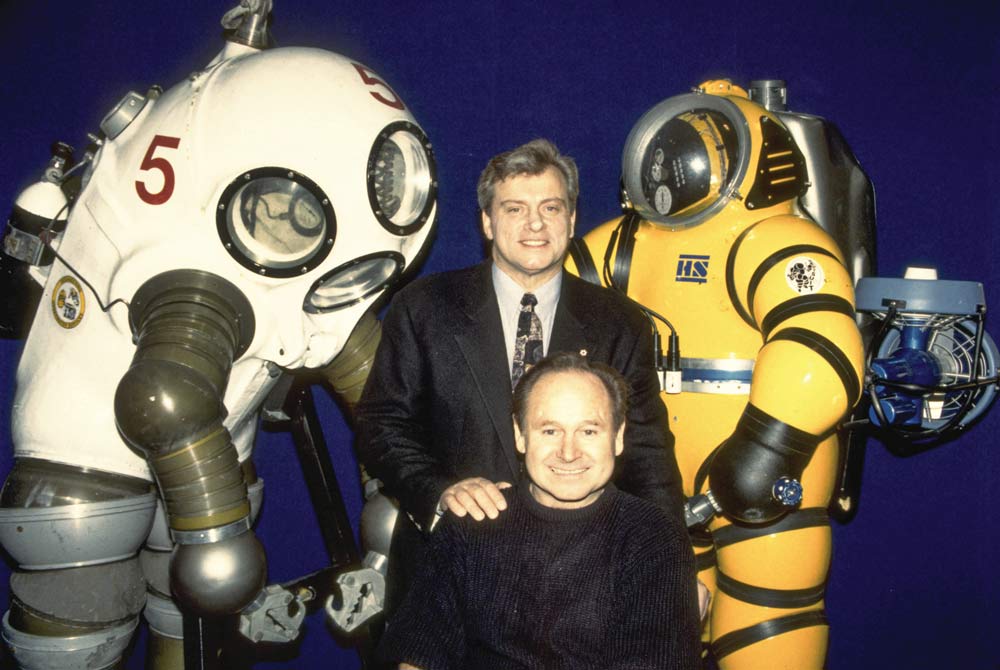 As a result of the conference, that summer we published a set of operational guidelines, 'Blueprint for Survival Revisited: Safety Guidelines for 'Extended Range' Dives'. 
The following year, several colleagues and I finally made the pilgrimage to Vancouver to visit Phil and HSI. The plan was to devote an issue of aquaCORPS to hard suit technology. After Phil gave us a tour of the factory, I got to dive a Newtsuit ADS in the test tank. OMG! It was awesome. I remember Phil boasting that the prehensile manipulator hand was so sensitive it could pick up a raw egg. 
That Fall (1994) aquaCORPS published its #8 issue featuring cover story, 'Think Hard', a full length, Playboy-style interview with Phil on hard suit technology. 
Phil's long term goal was to create a 'swimmable' atmosphere suit. Phil laid out his vision and the challenges of developing a tech suit in aquaCORPS #9, in a story called, 'Nuytten's Next Milestone: It's all in the Mind'. In the article, he said that tech divers were a top target market. "Tekkies are not 15-year old kids with their girlfriends' initials shaved into their heads," Nuytten wrote. "They are serious individuals who earn good money and want to spend it on diving toys!"
 In 2004, Phil purchased Seagraphic Publications Ltd., the owners of DIVER magazine. I like to think that his decision to go into the dive magazine business was due at least in part to his experiences with aquaCORPS. The following year in the June/July 2005 issue of DIVER, Phil ran a two-part interview series with me where I basically told the story of aquaCORPS' rise and its ultimate demise.
I stayed in contact with Phil over the years and visited Nuytco Research in March 2022. I wanted to see and write a comprehensive report on Phil's latest work with free swimming Exosuit ADS and submersibles. I was blown away as Phil showed me his creations scattered throughout the factory. He shared stories behind the various suits and subs, and I was impressed by how far the technology had come. 
Earlier this year, I asked Phil if he would be a keynote speaker at Rebreather Forum 4. I was hoping that he could come and educate the assembled gathering as to exactly where Exosuit ADS technology was at. Phil thanked me but politely declined. That was the last time I spoke with him.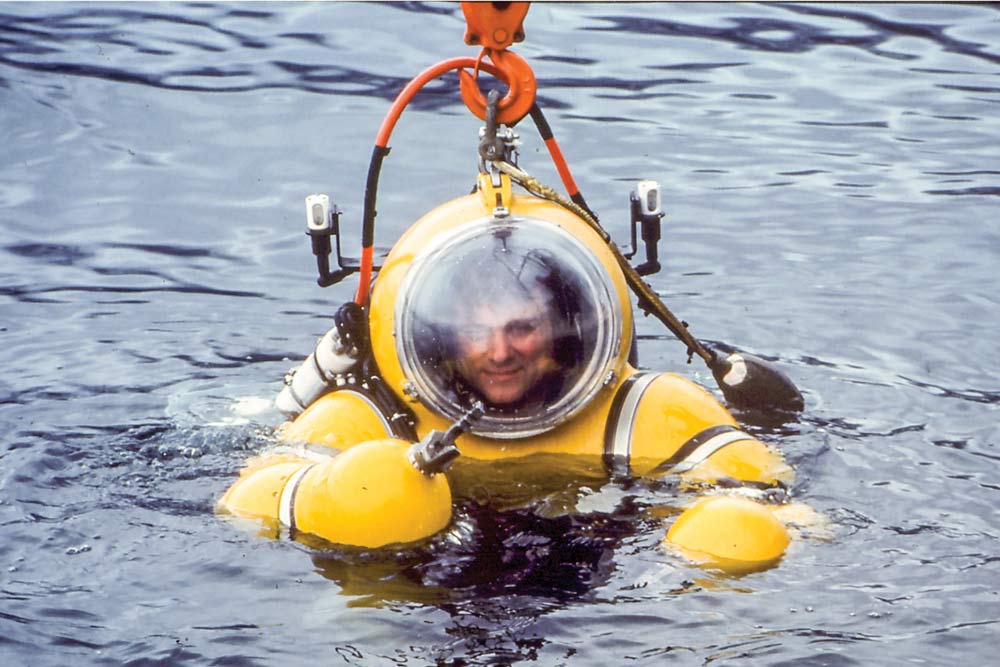 Ironically, the Exosuit ADS has already been dived by tech divers. That privileged dive into the future was conducted by tech pioneer Phil Short. Short was trained and then dived the suit near Antikythera Island, Greece, as a part of a project to excavate and relocate the wreck site of the Antikythera mechanism (an early Greek analogue computer) in collaboration with Woods Hole Oceanographic Institute.
"Atmospheric diving is not a universal panacea. It's not the 'be all to end all.' But I think it is a very valuable tool in our arsenal to defeat our old enemy: pressure. As I've said in many talks, pressure really is the enemy. It's the physiological effects of pressure. It's going where we're not meant to go. Fortunately, we can defeat these biological limitations by using the armor of technology." – Phil Nuytten 
The task will now fall to Phil's Nuytco Research team to carry his vision forward. It may take a while, but I have no doubt that one day tech explorers will be conducting Exosuit ADS dives. Who knows, as the technology matures, we may even see a an Exosuit ADS Diver cert?! It may be a hard idea for conventional wisdom to fathom, but then again Phil Nuytten was never limited by convention. 
Thank you for your dreams, inspiration and encouragement, Phil. We will miss you.