Canada
Marine Life
Travel
Guide: British Columbia's Pavilion Lake – Earth's early lifeforms
September 5, 2020 By DIVER Editorial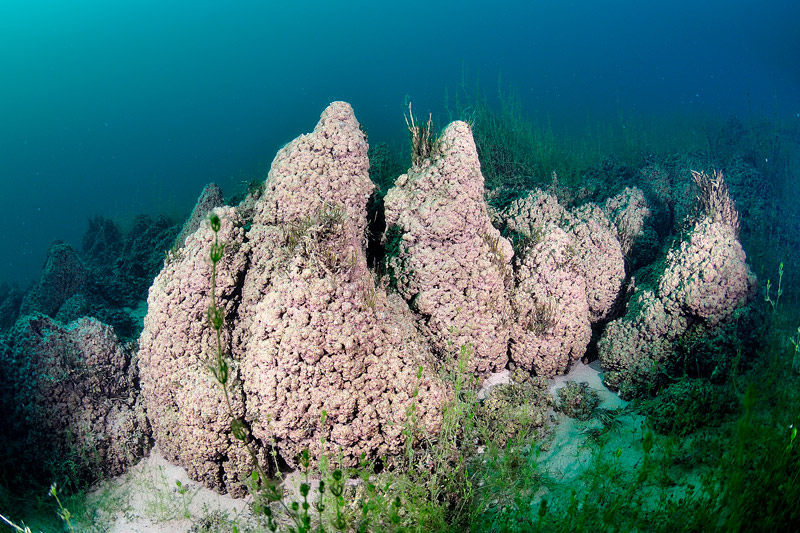 Words and Photos by Eduardo Baena
Located on Highway 99, halfway between the towns of Lillooet and Cache Creek, British Columbia's Pavilion Lake offers a unique opportunity to observe one of the largest known colonies of freshwater microbialites, a type of stromatolite. These calcareous structures resembling rocks were formed by the growth of layer upon layer of certain microorganisms called cyanobacteria, a unicellular photosynthesizing microbe.
During photosynthesis, the cyanobacteria absorbs carbon dioxide from the atmosphere, releases oxygen, and under certain conditions some carbonates are formed.
Over time those carbonates stratify and form the microbialite structures, which present live microorganisms only on the exterior surface.
It is estimated that Pavilion Lake's microbialites have started forming 11,000 years ago, and they are being studied by scientists as they might provide some answers about ancient ecosystems on the planet. They are believed to be similar to some of the earliest forms of life on Earth.
Microbialites provide an analog for the biogeochemical processes active on early Earth and has many connections to our understanding of life in the universe and human space exploration. Understanding how modern microbialites grow and the signatures that they leave behind in the rock record give us a window into the past. If life did evolve on other planets, the structures at Pavilion Lake might also be similar to those preserved within the planet's rock record.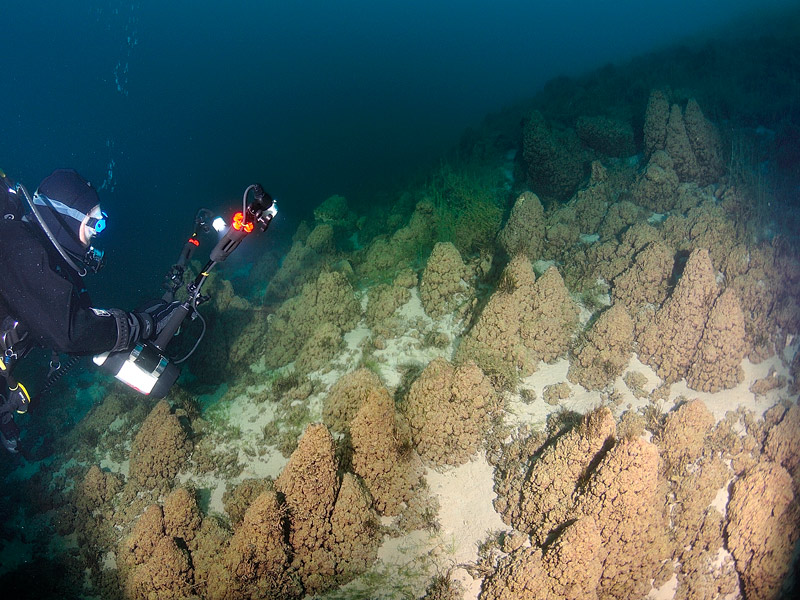 Pavilion Lake has been designated a Canadian Analogue Research Network (CARN) site by the Canadian Space Agency, as it offers researchers from across Canada and the U.S. an opportunity to study the formation of microbialites. The Pavilion Lake Research Project (PLRP) was established as a joint NASA-University of British Columbia effort to conduct science and exploration of this lake.
Getting to Pavilion Lake is part of the fun, as Marble Canyon Provincial Park and its surrounding areas have beautiful scenery that makes for a very pleasant drive!
Lying west of the highway, the lake is approximately 5.8 km (3.6 miles) long, 0.8 km (0.50 mile) wide and has a maximum depth of 213 feet (63m). There is a gravelled parking space and information kiosk located approximately halfway of the lake's length, and this is the best place to start your dive. The short trail leading to the water is a bit steep and has some loose dirt but it's manageable and once in the shallows you can finish gearing up and do your pre dive check. Make sure not to enter the small island right across from the entry point as it is private property. However, the waters surrounding this little island present interesting vegetation so it makes for a good "shallow end / safety stop" of your dive. Rainbow trout can often be seen in this area.
The best microbialite structures accessible to recreational divers are located approximately WSW from this entry point at the 65 foot (20m) depth range. Please remember the lake is at 2700 feet (823m) of altitude so apply all the procedures for altitude diving.
Visibility in the lake is generally good, its water colour varying from green to turquoise depending on the time of the day and other factors like weather.
There's no facilities or drinking water in the park, so make sure you bring everything you need to make your day comfortable. If you want to spend the night nearby, a BC campground is located about 5 km south of the diving site, although it doesn't have showers or flushing toilets. The closest towns are Cache Creek, 43 km east of the lake, or Lillooet, 44 km west, and if you are coming from Vancouver, BC, Pavilion Lake is about 4 hrs drive, depending on which route you choose.
In order to protect and preserve the majority of the microbialite structures, scuba diving is only allowed on certain areas of the lake. Please check the signs for more info. Enjoy your dives!