Interviews
Interview: Jared Hires
May 14, 2020 By DIVER Editorial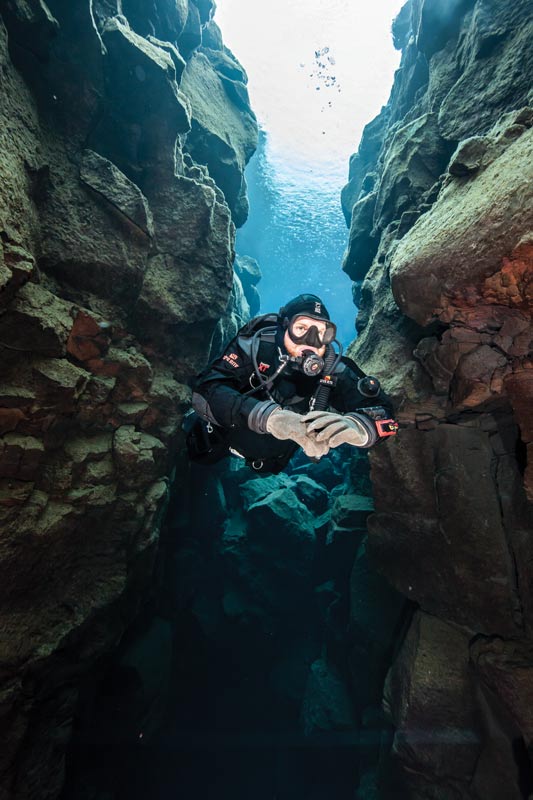 General Manager at Dive Rite
How long have you been diving?
My first diving experiences were around age 5. I started out breathing from my dad's long hose while he was debriefing cave students between dives. Soon after that I had my own custom-built harness and my first set of doubles, AL 13s. I was cave-trained around 14 and CCR certified at 15.
What was the defining moment that made you want to become a diver?
Birth! I don't think there was ever a question about it; I was always going to be a diver.
How did diving change your life?
Diving didn't necessarily change my life, but it is my life. Growing up in the industry and now working in it full time, diving is what I know. When I was finishing my undergraduate degree, I had to make the decision if I was going to pursue internships and other careers or come back to the family business. Looking at both options there was no question, diving was the only decision. My job is a ton of fun; I help bring new products to divers, talk diving non-stop, and travel around the world DIVING!
What was it like growing up in such a prominent diving family?
Growing up in a diving family had its perks. From a young age I always had the newest gear and I was able to advance my training a bit quicker than the average person.
But looking back on it now, really the coolest part was being around so many divers all the time. I was able to see how awesome this community is at a very young age. I was also able to soak in a lot of the history of the sport by hearing all the stories that aren't in the textbooks and meeting many of the pioneers.
What does diving mean to you personally?
Diving is everything to me. It is my livelihood and how I support my family, but it is also my escape and happy place. As the great Creed Bratton said, "If I can't scuba, then what's this all been about? What am I working toward?"
How do you see diving evolving over the coming years?
Technology has greatly changed diving over the last few decades, making it easier to go deeper and stay longer. I think that we will continue to see an increase in tech diving amongst divers that stay in our sport.
What can we do to attract a new generation to the sport?
Make diving cool again!! I think the adventure side of diving had been marginalized when the focus turned to it being a "family sport you can do forever." The new generations thrive on adventure and are drawn to other adventure sports. I think this is where tech diving comes in because it adds some of that adventure back.
How important are mentors within diving?
Mentors are extremely important for the next generation of diving. A diver doesn't learn everything from a course, there is so much more that you learn when you get out there on your own. It is great to have a seasoned mentor there to help guide you when you have questions and help push you to
the next level.
"Follow your dreams and don't let negative people hold you back. Doing big dives takes practice and proficiency. Find a good mentor who will help you get there. "
What is your most memorable marine life encounter?
One of my most memorable marine life encounters was a shark dive off the Florida coast. It was a big deal for me because I have always been extremely afraid of sharks. On the dive we interacted with a half dozen lemon sharks, swimming all around us. I came away with a new relationship with sharks and I am not nearly as afraid of them if I see them on my normal dives now.
Who is your go-to dive buddy?
Even though I have made many friends and new dive buddies over the years, my go-to dive buddy is still my dad. We have travelled all over the world diving together, creating some awesome memories.
What is your favourite dive site?
Living in North Florida's "Cave Country", I am lucky to have many caves within just a 45-minute drive. One of my favourites is Little River Springs. It is the closest to my house, only about 20 mins away. It's my go-to if I want to squeeze in an early morning dive before work.
Where would you like to dive but haven't?
Number one on my list right now is Scapa Flow: World War I wrecks and scotch!
What's the craziest thing you've seen underwater?
The craziest things I've seen underwater would probably be the formations of the Crystal Caves of Abaco in the Bahamas. I've never seen anything like it. The rose formations in the Glass Factory of Ralph's Cave are beyond awesome and like nothing else you will see in any other cave.
Favourite dive snack?
Hands down my favorite dive snack is Cathy's Deco Cookies at Dive Outpost. If you've ever stopped by Dive Outpost while in Cave Country to get gas fills, you know what I'm talking about.
Favourite diving movie?
Sanctum. It has cave diving and very loosely inspired by a true story.
Proudest diving moment or achievement?
Becoming an Open Water Instructor. It was a big deal for me at 18 because it was one of the first diving certs I did without any help from my dad. I went through a traditional IDC as any other person would do. My Course Director and ITs didn't hold back because they knew I would be under some scrutiny.
Favourite piece of equipment?
Just one?! I have many favourite pieces and they are all tools for different jobs. Short list: my CCR, DPV, and camera.
What's next for you?
Over the next few years, continue to refine my skills and work towards next level instructor certs.