Underwater Video
iPhone Video Is Easy With iSea
October 25, 2013 By DIVER Editorial
By Jill Heinerth
First Published in DIVER Volume 37 Issue 2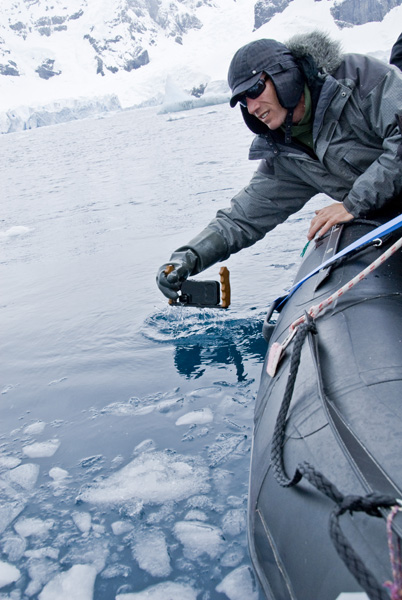 Deep within a Central Florida storm sewer network, I slogged through the greasy runoff of busy highways and overcrowded parking lots.  Even for a seasoned expedition diver like me, this was a unique assignment – scouting the dark bowels of an urban cave network for a documentary film about fresh water issues. The grungy water cascaded over the edges of slippery concrete chutes, and splashed down into side channels and branching conduits. The black water disappeared down the oily conduits, draining poisons from a matrix of asphalt ribbons above me. It was slippery and smelled like an oil refinery. Losing my footing, I hunched over to stop myself from falling, and in painful slow motion, I watched my new iPhone slip out of my chest pocket and splash into the grimy soup at my feet. Can you hear me now?
Smelling like a garbage truck, I climbed a rusty set of rungs to a heavy manhole and heaved my way into a parking lot of a busy strip mall. Crawling out of the breach in the pavement, my luck was improving. There was an AT&T store across the plaza. I must have shocked the young salesman, and, certain that he wanted to dispatch this odoriferous mad woman from his store, he replaced my phone in a matter of minutes. Mere months later, I lost a second phone to moisture, this time caused by the dangerous perils of a cup holder full of the sweet stickiness of my Diet Coke.
Older models cheap at the price
Today, we carry our lives in our smart phones and the thought of losing one to water damage is nightmarish. So why would anyone choose to risk their precious iPhone in the unforgiving depths of scuba dive? Underwater video. The video capturing quality of the modern iPhone is quite remarkable, and the convenience and size for travel is unmatched.
The iPhone 4/4S may be getting outdated, but a recent search on the web saw them selling on eBay and elsewhere for between $50 and $100. That's pretty decent considering the built-in ability to shoot 5-megapixel HD videos in 720p at 30 frames per second. Now there's no reason to risk your invaluable iPhone when you can get a cheap backup for water time. If you are willing to expand your wallet and get an iPhone 5, then the stakes are raised considerably. Upgraded with Sony's latest generation back-illuminated CMOS Digital Imaging Sensor, it offers 8-megapixel HD (1080p) up to 30 frames per second with continual autofocus and an LED flash for still photographers. Improved image stabilization enhances the liquid glory of a moving dive sequence.
There have always been inexpensive "sealed bag" options for iPhone water protection and flimsy cases for talking in the rain, but now there is a professional alternative for serious divers who want to shoot with Apple's amazing and versatile little smartphone.
I recently had the opportunity to test the iSea4 Pro housing from MoceanArmor.com.  This robust housing, constructed of uni-body marine-grade aluminum with a heavy Lexan-panel front comes with an optional StediGrip tray and arm set that improves handling and stability. The "record" button is constructed of stainless steel and is rated to 200 feet. The housing is capable of going much deeper, with a modification coming for users that want to take it to 500 feet. The entire casing is sealed with a convenient patented "kiss valve" that you literally sip on like a straw in order to vacuum seal the housing prior to entering the water. The kiss valve concept is borrowed from the motion picture industry. 3D IMAX cameras have successfully employed a similar design. There are no mechanical latches to fail, and during my dives with it, the system felt very secure.
Most importantly, the iSea is the only housing that offers a rectilinear, wide angle fisheye lens, doubling the field of view, allowing you to you get much closer to your subject, as well as improving color and saturation potential. Additionally, the manufacturer is offering new fibre optic strobe compatibility, a video lighting package, and an optional dive computer module that will surely make this an enviable full-featured system for underwater shooters. The only complaint some divers may have is that they won't be able to access their tunes or any other features of their phone during the dive. The auto-lock power-saving feature is also disabled, so you'll need to start with a fully charged phone so it doesn't shut down unexpectedly during your dive.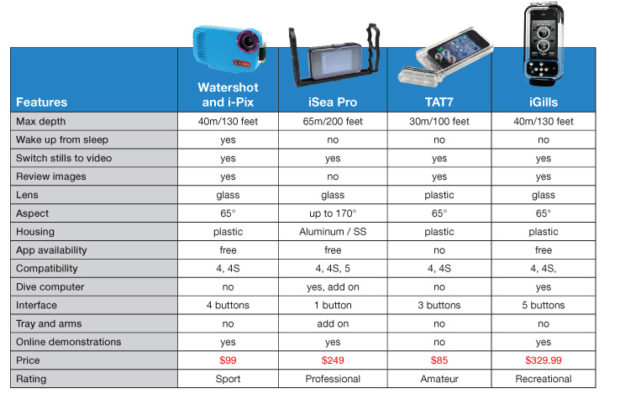 How to shoot with your iPhone
Whether you choose to use the professional-level case or something else on the market, there are a few key tips to remember when shooting video with an iPhone. The underwater world is glorious tableau of colorful moving subjects. Hold your camera still and allow the image to be recorded in its own continuous motion. There is no need for quick movements that distract the viewer and challenge the camera's capability. The iPhone offers a convenient continual auto-focus and auto-exposure feature that functions well underwater as long as you keep your shots relatively stable. Slow pans from side to side are effective if you maintain a consistent distance from your subject. Fast moving objects are sometimes too quick for the camera as it samples to catch up. Tilt-up and tilt-down camera moves must be extremely slow to allow the camera to make exposure and focus changes without the appearance of "stepped ratcheting." Close-up targets reveal the best color saturation and rich detail. As with any camera, the more distant you are from the subject, the more washed out your image will be.
Whether you plan on snorkeling in the Caribbean, diving on deep walls or boldly navigating the perils of your car's cup holder, there are finally viable options for protecting your iPhone from water damage. As the capability of iPhone's onboard camera features improve, it will be tougher to resist the simplicity of traveling with a serious pocket-sized filmmaking tool. Sorry Android users, you'll have to wait.
For further information and sample videos:
iSea Pro – www.moceanarmor.com
TAT7 – www.tat7.net
Watershot – www.watershot.com