Wedding magic in the Florida Keys
Text and Photography by Adam Opris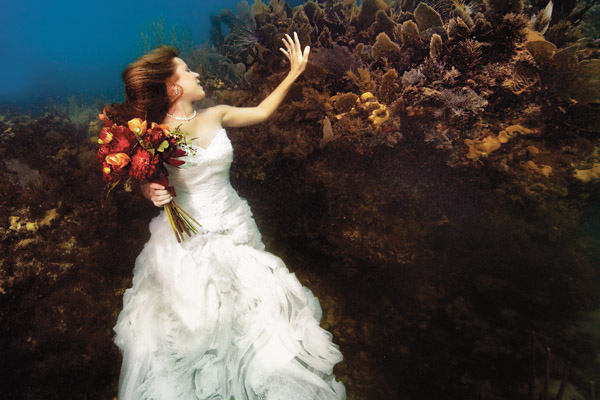 I grew up in the ocean and to this day there is always sand in my car, an agreeable reality of life in coastal Florida. I became a professional photographer specializing in weddings and family portraits and love to push the limits of my art and craft. I'm always thinking, what's new, what can I try next, what else can I do to add magic to the pictures I make. So imagine my reaction when I first saw underwater images. The possibilities seemed endless and in a heartbeat I became a certified diver and the proud owner of a new Ikelite housing for my camera.
The lure of the sea is like the wallpaper of my world, so those underwater shots of colourful marine life and beautiful reefscapes had a profound impact. Immediately, it became clear to me that I could create some magic and have a whole lot of fun taking my photography underwater. My fiancée and family were extremely supportive, but concerned too. They gently reminded me of my 'push things to the edge' personality and inexperience as a diver; it was wise counsel that informed the project from start to finish.
The journey began shooting my future nieces in their swimming pool to test out the new housing and to learn how it all worked with lighting and exposures. After seeing what was possible I started dreaming big. A little over a year and a half after that first pool shoot, I found myself 25 feet (8m) deep off Key Largo, Florida, surrounded by a team of safety divers and a group of four brides and two grooms willing to take my direction in the quest to create a little of that magic!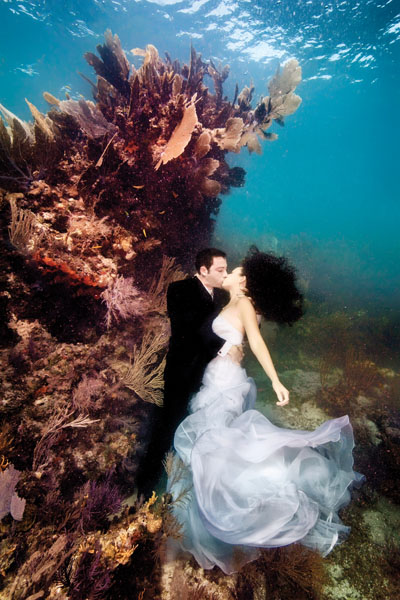 I'm a dreamer, but a firm believer that dreams can come true if you make the effort and put in the time. I love shooting weddings and for me a bride in her gown is opportunity for magic that's hard to match. So, I knew I had to bring a bride into the ocean. Figuring out how best to bring this underwater bridal shoot to life, I realized also that I wanted to work with people who shared my passion for the ocean, who were daring and, not least, trusting! So it's gratifying to say that when the search was over all my volunteer brides and grooms, pictured on these pages, were former clients, not paid models. 
Safety was my number one concern, especially as a newcomer to diving and the world of underwater photography. My SCUBA instructors led me to Rainbow Reef Dive Center for a dive team to help with the logistics planning to pull it all off in the water. I wanted two safety divers for each bride and groom so it worked out that with all essential team members accounted for I had the opportunity to recruit six brides and grooms to help bring my vision to life.
I decided I would shoot four brides and two grooms and began the search on Facebook, reaching out to my fans and the community for the couples and individuals who would be both dive certified and willing to take part in my rather dreamy experiment. Response was overwhelming, and humbling. It was one thing that a lot of people enjoyed my work, quite another that they were willing to jump in and trust that I knew what I was doing in this offbeat enterprise. What can I say; love will find a way. The two couples pictured here are really married and really in to diving. The other two girls are also avid divers and ocean lovers.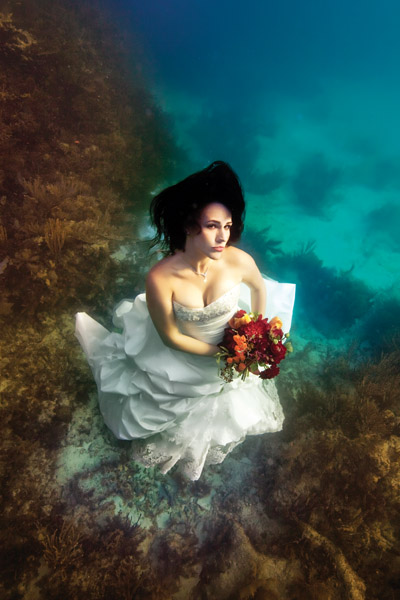 Safety and Support
Blending my passions for the ocean and wedding photography would be a creative challenge. I understood this going in. I also knew the project was 'out there' enough to attract interest so I took a chance and contacted FashionTV to see if they'd support the shoot. They did. Lesson reminder: if you don't ask, the answer is always no! With the backing of this global fashion giant I had some leverage seeking out the support of other creatives in the industry. Speaking with people I knew and trusted in the wedding world I received the generous contribution of four bridal gowns, two tuxedos, four unique flower bouquets, heels for the girls, all the required makeup and video services… amazing support from amazing companies.
As I assembled my models, support team, the wardrobe, and all the paraphernalia needed to make this happen I was ever mindful of the need to do this as safely as possible. My instructors had continuously emphasized safety and respect for the ocean above all else. I took this to heart. Step one was to bring one of my instructors into a pool session with each member of the team for a little technique refresher and to practice breathing at depth without a mask for prolonged periods. This would be their reality in the ocean. 
Confident that they were ready, we set a date and soon headed down to Key Largo. There, we turned a dive shop into a make-up room, mascara, lipstick, flowers, you name, sharing space with regulators, masks and fins, wedding dresses hanging next to BCDs, tuxedos alongside wetsuits. Everyone on the team and helping were personable, good-hearted divers and together everything began to click and we just knew there would, indeed, be magic! It was a thrill seeing my dream become a reality.
Imagine the scene. Girls and guys dressed for their 'big day' just as you'd imagine for a wedding with all the bells and whistles. Parading down to the boat dock along with safety divers, crew and others, it was quite a spectacle. The first order of business was an in depth debrief of the entire plan and review of the dives to come with special emphasis on the safety procedures. We all understood there were variables, the possibility of problems so everyone was attentive and their commitment, it proved, allowed everything to go off without a hitch.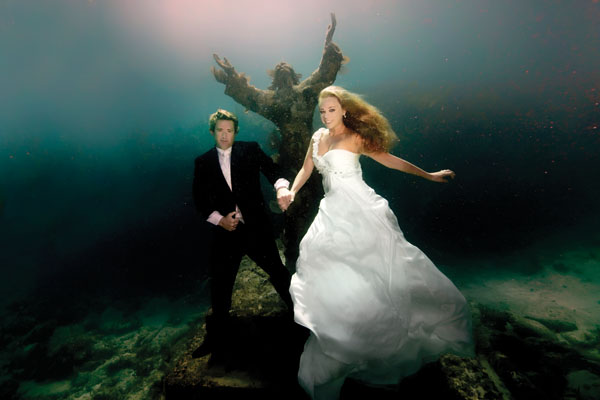 A Fun Shoot
On site and before diving we reviewed poses and the all important touch signals devised so the maskless models could follow my direction. As planned, each bride and groom had two safety divers in attendance, providing air and guidance. Once in position we fastened weight belts to the legs of the models to help neutralize their buoyancy, and as they acclimatized and became comfortable in each set-up, their masks were removed and I got down to business. As we moved to different sites we were dealing with issues of visibility, jellyfish, proper weighting and that the models putting their lives in our hands were okay and not experiencing any discomfort or anxiety.
Our communication procedures worked just as we'd planned. Various taps on the shoulder signaled the need for a new pose, a different look, you name it. We had so much fun that I quickly realized that working with people passionate about the sea and sport diving, and who were experienced underwater, was the best decision of all. There was no stress, tons of laughs and, I feel confident saying, it was the experience of a lifetime for everyone. 
The pictures turned out better than I imagined, though the memories of the shoot are every bit as vivid as the images themselves. Everyone did a first rate job and reflecting on it all I know I'll be dreaming bigger and wanting to push further the next time I conjure up an idea to marry my love of the ocean with my passion for photographing people. 
More on Adam Opris at www.adamoprisphoto.com 
One Response to "Love is in the water!"