September 12th ‐ 14th, 2014
Over $14,000 worth of prizes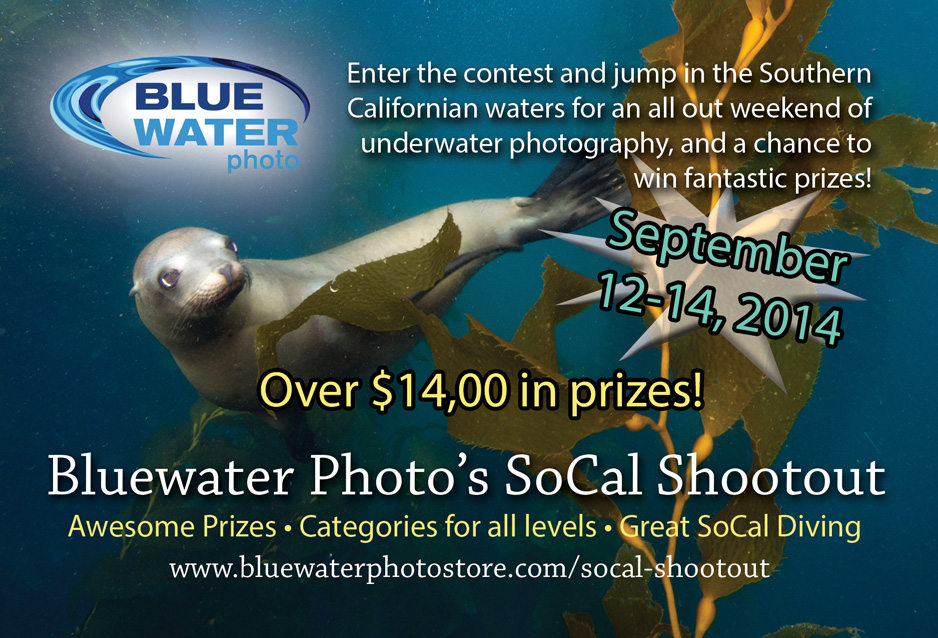 Bluewater Photo is excited to announce the 4th annual SoCal Shootout, happening September  12th‐14th, 2014. This weekend long competition brings together underwater photographers of all levels throughout Southern California.
Starting Friday morning and spanning through Sunday night, photographers have the opportunity to shoot photos in the Pacific Ocean anywhere south of Pt. Conception to north of the Mexican border to be eligible. Entry is only $40 for 8 photos, 3 videos or a mix of the two. Please see the website for complete information and rules.
Grand prize sponsors include the Rocio del Mar with a liveaboard trip to the Sea of Cortez, Sea & Sea Underwater Imaging with several YS‐D1 strobes and Bluewater Travel with several dive travel certificates.
Gold level sponsors are The Cortez Club with a 4 night dive package for two including lodging at La Concha resort, Recsea with an RX100 III camera housing package, and Maluku Divers with a 4 night diving package. Silver level sponsors include iTorch dive lights, Channel Islands Dive Adventures, Light & Motion, Ikelite, Subgear, Watershot, Beneath the Surface, and Ultralight Controls Systems.
This contest is designed for photographers of all levels with a variety of categories to enter including separate categories for compact camera shooters. Entrants are encouraged to enter in a variety of categories for better opportunities to win! New for 2014 is a second video category, "Edited Video" which allows entrants to enter a more finished video narrative with multiple edited shots and allows the addition of a music or other audio track.
www.bluewaterphotostore.com/socal-shootout
DIVER MAGAZINE. NORTH AMERICA'S LONGEST ESTABLISHED DIVE MAGAZINE. SUBSCRIBE TODAY.