Recalls pioneering Conshelf experiments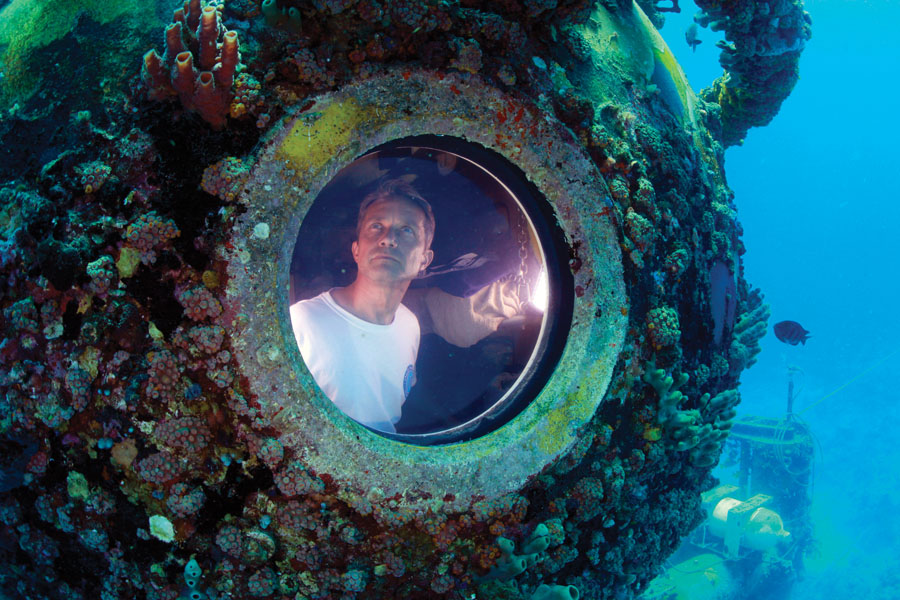 At press time the saturation diving component of Fabien Cousteau's Mission 31 had just  completed. The son of DIVER columnist Jean-Michel Cousteau, and grandson of Jacques-Yves Cousteau, Fabien spearheaded the initiative, underscoring the human-ocean connection through the lens of exploration and discovery. Along with two other aquanauts, Cousteau spent 31 consecutive days in the Aquarius habitat in the Florida Keys National Marine Sanctuary, nine miles off Key Largo, diving daily and working with other divers split into two, three-diver teams. Aquarius Reef Base (ARB) is the world's only undersea Research Station and Mission 31 the longest project the subsea lab has hosted in 21 years of operation.
Mission 31 honours the 50th anniversary of Jacques Cousteau's month-long Conshelf Two mission in the Red Sea. The pioneering Cousteau, regarded as one of the fathers of the Aqualung, is also credited with creating the first ocean floor habitats for humans and taking a team of ocean explorers on the 30-day Red Sea mission. In all, three Conshelf projects were undertaken. "Mission 31 pays homage to my grandfather's work and all aquanauts who have since followed his lead in the name of ocean exploration," Cousteau's grandson said of his venture.
The Conshelf (for Continental Shelf Station) experiments took place in the 1960s; the first and third were in the Mediterranean off the south coast of France. Essentially, all three were proof of concept undersea 'living' trials in the pioneering days of saturation diving. They advanced our understanding of human physiology and technology in the ocean world. 
Mission 31 expands the 50-year-old Conshelf Two legacy by one full day, 30 more feet of depth and, with advanced communications technology that provided continuous broadcast of the entire mission to a world audience.
Areas of study during Mission 31 included:
 Climate change and the related challenges of ocean acidification
 Ocean pollution with an emphasis on the effects of plastics
 Over-consumption of resources with specific focus on the decline of biodiversity
Science partners for Mission 31 included Florida International University (FIU), assisting with scientific and topside mission control support led by the FIU Medina Aquarius Program team as well as faculty and students from FIU's School of Environment, Arts and Society. Northeastern University's Urban Coastal Sustainability Initiative also provided additional scientific advice, led by marine and environmental sciences professor Mark Patterson, Ph.D.
During the 31-day mission, Cousteau and team members spent up to nine hours a day conducting science diving experiments. Throughout, his film production team was busy shooting short and long format documentaries of the mission.  
Cousteau and his team conducted daily Skype video calls with classrooms around the world through Skype in the classroom, the global education partner for Mission 31, with curriculum material available to teachers at www.mission-31.com.
A privately funded expedition, Cousteau's mission received support from corporate sponsors that included Nokia Lumia, Hewlett-Packard, Plant A Fish, Symantec, Aquarius Foundation, Town & Country magazine, Ritz-Carlton, Turks and Caicos Reef Fund, Wheelabrator Technologies and DOXA, among others (mission-31.com/about-mission-31/our-partners). 
The Mission 31 Team

Fabien Cousteau, Mark Hulsbeck and Ryan LaPete saturated for the full 31-day mission. Kip Evans, Adam Zenone and Andy Shantz participated during part one of the mission, beginning June 1, while Matt Ferraro, Liz Magee and Grace Young joined part two at the midway switch over June 16-17. For full team bios go to www.mission-31.com 
Fabien Cousteau – Mission Leader/Executive Producer. Fabien Cousteau is an oceanographic explorer, conservationist and documentary filmmaker. As the first grandson of Jacques-Yves Cousteau, Fabien spent his early years aboard his famous grandfather's ships, Calypso and Alcyone. He learned to SCUBA dive on his fourth birthday. Today, he continues to fulfill his family's legacy. His nonprofit organization, Plant A Fish, empowers communities and children to restore local water ecosystems through the healthy 'replanting' of key marine species with the ultimate goal of planting one billion fish worldwide
(www.plantafish.org). For more go to www.fabiencousteau.org 
Ryan LaPete, Aquarius Reef Base Crew/Mission Specialist, graduated Florida State University's Underwater Crime Scene Investigation program and joined the crew in support of operations at Aquarius Reef Base in 2008. His work with Aquarius has been dedicated to the advancement of ocean science and to promoting awareness of fragile ocean ecosystems.
Mark Hulsbeck, Aquarius Reef Base Crew/Mission Specialist, served in the United States Navy for five years as an Aviation Anti-submarine Warfare Operator and helicopter search and rescue air crewman. He subsequently earned a degree in geology from the University of South Florida. Hulsbeck then joined the National Oceanic and Atmospheric Administration Commissioned Corps, in which he served on numerous research vessels. Hulsbeck's professional qualifications include a United States Coast Guard Captain's 100-ton license. He is also a Professional Association of Diving Instructors Master Scuba Diver Trainer, Divers Alert Network Instructor and a Dive Medical Technician. Mission 31 will be Hulsebeck's 22nd saturation mission in Aquarius.
Team 1 Kip Evans, Cameraman, has been exploring the ocean and guiding conservation efforts through his documentary photography projects for more than two decades. He has participated in or led more than 50 expeditions throughout the world including recent explorations in Alaska, Cuba, Costa Rica, Honduras, Mexico and Panama. He has worked on a number of National Geographic Society projects including the 'Sustainable Seas Expeditions'.
Adam Zenone, Mission Scientist, is a graduate student at Florida International University with aspirations to continue exploring, studying and conserving the world's oceans. When not in the lab or collecting data, he is interested in educating others about the incredible diversity and importance of the environment.
Andy Shantz, Mission Scientist, is a community ecologist and Ph.D. candidate at Florida International University studying the interface between physiology and ecology on coral reefs. His research focuses on animals' physiological responses to their environment and how the impact of human driven environmental change will impact them.
Team 2 Matt Ferraro, DP/Cameraman, is a documentary producer and director who has led teams to every corner of the earth and into some of the most extreme environments imaginable in order to bring home the story. His passion is to tell stories that make a difference. His 15 years in film production include work on the seven-episode PBS series, Jean-Michel Cousteau Ocean Adventures'.
Liz Magee, Mission Scientist, is program coordinator of the Three Seas Program in addition to serving as the Diving Safety Officer for Northeastern University. She has been a research diver for 10 years, with more than a thousand research dives, and is an active AAUS Scientific Diving and NAUI Scuba Instructor.
Grace Young, Mission Scientist, is an MIT graduate in Mechanical and Ocean Engineering. She's dedicated to developing technology to explore and manage sustainably the ocean's resources, while conserving its fragile ecosystems. Young is recipient of numerous academic awards, including the Wallace Prize as MIT's top ocean engineering undergraduate and Keil Award for excellence in ocean engineering research.
More Mission 31: 
www.mission31.com
www.facebook.com/CousteauMission31 
www.twitter.com/Mission_31
One Response to "Cousteau Mission 31"