Streaming video provider Netflix has millions of North American viewers, so we've 'logged the dives' to bring you the best, and sometimes the worst, of its undersea offerings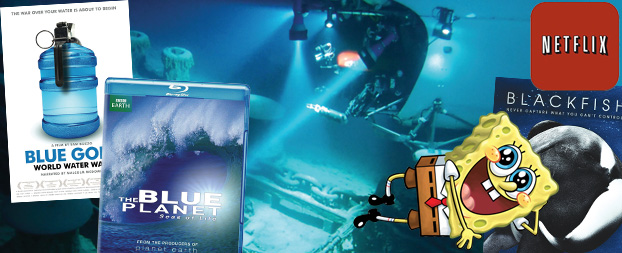 Titanic – Movie
1997's blockbuster is well worth revisiting. The opening scenes featuring real dives on the Titanic wreck are superb and offer a glimpse of deep ocean technology and the lives of the world's luckiest ocean explorers. It's easy to see why Titanic is still the second most successful movie ever made, and one that could only have been made by ocean advocate, explorer and diver James Cameron. It's a classic!
TEDTalks: Into The Abyss – Lecture series
13 interesting, educational and inspiring talks selected from the last few years of TED – Technology Education and Design – Talks. Tune in to these and learn from some of the world's leading experts on subjects about which they are most passionate. This ocean series, featuring luminaries such as Sylvia Earl, Mike deGruy and Barbara Block, cover ocean exploration, bioluminescence, tagging tuna, the sounds of marine mammals and protecting our oceans. Fascinating stuff.
The Water Horse: Legend of the Deep – Movie
Everyone enjoys a good sea monster yarn and this family-friendly movie is perfect for a Sunday afternoon. A lonely boy discovers a mysterious egg that hatches a sea creature …of Scottish legend. Features underwater scenes and, dare we say it, the possible birth of the Loch Ness Monster.
Blue Gold: World Water Wars – Documentary
Based on the book Blue Gold: The Fight to Stop the Corporate Theft of the World's Water, by Maude Barlow and Tony Clarke, this 2008 documentary looks at how we are using up water faster than it can be replenished. Blue Gold examines environmental and political implications of the planet's dwindling water supply, and asks if future wars will be fought over fresh water.
The End of the Line – Documentary
From Cheers to conservationist, Ted Danson narrates this eye opening documentary examining the possible extinction of bluefin tuna from over fishing. Hailed by some as the 'Inconvenient Truth' for our oceans, the film points a finger at consumers who unknowingly buy endangered fish, governments that ignore the advice of scientists, illegal fishing practices and a global fishing industry that's not changing fast enough to avoid a bleak future.
Blackfish – Documentary
This 2013 Oscar-nominated documentary has launched an international movement opposing marine mammal captivity. Blackfish is a powerful film with a poignant message.  It examines the life of performing killer whale Tilikum, who has caused the deaths of several people during years of captivity. It's well made and in our opinion, required viewing.
Moving Art: Oceans – Ambient
If you're looking for something to put on the TV during your yoga workout, or just to decompress after a day at work, this 25 minute video by film maker Louie Schwartzberg provides relaxing sights and sounds from our oceans. Wonderful visuals, ocean sounds and gentle music make this a great post-commute chill out video.
Big Miracle – Movie
Everyone likes at least one Drew Barrymore movie, right? Maybe it's her child star turn in ET, or this true life tale of a Greenpeace volunteer campaigning to save a family of grey whales trapped by rapidly forming ice in the Arctic Circle.
Sharknado – B-Movie
DIVER magazine has a soft spot for B-movies and this one has gained cult status since its direct-to-TV release last year. If you've not had the pleasure of seeing Sharknado, it's the tall tale of a freak hurricane that swamps Los Angeles, but not before it picks up deadly sharks from the ocean for redistribution all over LA… to terrorize the locals, of course. Yep. A shark tornado. It's cute. Lots of unintentional laughs, cheesy moments, terrible acting and even worse special effects. Bad movie making at its finest!
The Reef – Movie
Based on the real events of five friends that try to swim to safety when they realize their yacht is sinking. But they're not alone, they're being hunted by a great white shark. Intense, suspenseful and with some nice underwater visuals and special effects. Definitely not one to watch before your summer dive vacation.
Into the Blue 1 & 2 – Movie
It's true that Into the Blue is a guilty pleasure for us at DIVER. This blend of crystal clear water, beautiful people and underwater action is just impossible not to enjoy. What you may not know is that there is a sequel, cleverly titled Into the Blue 2: The Reef. Different cast, similar plot: sunken treasure + plus bad guys = trouble for our heroes. It's not as good.
River Monsters – TV series
Three seasons of the popular Animal Planet TV show are available for your viewing astonishment. Watch host Jeremy Wade explore the world's freshwater, bringing us face to face with fearsome critters about which we learn the truth. Piranha, alligators, freshwater sting rays, and even a legendary lake monster. None escape his scrutiny!
A Turtle's Tale 1 & 2 – Animation
Keep the munchkins entertained while you're playing house. These two fun flicks feature some fantastic underwater visuals. Sammy the sea turtle leaves the beach and spends the next 50 years exploring the world's oceans, and searching for his first love. Charming, child friendly and entertaining for Mom and Dad too!
The Tsunami Warrior – Foreign Movie
Thai martial arts movies can be an acquired taste; pirates, wizards, and ninjas don't always make for a great movie. But when fish are used to fight with, a blue whale is called upon to crush a boat and a manta ray ascends with our hero standing on its back – well, that's another matter. We're not entirely sure what this is about, but we're told it's a classic, even 'epic' in some circles.
SpongeBob SquarePants – Animation
Netflilx is a low cost and readily available babysitter. One of its shows, SpongeBob, is fun and strange enough to keep kids of all ages intrigued. Created by marine biologist and animator Stephen Hillenburg the series chronicles the adventures SpongeBob and his various sub aquatic friends in the fictional underwater city of Bikini Bottom. What's not to like?!
The Blue Planet – Documentary
Covering everything an ocean lover could desire, from plankton to blue whales, spectacular aerial photography to macro marvels, corals to tides, and so much more. Certainly one of the most impressive series ever to grace the small screen. The  definitive ocean video encyclopedia
Stand – Documentary
A short environmental documentary from British Columbia filmmakers that takes a critical look at the Enbridge pipeline proposal and the routing of oil tankers up and down the BC coast, where the increased oil tanker traffic would be significant. In 44 minutes the documentary explores BC waterways, helping put into perspective the risk and challenge of dealing with spilled oil in these confined channels.
For more on Netflix, click here.
DIVER MAGAZINE. NORTH AMERICA'S LONGEST ESTABLISHED DIVE MAGAZINE. SUBSCRIBE TODAY.