'Way down below the ocean', as Donovan sang in his song Atlantis, is the setting for these independent short films now on YouTube
Okay boys and girls, it's movie time. Put that left brain logic and reason on pause and dive into this provocative possibility: the ancient civilization of Atlantis lost to a cataclysm in the mists of time is spared by Poseidon, the great god of seas and rivers, who gives the fabled race new life in the ocean depths. Over the millennia Atlanteans fight to survive in the unforgiving sea where they exist unseen by humankind… or so we believe. But what if surface dwellers have caught glimpses of their liquid breathing forebears through the ages?
Welcome to The Underwater Realm
This independent film project's website makes a point we divers know well: that today's cinema is full of magic worlds and distant planets, alien creatures and mystical beasts, but the strangest and most alien realm is right here on Earth. And with that firmly in mind an idea was conceived, nurtured and given birth, a process worth mentioning in this case because as filmmaking goes – and we don't mean just the formidable challenge of an underwater shoot – this is a noteworthy achievement, which we salute.
The Underwater Realm is not what you might think – a feature film soon to hit a theatre near you. In fact, the title covers five short films, each approximately five minutes in duration, shot over the past year and released on YouTube in December, free for everyone to watch and enjoy. To view them go to http://tinyurl.com/underwaterrealm or visit this DIVER website page. The hope is that these teasers will generate the interest and, of course, the funding, to produce a trilogy of feature length films that expand on the novel premise with all its story telling potential.
Each mini movie is set at a point in human history when an earthling encounters the Atlanteans, through widely differing circumstances. No need for a spoiler alert. We'll say only that the first contact occurs in 149 BC, followed by encounters in 1208, 1588, 1942 and most recently, in 2012. The stories are compelling, woven into human history, very visual and the production value of the films is downright impressive.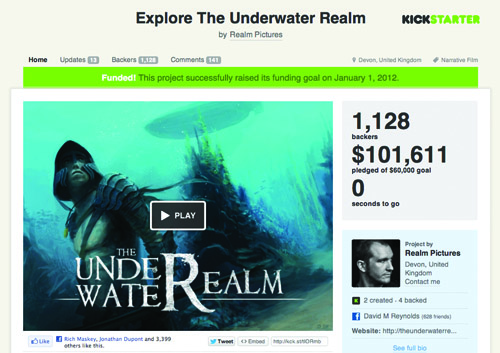 Given the astronomical sums budgeted by big studios to make the movies their executives hope will rake in the bucks, this project's funding is laughable, and yet it's a living, breathing example of the will finding a way. And they found it by embracing the world through Kickstarter, a funding platform for creative projects. Everything from films, games and music, to art, design and technology. All you'll want to know about this innovative approach to raising money is outlined at www.kickstarter.com, a site full of ambitious, innovative, and imaginative projects brought to life through the direct support of others. Since its launch in April 2009, over $463 million has been pledged by more than 3.3 million people funding more than 35,000 creative projects, their website states.
Realm Pictures, the U.K.-based enterprise behind the Atlantis project launched its ambitious four week fund raising campaign for $60,000 using the online crowd funding source. Building on their existing support and connections they kicked it off in December 2011 and by Boxing Day had every penny of the target amount. In the remaining five days of their month long drive word continued to spread and at close of the campaign $101,611 had been pledged by 1,128 backers, among them notables including Chris Anderson, founder of TED, and Sylvia Earle, ocean scientist/ advocate and Time Magazine's first 'hero of the earth'.
It was a resounding success, even if the amount was a drop in the bucket for a movie budget. Putting this in perspective the production team notes that their five short Atlantis myth films were made for less than half the coffee budget allocated for Peter Jackson's current hit, The Hobbit.
The Underwater Realm is arguably the most ambitious independent film project ever attempted and, "the most exciting project we've seen in 20 years," Raindance Film Festival founder Elliot Grove said. "It combines new technology and brilliant ideas with some deeply passionate filmmakers. It's what Raindance is all about."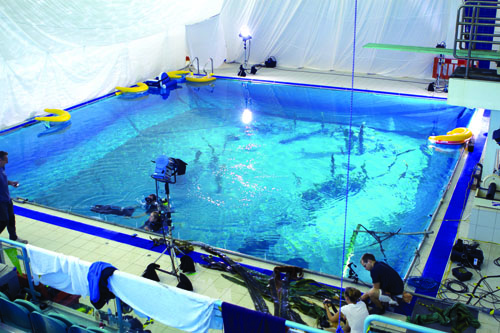 Shot with the RED Epic camera system in a Gates housing and using their own LED underwater lighting system, the underwater filming took place in a number of pools using green screen technology and vinyl matte paintings in combination with props that included artificial marine plants, sand and objects specific to each story and historical period. Some filming took place in open water. Start to finish, from planning to production to post production, the project spanned 18 months.
Central to the project's success and economic viability is that everyone on the team is a volunteer. "The biggest responsibility is to the people who are in it for life, who volunteer years of their lives to help with your idea," Underwater Realm director David Reynolds said. "People are inspired by the project but also by the people around them; the wealth of their contributions consistently creating magic is the real budget," he said, adding that this allowed "every penny raised to go up on the screen."
The Atlantis shoot involved volunteers in many walks of life who pooled talents to present a believable on-screen world. "If they don't believe in the ancient Atlantean culture we've created, no amount of technology will save the films," Reynolds said. He paid tribute to the team's concept artists, the costume and make-up departments, and music composers, among others. Spanning the millennia, the stories vary widely, which required construction of sets as wide ranging as the deck of a Spanish Armada galleon, duking it out with Sir Francis Drake and the boys, to the cockpit of a British Spitfire, filmed in the midst of WWII aerial combat.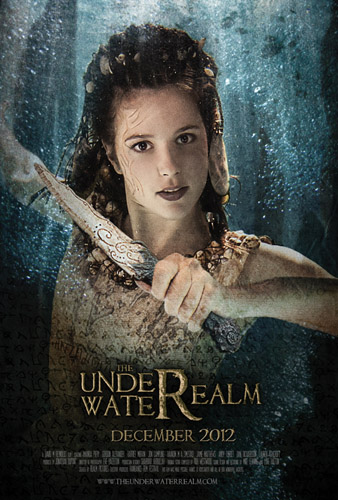 The underwater shoots posed many challenges that gave rise to innovative solutions. Communication was a case in point. Cast members included actors though others were drawn from fields as diverse as body building, modeling, stunt performance, dancing, Olympic class swimming and, not surprisingly, free diving. "These performers couldn't see or hear each other on the underwater sets, they couldn't work off each other in the traditional way," Reynolds said. "It was important to be able to cue them audibly," which the team achieved by setting up an underwater speaker system that proved very effective. The task of positioning the actors accurately was accomplished by a team of safety divers who shepherded them around. "When you have a dynamic scene with marks that need to be hit, for focus, camera dynamics, stunts or other effects, it's really important that they're hitting those marks, which they can't really see or feel," he said. The system they developed worked well, he said, emphasizing that shooting underwater was "an enormous challenge."
Reynolds and his team first made waves on the independent film circuit with Zomblies, winning awards for Best Science Fiction/Fantasy and Best Editing at the 2011 London Independent Film Festival. On YouTube the action horror flick attracted four million views in just over a year and they're still counting. "Bloody fantastic, beautifully shot, truly suspenseful – great zombies!" was the reaction of five time Academy Award winner Sir Richard Taylor, who heads up Weta Workshops in New Zealand, PeterJackson's cutting edge movie effects factory that produced the director's Lord of the Rings trilogy, The Hobbit and that also works with A-list directors the likes of James Cameron.
Reynolds says the short films offer a glimpse of the Atlantean world and that they're already "working on scripts and design for a much larger story. We hope that after seeing these films the world will want to explore the oceans as badly as we do."
To watch the Underwater Realm series, click here.