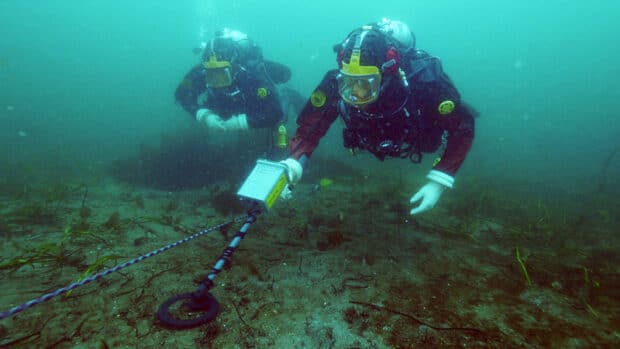 The Pulse 8X from JW Fishers has provided operators with the right tool for the job for over 25 years and is still the leading underwater metal detector in use worldwide by law enforcement, military, fire and rescue departments, public safety dive teams, commercial divers, and wreck hunters. The recent addition of the SAR-1 underwater metal detector has proven to be an outstanding compliment to the Pulse 8X when zero-visibility conditions make the SAR-1's vibration feature and ultra-bright LED display a necessity. The SAR-1 boasts much of the P8X's technology, but it is contained in a wireless, "snareless", vibrating casing that is second to none when mission requirements dictate safe and efficient operations in the most unforgiving conditions.
The Royal Canadian Mountain Police (RCMP) are avid users of the Pulse 8X detector. The RCMP have been Canada's national police service for nearly 150 years. The team has national, federal, provincial, and municipal policing mandates. From coast to coast to coast, at the community, provincial/territorial and federal levels they strive to prevent crime, investigate crimes, enforce federal, provincial/territorial, and municipal law, and most importantly keep Canadian citizens safe. According to Cpl. T.N. Kaufmann "the Pulse 8x is being used at the RCMP National Underwater Recovery Training Centre (NURTC) in Nanaimo, BC. The RCMP Dive teams across Canada utilize the Pulse 8x when searching for small pieces of evidence at underwater crime scenes."
The Thurston County Sheriff's Office, in Olympia Washington, is a proud owner of JW Fishers' SAR-1 underwater metal detector. The county dive team consists of 13 members. According to their website "the team specializes in drowning, submerged vehicles, underwater crime scenes, flood rescue, swift water rescue, and rope rescues." The dive team is trained in zero visibility diving, ice diving, evidence recovery, ship hull search, and high/low angle rescue. Sergeant Casebolt, a member of the patrol division, recently shared a story about their experience with the SAR-1 detector. "An armed robbery occurred in the county and it was believed the handgun used was tossed into a local waterway. The firearm was actually not located at this location, thanks to the SAR-1 and its capabilities of searching an area quickly. When our Detective Division explained to the suspect that divers had searched the area and did not locate the firearm, she admitted to lying about throwing it into the pond and directed them to a secondary location and body of water where the gun was located. We just used it again last week for a secondary search in a neighboring County where the suspect claimed to have thrown fifteen stolen firearms taken in a burglary. The SAR-1 located numerous items in the water, to include live shotgun shells, but no firearms. Once again, it was determined that the suspect had also lied in this case and the firearms had not been thrown in the water."
For more info visit JW Fishers.