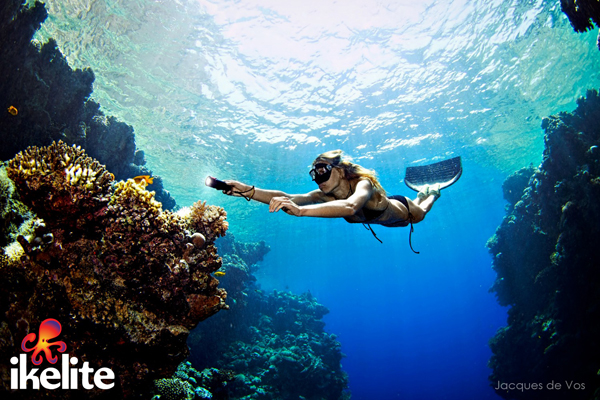 Ikelite have been hitting a lot of home runs lately. With some fantastic packages and a great new website to name just two.  Their new Vega has been looming for a while now, but it's finally available in stores and is well deserving of your attention.
The Vega packs a lot of power into a compact and travel friendly package. Users can switch quickly between full, half, and quarter powers for video, focusing, macro photography, or to use as a backup dive light. Power level is controlled by a large, easy to turn dial on the rear of the light. A premium, high-capacity built-in rechargeable battery provides up to 3 hours run time on a single charge.
A ring of 6 LED indicators on the back of the light will give you power level (blue LEDs) and remaining battery information (red LEDs) at a glance. The rear LEDs are bright enough to see during a day dive yet unobtrusive when diving at night.
Each Vega is completely factory sealed and water pressure tested for care-free maintenance. The clever rear dial over-rotates to a secondary "off" position with lock to prevent the light from accidentally turning on when not in use. Two gold-plated, independently waterproofed charger ports are deliberately hidden when the switch is in the safety lock position to eliminate the possibility of inadvertently shorting the light during travel.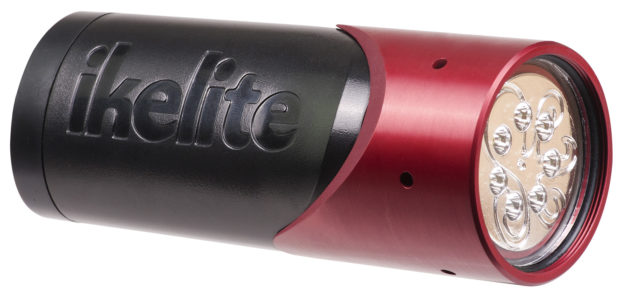 Specifications
300 ft (90 m) depth rating
2000 lumen diffused 65˚ Beam
Full, 1/2, and 1/4 power settings
Color temperature 5700K
Dual-locking safety switch
Burn time 45 min high – 180 min low
Rechargeable, non-removable Li-ion battery
Dimensions 1.9 x 5.6 in (50 x 142 mm)
Weighs only 11.2 oz (318 g)
For more information visit: www.ikelite.com
DIVER MAGAZINE. NORTH AMERICA'S LONGEST ESTABLISHED DIVE MAGAZINE. SUBSCRIBE TODAY.