Canon calls the EOS Rebel SL1 100D camera "The World's Smallest and Lightest Digital SLR Camera." We can believe it, it's tiny. Pared with a small, fully functioning Ikelite housing with an 8 inch dome, what you get, may just be on the most versatile and practical underwater DSLRs you can get your hands on.  
The EOS Rebel SL1 100D camera captures 18 megapixel stills in JPG and RAW format, and full HD video over an impressive 100-12800 ISO range (video up to 6400 ISO). The included Canon EF-S 18-55mm STM lens is perfect lens for shooting stunning wide video or stills, or for zooming in on those close-up marine life images. 
TTL or "Through-The-Lens" flash metering means the camera controls flash duration to properly expose an image. Unlike fiber optic systems, which attempt to copy the behavior of the camera's built-in flash, this unique housing for the Canon EOS 100D Rebel SL1 provides direct, electrical transmission of this TTL signal to the strobe.
There's a lot packed into this small package. Set up is a easy as pie with simple, fully front-loaded camera installation. The camera mounting shoe is designed to be unobtrusive and allow changing of battery and memory cards, or attachment to a surface tripod without being removed from the camera – a big bonus for any pro's looking for a great backup camera. A fantastically ergonomic shutter trigger is right at your fingertips whether holding the side of the housing or the optional dual tray with quick release handles. Controls are provided for all camera functions except for the rear touchscreen, so you have complete creative control anywhere you go. 
This housing comes standard with an optical grade acrylic dome port with zoom ring. This port provides sharp images and zoom capabilities with both the Canon EF-S 18-55mm STM kit lens, plus the popular Tokina 10-17mm lens. Minimal vignetting (dark shadows in the corners of the image) will be present in the 10-12mm range when used the Tokina lens. A special zoom gear system allows the camera with lens attached to be installed from the back of the housing, without requiring removal of the dome port.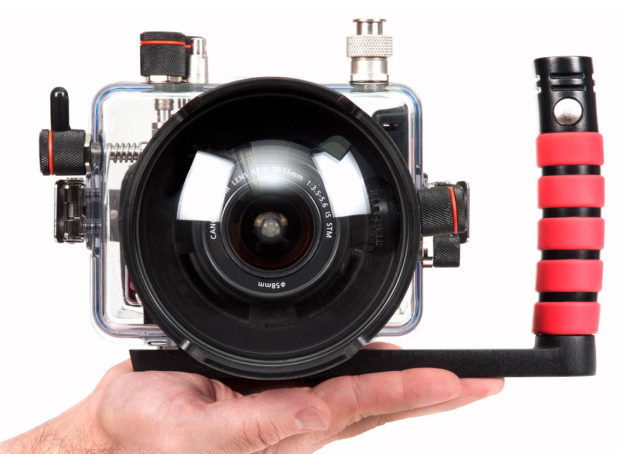 The dome port may be removed without tools to attach the optional Flat Port for the Canon EF-S 60mm Macro lens. Simply loosen the securing thumb screws and slide the port off. The optional Flat Port allows use of the 60mm Macro lens in auto-focus mode and features 67mm front threads for the optional attachment of macro converter wet lenses.
Special polycarbonate blends make for an extremely strong yet clear and lightweight enclosure. It's reassuring to be able to inspect the actual o-ring seal once your housing is closed. The clear construction lets you see that the housing is watertight and dry before you enter the water, and provides full view of the camera while you're diving. Polycarbonate is fundamentally corrosion-resistant for easy maintenance year after year.
Like every Ikelite product, this housing is designed, built and tested in the USA. Their 50 years of experience is plain to see.
The best thing about this package however, is that it is exactly that; a package. You can go to one place –Ikelite – and effortlessly get an underwater stills and video system that will last, both in terms of durability and in terms of technological advancement. The 100D is a fantastic DSLR, especially for vacation divers. Paired with an Ikelite housing, it makes for one kick ass system that you'll have a lot of trouble parting with, and a lot of fun being creative with.
Ikelite housing, Canon 100D, aluminum tray and dome port costs $1850
For more information visit: www.ikelite.com