Nikon has refined its flagship DSLR, and Nauticam continues it's tradition of continual innovation in the underwater photography world. Nauticam have announced the NA-D4S underwater camera housing for the Nikon D4S professional SLR camera and Flash Trigger for Nikon, the second in it's line of flash trigger units, allowing use of robust and reliable fiber optic cables to fire external strobes. The Flash Trigger for Nikon allows Nikon cameras without pop-up flashes, like the D4S and the D4, to use fiber optic cables, providing dependable, rapid-fire flash triggering over fiber.
D4S is a performance camera, capable of an extraordinary 11 frames per second still shooting and the fastest autofocus Nikon has to offer. But D4S excels at shooting in low light as well – the camera practically can see in the dark with an expanded ISO up to 409600. Video features now include 1080 60p and uncompressed HDMI (while still recording to internal storage, something the D4 could not do).
The NA-D4S Housing
In 2013, Nauticam produced an exceptionally comprehensive vacuum system that allows the underwater photographer to confirm watertight integrity before entering the water. The new D4S housing includes the vacuum system electronics, and when the optimal valve is added, the system provides significant peace-of-mind and lets the shooter focus on shooting, not worrying about the housing. A new M16 bulkhead port is added to the rear half of the housing to support the vacuum system.
Other improvements include lightweight handle brackets, improved galvanic protection, new style focus knobs with higher gear ratio, and 3 standard sized tripod sockets. The housing also features an integrated reflective prism to facilitate the use of the new Flash Trigger for Nikon.
The NA-D4S supports both the D4S and the D4 cameras. The NA-D4S comes in two different configurations, one with 2 Nikonos Bulkheads installed (for shooters utilizing Nikonos style sync cables) and a version without the bulkheads (for shooters utilizing the Flash Trigger).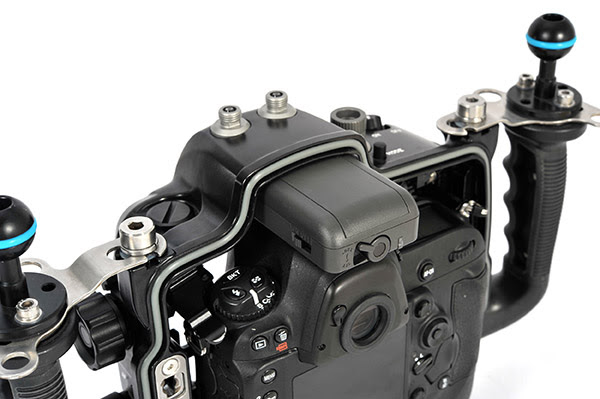 Flash Trigger for Nikon
Nauticam shipped a Flash Trigger unit for Canon in 2013, and it has proven to be an excellent tool for underwater photographers. Nauticam is now producing a version for Nikon, and it is an ideal solution for the Nikon NA-D4S. NA-D800 and NA-D600 shooters can also take advantage of the speed and convenience of this flash trigger, and since the pop-up flash is no longer the gating factor, the result is faster recycle, less heat build-up and better battery life.
Shooting with Fiber Optic cables means shooting with confidence. There are no sync cables to flood or corrode, meaning much higher reliability, and the strobe can even be removed from the rig, while underwater, for off-board lighting opportunities. Nauticam fiber optic cables have the highest light throughput of any optical cables on the market, making the Nauticam Flash Trigger even that much more reliable.
This flash trigger is manual only; automatic flash exposure (TTL) is not currently enabled. The Flash Trigger is a tool for reliable, fast external flash firing in manual flash mode.  Supported strobes include the Inon Z-240 Type 4, D-2000 Type 4, S-2000, Sea & Sea YS-250*, YS-01**, and YS-D1**.
The Flash Trigger for Nikon weighs under 70 grams, including batteries, and mounts on the camera hotshoe, locking in place with a locking lever. It uses 2 CR3032 batteries, which combined with the highly efficient LED trigger lights, provide for thousands of flashes (5000 estimated). An LED status indicator informs the user that the unit is on and functional.
*  2013 model YS-250 strobes have been tested and function properly.  Earlier models may have less sensitive slave sensors and be incompatible.

Standard Features that are Anything But Standard
Nauticam pioneered numerous engineering breakthroughs in previous housings that have been integrated into NA-D4S. The housing Locking Latch System has received acclaim worldwide for its ease and functionality. These recessed latches are equipped with safety locks to eliminate accidental opening, yet require minimal hands strength to operate. These locking latches will not pinch fingers like stainless steel buckles can.
Port changes have never been simpler than utilizing the Patented Nauticam Locking Port Release. No wrestling, no twisting, no misalignment – just seat and lock. Lens changes are also easily accomplished without removing the camera from the housing via the lens release button logically accessed on the housing front. The lightweight, rugged Nauticam handles are generously contoured with a durable over-mold process of comfortable non-slip soft touch rubber. Virtually any hand size can be accommodated with spacers available for cold-water glove use.
All Nauticam housings are machined from a solid block of seawater resistant aluminum alloy and then hard anodized making them impervious to corrosion. Hardware is marine grade stainless steel. Clear acrylic windows are protected with a scratch resistant coating.
Visionary
A high performance camera like the Nikon D4S demands perfect focus for optimal results. Fortunately, Nauticam has developed the most user-friendly interchangeable precision viewfinders in the world. The standard optical glass viewfinder is very good and travel friendly on large bright viewfinder, but many photographers prefer the ease of a magnified viewfinder with dioptric adjustment. Nauticam produces a "straight" 180° enlarging viewfinder and a 45° angled enlarging viewfinder to enhance the ease of close quarters work often associated with macro shooting. Both viewfinders have high quality optics allow viewing of the entire image. A patented external dioptric adjustment allows personal adjustment to a sharp-as-a-tack standard underwater and viewfinder changes can be executed in less than 30 seconds without using tools. Exceptional composition and focus accuracy have never been more accessible.

Ports and Accessories
Nauticam has the most extensive line of high quality optical ports available anywhere and all existing Nauticam DSLR ports will fit the NA-D4S. Nauticam also provides locking extension rings in every size potentially required, thus preventing port slippage of any kind when using extension rings. Nauticam additionally offers a full range of port adapters allowing existing housing owners to use their current ports, reducing the cost of switching to a Nauticam housing. Port Adapters are available for Aquatica, Ikelite, Inon, Nexus M5 & M6, Sea & Sea NX, Seacam, Subal Version 3 & 4, and Zillion lens ports.
Nauticam Build Quality
Only the finest materials and cutting edge manufacturing processes are used to make Nauticam housings.  The housing body is machined from solid aircraft grade aluminum, then hard-anodized, making it impervious to saltwater. The housing is rated to 100 meters depth. The large acrylic LCD window is treated with an anti-reflective, scratch resistant coating.
Specifications
Depth Rating:  100m
Weight: 3.7 kg
Dimensions: 326mm x 171mm x 126mm
More information is available from Nauticam USA at:
http://www.nauticamusa.com