Dive Industry
New World Record Scuba Dive
September 18, 2014 By DIVER Editorial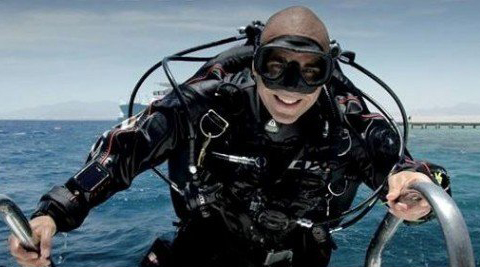 Former Egyptian special forces soldier, Ahmed Gabr has just completed the world's deepest scuba dive to a whopping 332.35 meters that's 1090.3 feet!
Verified by the Guinness Book of Records, the dive trumps the former official record of 318.25 meters by Nuno Gomes, or the unofficial record by Pascal Bernabé to 330 meters.  Both Nuno Gomez' and Ahmed Gabr's dives were completed in the waters of Dahab, Egypt.
Ahmed was an officer with the Egyptian Military, he continued his career by joining the Special Forces, the Egyptian Rangers and eventually earned a scholarship to the USA Combat Diver Course. The extreme dive took about 14 hours to complete, with just minutes of that being on the actual descent. Ahmed and his support divers team will use about 90 tanks (plus 17 twinsets) in the course of the dive.
Markers were strategically placed on Ahmed's descent line, from the 320m zone downwards. In order for this to be an official record, Ahmed had to reach a tag and secure it.
The world record attempt will be subject of a documentary filmed by Didier Noirot who has previously won an Emmy for his work on the BBC documentary The Blue Planet and has filmed for Jacques Cousteau on the Calypso.
For up to date info you can follow Ahmed's adventure on Twitter, or you can visit the H20 Divers Dahab website here.
For more on Pascal's unofficial deepest dive, click here.