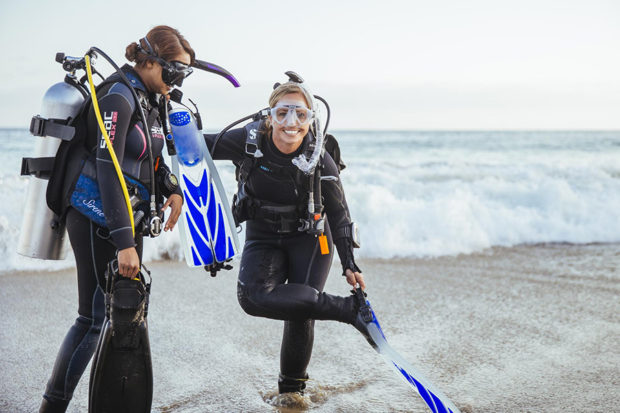 First annual event scheduled for July 18 to attract more women to scuba diving
To build awareness and increase interest in diving among women, PADI has launched a "Women in Diving" initiative, including the inaugural PADI Women's Dive Day scheduled for 18 July 2015. The international event is geared to encourage female divers of all levels to dive together on the same day. To bring the event to life, PADI is collaborating with women dive groups, female industry icons, and PADI Dive Centers and Resorts around the globe to host events on almost every continent.
Women represent an emerging market of powerful consumers, with their global incomes predicted to reach $18 trillion by 2018. Research shows that women purchase 50 percent of products typically marketed to men, and that women influence and make 85 percent of purchases overall. With this purchasing power, the female segment is powerful and, more importantly, underrepresented in the dive industry at just 35 percent of certified divers.
"While the female diver population is growing, we feel there's still a lot we can do to enlighten women about the myriad of opportunities diving affords," says Kristin Valette, PADI Americas vice president of marketing and communications. "Our goal with PADI Women's Dive Day is to highlight the significant and meaningful contributions female divers have made to the sport and encourage more women to explore the underwater world."
More than 296 events across six continents and 60 countries have been scheduled, with more events being scheduled every day. Events range from a single dive activity to a full day – or even a week or month – of dive savings and fun. Here are just a few examples of PADI Women's Dive Day events to plunge into:
ReActivate

™ your scuba skills while checking out the new underwater sculpture garden at Stuart Cove's dive resort in Nassau, Bahamas.

Explore Lake Phoenix with Blu Water Scuba in Rawlings, Virginia, USA. While you're there, be sure to visit their continuing education, Go Pro, and travel tents to learn about exciting dive opportunities available.

Enjoy a morning Discover Scuba® Diving experience followed by brunch with Crystal

Divers in Sanur, Bali, Indonesia.

Make diving a family affair while saving on mother-and-daughter/son scuba excursions with A.S.D.C. Diving Pugulia in Ostuni, Italy.

Scuba or snorkel La Jolla Shores in San Diego, California, USA, with Ocean Enterprises and discover the variety of wondrous marine life on the reefs. Breakfast and hot coffee will be waiting for you when you surface.

PADI Americas will also host an event in Avalon, Santa Catalina Island, California, USA, on 18 July beginning at 10 a.m. The day will be filled with prize giveaways, diving and gear demonstrations, as well as a recognition ceremony for women completing their certification courses. Several dive industry manufacturers have also committed to supporting the inaugural event and will be onsite, including Cressi, SCUBAPRO, Diving Unlimited International (DUI), Huish Outdoors (Bare and Zeagle), and Sherwood Scuba.
PADI Dive Centers and Resorts around the globe can get involved by hosting their own PADI Women's Dive Day events. For more information, visit www.padi.com/women-dive. To register an event, email womendive@padi.com. While the focus of the event is women and their accomplishments, everyone is encouraged to participate. Men can introduce female friends and family members to the sport they love, and women can share the wonders of diving with others on this celebratory day. Let's all get involved and introduce more females to diving through #PADIWomensDiveDay.
PADI (Professional Association of Diving Instructors) is the world's largest recreational diving training organization with more than 136,000 trained PADI Professionals at 6,200 dive centers and resorts worldwide. For more information, visit www.PADI.com.