Dive Industry
Can You Tackle Big Nasty?
April 8, 2022 By DIVER Editorial
Words and Image by Maxwel Hohn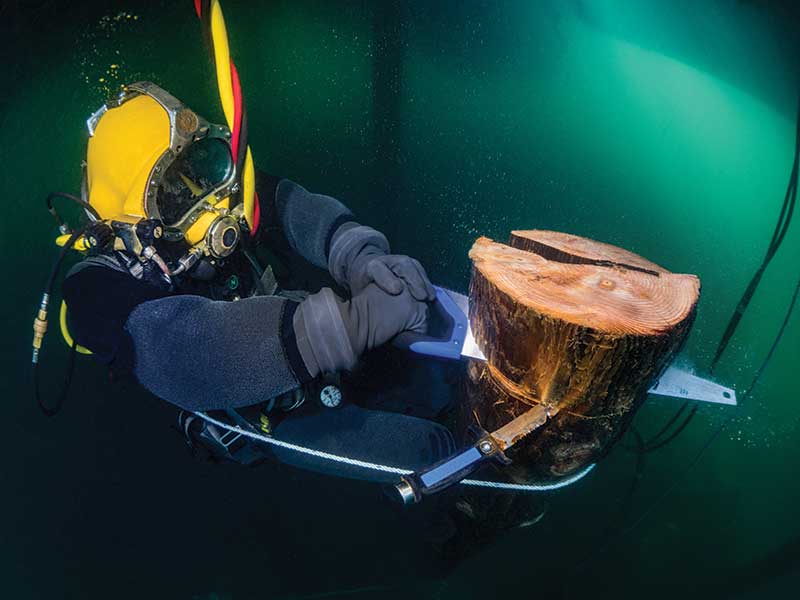 When people think about commercial divers, they might picture a hardhat diver on an offshore oil rig, hundreds of feet below the waves, welding together steel structures and pipes. In reality, the job of a commercial diver is much more diverse. Commercial divers are the underwater jack of all trades, performing a number of dive services in a broad spectrum of environments. They can be called on to perform a seemingly endless variety of tasks using various tools to construct, inspect, and/or repair virtually anything that exists in a submerged environment. 
Envision yourself heavily weighted with 50 pounds (23kg) of lead, gripping onto a log suspended mid-water, without the aid of fins, cutting hardwood with a hand saw for two hours straight with no breaks. This was a little test of human endurance during my commercial diving training called "Big Nasty". Some people might think that this is a unpractical project for students, but it's intended to demonstrate and develop mental strength and innovation to complete the task.
It was projects like this that helped me become a better diver and photographer. Learning to work in a three dimensional environment where certain tasks, like moving a 2000 pound (907kg) mooring block with one finger (and the aid of lift bags), can make you feel like a magician!  
Anyone with a passion for diving, a good work ethic, and mental toughness could  thrive in the commercial industry. 
My advice: practice your sawing, and don't look back!