Underwater Video
Protecting Your Digital Camera Investment
February 17, 2014 By DIVER Editorial
By Jill Heinerth
Maintenance mitigates daily wear and tear; insurance covers the unexpected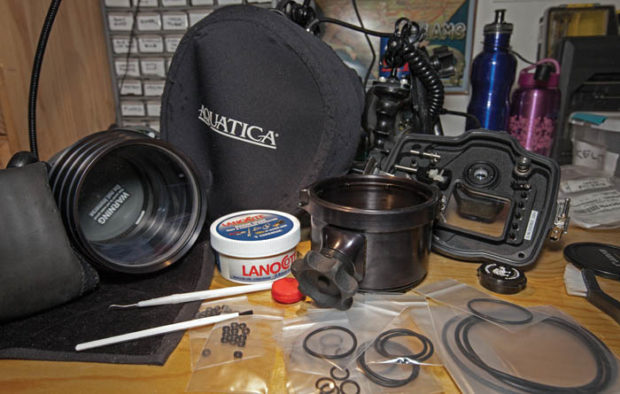 When you pursue the art of underwater image making you will eventually experience a loss from flooding. After crying over my first flooded camera, I bathed the afflicted gear in rubbing alcohol and sent it off to a repair facility in the naive hope that something could be salvaged. There was a popular repair technician in Texas who was highly regarded in the industry. He was a genuine expert who often attached a nasty note to the item, repaired or otherwise, when it was returned. To him, these masterpieces of technology deserved the care and protection afforded a sentient being. Accusations of "how could you?" admonished owners for abuse of their Nikonos cameras. But, if anyone could save a flooded camera, he could. So I packaged up my Nikonos V and shipped it off. Weeks later I received a terse letter with a checklist of options for repair. In the end, I chose the last option on the list. It was to make a desk-worthy pencil holder out of my trashed Nikonos V camera, to the tune of almost a hundred dollars, expended to that point.
Insurance
If you are not keen to accept a total loss of your video equipment, consider purchasing specialized insurance. Some homeowners' policies will allow you to place a special rider on your policy, although a claim may be accompanied by high deductibles and future penalties. Photograph every piece of equipment and retain the original sales receipts to provide your insurer with documentation for a rider or claim. Create a spreadsheet that lists each item. Include an 'accessories' line item that covers batteries, chargers and other small items that could disappear along with stolen luggage. The value of those little extras adds up quickly.
Divers Alert Network sponsors insurance for equipment through a third-party insurer. I have used this insurance and found it to be hassle-free. The coverage includes flooding and offers full replacement value based on your stated value. There is a deductible for flooding, but if the gear is stolen or lost in airline transport, they will cover the full stated value. These days you have almost no choice but to put your expensive system in checked baggage, so it is good to know that insurance will help you out if the TSA kicks it across the terminal.
In the event of a flood, rinse everything in fresh water as soon as possible. Bathe the electronics of the housing in isopropyl alcohol if they have been fully submerged. In all likelihood, your camera will not be salvageable, but the housing can be repaired. Technicians will replace modular electronics boards and damaged buttons. They will pressure test the housing before returning it to you. The repair won't be cheap, but it will be a lot less costly than a replacement.
Maintenance
The following key tips will help you avoid damage to your video system before and after the dive.
Hire a professional to service and pressure test your camera housing annually.
Bring a pack of microfiber towel(s) onboard so that you can dry the housing and your hands in case you have to open the system when it's wet. When opening a wet housing, ensure that your wet suit and hair will not drip onto the camera or into the housing. Open the door facing downwards if possible so that water flows away from the interior.
Clean and lubricate O-rings lightly at the beginning of every dive day.
Use only soft plastic O-ring tools or the pinch method to remove O-rings.
Do not over lubricate O-rings. They should shine, but you should not see globs of grease on a properly lubricated O-ring.
Use a soft toothbrush to clean grooves. If you have to use a Q-tip to wick moisture, then ensure that you are not leaving behind any small fibers.
Bring reading glasses or magnifiers that allow you to see small contaminants on O-rings and grooves.
Only use pre-moistened lens wipes, microfiber lens clothes and canned air on the inside and outside of dome ports and lenses. Never use a towel or T-shirt to wipe your dome. An acrylic dome is very easily scratched.
To prevent fogging, use desiccant packs in the housing, but be careful not to get them caught in the rear door. In general, smaller housings are more susceptible to fog issues.
If you open your housing on a boat be prepared to replace desiccant with fresh material.
Ask the divemaster to hand you the camera once you are in the water. Show them how to grasp the system properly.
Ask the crew to place your camera on the deck or camera table until you are out of the water. Rinse it yourself to prevent scratches that can occur when several cameras bounce around in a rinse tank.
Soak your camera for several minutes in fresh water while working the buttons as soon as possible after the dive. If you don't have that option, consider using a product such as Salt-X to prevent deposits from hardening on the housing or wrap everything in a towel to get things moist.
Use only products such as De-Oxit Gold to clean electrical contacts.
Remove the main door O-ring for airline transport. A fully sealed housing can explode in airline transit from the reduced pressure. Buttons can pop out and seals are easily damaged.
I've often wondered what I might do with a video housing that was beyond repair. I don't really need another stylish pencil holder. Perhaps I'll make one into a mailbox, so I can be forever reminded to keep my inventory list up to date and properly insured.