You should stay fit to dive, not dive to stay fit. It's sound advice. Here are some resources to help you make the summer scuba season effortlessly fun!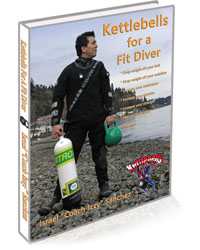 Kettlebells for a Fit Diver
Fitness Programme by Coach Izzy
An complete fitness programme designed specifically for scuba divers, by scuba divers. The plan comprises a book, online videos and tracking sheets. All you need is a small space, one inexpensive kettlebell and about three hours per week. Designed by Coach Izzy, a cold water scuba diver, the course is split into simple-to-follow instructions, made easy by the step-by-step videos. The book explains the theory behind the exercises and guides you through the course, week by week. All exercises utilize the kettlebell, so even a small condo or apartment space is enough. Kettlebell workouts are effective at burning calories and strengthening muscles required for lifting and carrying heavy scuba tanks and feeling confident in the water.  A money back guarantee is offered and online coaching and feedback are part of the package. A great way to get on the road to fitness effectively and inexpensively.
www.kettlebells-for-a-fit-diver.com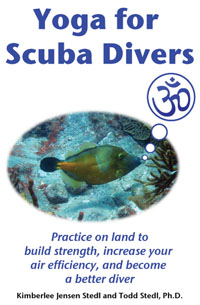 Yoga for Scuba Divers
By Todd Stedl & Kimberlee Jensen Stedl
Anyone who enjoyed our last issue's cover feature on freediving and yoga will enjoy this book. The title says it all. The book is a comprehensive 115-page resource on this subject, available in soft cover or for your iPad. Learn poses, breathing exercises, visualization techniques and general yoga lifestyle principles, all aimed at making you a better diver. Benefits? Balance and stability improvements, core strength (for carrying heavy gear) increases, tighter, stronger ab muscles and steady breathing also will help you prepare for your next dive. Written by a certified yoga instructor and scuba divers from the Seattle area, this book can help prepare you mentally and physicallyfor a summer full of enjoyable diving.
www.8thelementyoga.com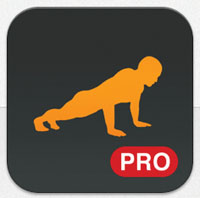 Runtastic
Push Ups / Sit Ups / Squats / Pull Ups / Running – apps
A series of very popular apps for both iOS and Android users. These zero to hero apps are designed to take you from the couch to the Olympics. Or in our case, the ocean and to be fitter than you've ever been before. At prices from free to $4.99 these apps can really help you build towards your goals. Simple graphics and training plans will help you go from one push up to 100 in a row. If that sounds too good to be true, then we say, give it a try. These are simple, tried and true exercises that can greatly benefit your fitness and diving.
www.runtastic.com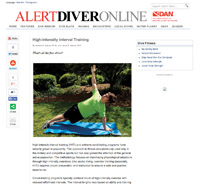 Alert Diver Online
Dive Fitness Column
This page was a little tricky to find, but once you've navigated to it, there is a good selection of articles from the Divers Alert Network (DAN) free magazine website.  Written by Jessica Adams (co-author of Fit For Scuba, see opposite page), this free online resource is a great place to start if you're tight on cash. Each article provides a short introduction followed by easy to follow steps focused on anything from stretches, to kettlebell exercises to swimming. This is a useful resource worthy of book marking on your web browser.
www.alertdiver.com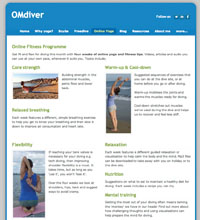 OMdiver Online Yoga Course
By Rebecca Coales
Scuba diver, championship freediver and certified yoga instructor Rebecca Coales offers an interesting four week Yoga For Scuba Divers course, and it's all online. Aimed at beginners and priced at a £15, this month long program gives you access to a series of web page exercises, each with instructional videos that help you warm up and cool down, breathe, flex, relax, target core strength, nutrition and mental focus. The online component allows you to learn at your own pace, in your own home, and also gives you access to additional audio files and handouts. This easy-to-follow, affordable plan can really help your air consumption and dexterity underwater.
www.omdiver.co.uk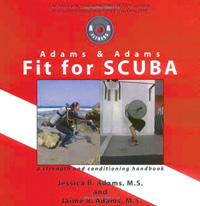 Adams & Adams Fit For Scuba
By Jessica B. Adams and Jaime B. Adams
Published in 2006, this softcover book is a little dated in terms of design, and some of the images aren't very clear, but the content is solid, which has this book earned it respect in our industry. Designed for home use or at your local gym, the exercises allow you to develop the program that's right for you. It's all covered, from warm up and cool down, through weight training tips, upper and lower body exercises, abdominal workouts and on to cardiovascular and hydration tips. Comes with sample workouts and exercise log. Considered a good general fitness book that works well for scuba enthusiasts whether they're casual participants or hardcore divers.
www.amazon.com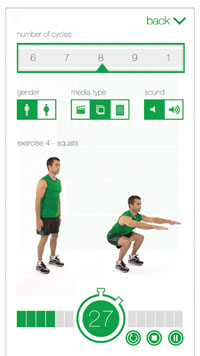 7 Minute Workout Challenge
iOS App
There are a bazillion health and fitness apps available for smartphones these days, and this one has been downloaded over a million times. It does a fantastic job of making exercise simple and accessible, no matter how busy your life. Not specifically aimed at scuba divers, this is a general fitness app that works you through 12 exercises each for 30 second reps and with 10 rest intervals in between. No equipment, no extra costs, and just a small amount of room is needed for this one. You can also track your results and unlock rewards. A steal at $1.99.
www.7minworkoutapp.net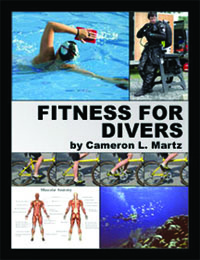 Fitness for Divers
By Cameron L. Martz
This softcover book is available online or as a digital download and offers a wealth of information on fitness and dive safety. It presents 67 exercises, 18 stretches and six months of training programs whether you're a beginner or already advanced. It aims to help you improve your dive fitness and stamina, to aid you with your certification swim tests, to help you reach valves and fins without the cramps, and to help you improve your air consumption rate. This extensive book includes clear step-by-step fitness tutorials as well as illustrations on diver physiology, and advice on nutrition.
www.divefitness.com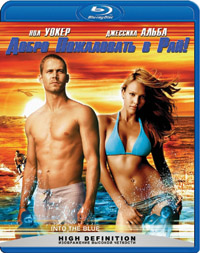 Into The Blue
Blu-ray
Call this DVD a fitness motivator. Nothing will inspire you to workout quite like images of what your physical exertion can produce. Jessica Alba and the late Paul Walker in this 2005 dive adventure movie offer just that as they glide through 110 minutes of tropical blue sea in a fun action flick that, as ever, makes you want to be the buff hero or shapely heroine!
DIVER MAGAZINE. NORTH AMERICA'S LONGEST ESTABLISHED DIVE MAGAZINE. SUBSCRIBE TODAY.