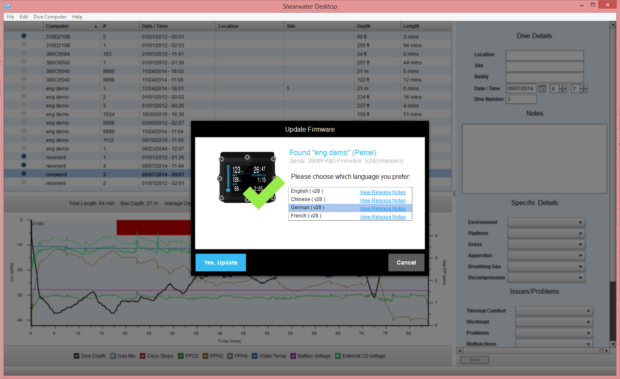 Shearwater Research, responsible for the rather excellent technical computers Petrel and Petrel 2, have released a new and improved desktop application cunningly called Shearwater Desktop.
Available for both Mac and Windows users, the new software offers an improved user experience, making it easier to implement firmware updates. Firmware is a vital part of your dive computer that can easily be overlooked. Shearwater is always evolving their products and making improvements, so it's essential for computer users to make sure they always have the most recent firmware installed. The new Shearwater Desktop software makes that process even quicker and easier, making such updates semi-automatic, just give the OK and your computer will be updated.
Error messages have also been improved, now offering steps on how to solve an issue instead of just spitting out an error code – if only every other software manufacturer in the world would do this!
In addition to the new desktop software, the popular Divelog iOS app now supports the Petrel 2. One of more expensive apps on the market priced at $13.99, Divelog is also one of the best; robust, reliable, intuitive and very useful. An in-app purchase of $3.49 will unlock compatibility for the Petrel 2. So for under twenty bucks you're getting an excellent mobile friendly interface for your shiny Petrel 2. Not bad at all.
The app utilizes Petrel 2 Bluetooth connectivity to wirelessly download your dive info straight to your iPhone or iPad. Are there plans for an Android version? Nope. But there are other Android apps out there supporting the Petrel, such as the very good Petrel Log Manager, so no complaining Android users!
An excellent addition to the Shearwater canon, and another tool that makes dive logging and reviewing easy and effortless.
Visit: www.shearwater.com