This Issue
Spring 2020
March 27, 2020 By DIVER Editorial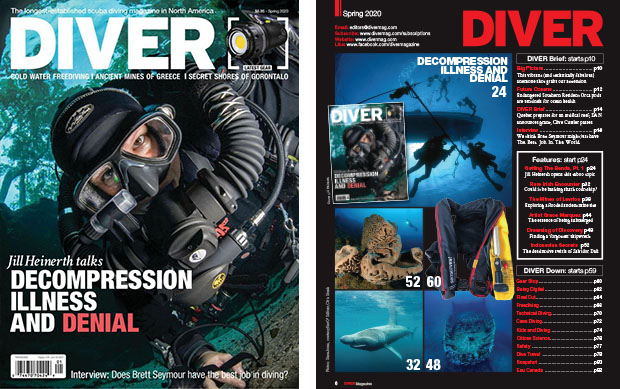 FREE ISSUE: Since the world is on an extended surface interval, we thought we'd make our brand new digital issue available completely free. You do need to make an account with Magzter (free), but then you'll be able to access the brand new issue for zero bucks!
https://www.magzter.com/…/Seagraphi…/DIVER-mag/Sports/431411
Features this issue:
EXCLUSIVE: 

Jill Heinerth

discusses decompression illness and denial in the first of a two part special editorial feature.
EXCLUSIVE: Interview with 

National Park Service Submerged Resources Center

 Brett Seymour (does this guy have the best job in diving?!)
Secret Shores of Gorontalo
Exploring the ancient mines of Greece
Cold water freediving with Kirk Krack
Discovering a new shipwreck in the Philippines
Basking shark wonders in Ireland
Columns this issue:
Interview with Underwater Photographer Maxwel Hohn
Being Digital with Michel Gilbert & Danielle Alary
Freediving with Kirk Krack
Technical Diving with Steve Lewis
Cave Diving with Natalie Gibb
Citizen Science with Heather Creech
Kids and Diving with Margo Peyton
Safety by Divers Alert Network
Dive Travel by Fly & Sea
Tech Diving History with Michael Menduno
Future Oceans with Jean-Michel Cousteau
Eau Canada
Dive News
Dive Facts with The Diving Almanac
You can read the issue online right now!
Or you can subscribe and get it delivered to your door!